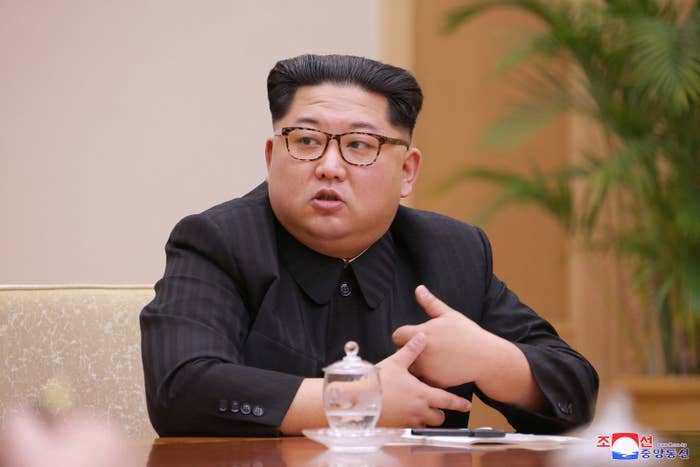 North Korean leader Kim Jong Un announced Saturday that the reclusive nation is suspending all nuclear and long-range missile tests, and will close its nuclear testing site ahead of a potential meeting with President Donald Trump.
"The suspension of nuclear testing is an important process for global nuclear disarmament," Kim said, according to the state-run Korean Central News Agency. "And the DPRK will join international efforts and efforts to halt the nuclear test altogether."
The country "no longer needs" to conduct nuclear or intercontinental ballistic missile tests because it has completed its weaponizing programs, Kim told the Korean Workers' Party's Central Committee, which declared it a "great victory." Kim said he would instead focus on strengthening the nation's economy.

"We will never use nuclear weapons unless there is nuclear threat or nuclear provocation to our country, and in any case we will not transfer nuclear weapons and nuclear technology," Kim said.

The announcement was a major policy shift and welcomed by Trump, who tweeted that the decision to suspend the tests was "very good news" for the world.

The two leaders agreed last month to meet to discuss denuclearization efforts after North Korea indicated it was willing to give up its nuclear weapons program.
Tensions between Pyongyang and Washington have soared under the Trump administration amid multiple ballistic missile tests and a claim by North Korea that one of its missiles could reach the entire US mainland.
White House officials have said that the meeting would not take place until North Korea took steps to denuclearize and end missile testing.

North Korea last tested a long-range ballistic missile in November. Since then, relations between North Korea and its neighbors in the Pacific, as well as the US, have appeared to improve.
In February, athletes from the North and South walked under a unified Korean flag at the Winter Olympics opening ceremony in Pyeongchang.
On Friday, the two Koreas set up a direct telephone line between Kim and South Korean President Moon Jae-in, according to the Yonhap News Agency.
The hotline is meant to help further ease tension on the Korean Peninsula, which technically remains at war because the Korean War ended in an armistice and not a peace treaty.

Kim and Moon are scheduled to meet on the South Korean side of the Demilitarized Zone next week in what will be the third such meeting between the two powers and the first time a North Korean leader sets foot on South Korean soil since the end of the war.
China, an ally of North Korea, welcomed Pyongyang's decision and said it will offer support through dialogue with "relevant parties" to improve relations.
Foreign Ministry spokesperson Lu Kang said Beijing wants North Korea to continue to achieve results in the development of its economy and improving the living standards of its people, according to the official Xinhua News Agency.
United Nations Secretary-General António Guterres described it as a "positive step forward" to "building trust" and the peaceful denuclearization of the Korean Peninsula in a statement on Saturday.
He wished the leaders of North and South Korea "every success" in their "courageous and important task" of building piece ahead of the summit, and praised the establishment of a direct telephone line between them.