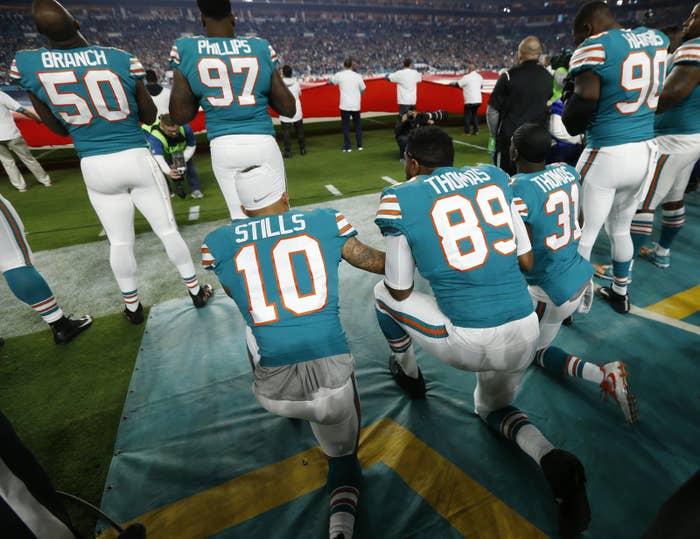 The National Football League announced major changes to its policy regarding the national anthem Wednesday, declaring that teams can now be fined if their players are on the field and do not stand for the anthem.
Players who want to sit or kneel during the anthem will have to do so "in the locker room," according to the new rules.
"It was unfortunate that on-field protests created a false perception among many that thousands of NFL players were unpatriotic. This is not and was never the case," NFL commissioner Roger Goodell said in a statement. "We believe today's decision will keep our focus on the game and the extraordinary athletes who play it — and on our fans who enjoy it."
"This season, all league and team personnel shall stand and show respect for the flag and the Anthem," Goodell added.
The decision drew swift backlash from players, with the NFL Players Association quickly noting that the league "chose not to consult the union in the development of this new 'policy.'"
Individual players who took part in the anthem protests during the last two seasons, or who supported their teammates' right to do so, also criticized the move, issuing statements criticizing the league and its rationale on social media.
In a tweeted statement, Philadelphia Eagles safety Malcolm Jenkins accused team owners of thwarting "players' constitutional rights to express themselves and use our platform to draw attention to social injustices like racial inequality in our country."
Torrey Smith, a wide receiver for the Carolina Panthers, said the league's claim that kneeling during the anthem is disrespectful to the flag ignores the real reasons behind the protests.
Retired NFL player Lance Moore said the controversy "never has been about the anthem."
Responding to comments that protesting during the anthem pisses off fans, the New York Giants' Damon Harrison Sr. said players "love our military" but "hate the way some people are treated."
Philadelphia Eagles defensive end Chris Long said the policy change was driven not by patriotism, but by corporate interests. "This is a fear of a diminished bottom line," he wrote on Twitter. "It's also a fear of a president turning his base against a corporation."
"Freedom of speech does not exist for NFL players now," Jacksonville Jaguars player Dawuane Smoot tweeted. Daring the league to fine him, he added, "I have a right as an American to protest when I feel there is injustice in this country."