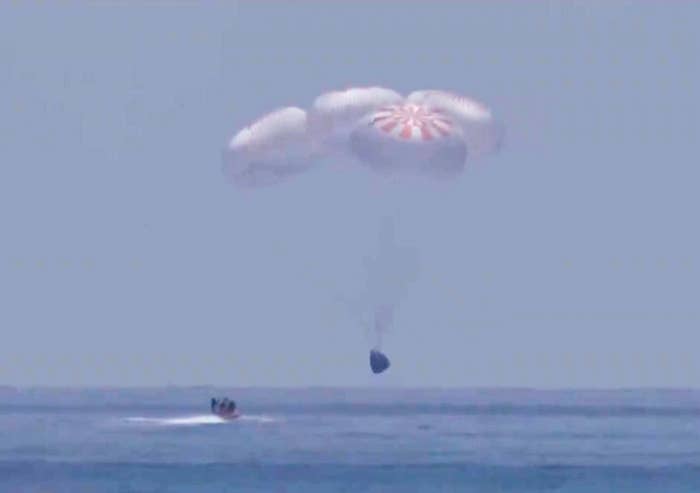 Two NASA astronauts piloting a SpaceX craft returned to Earth on Sunday, after two months in space, concluding the first human test flight for Elon Musk's aerospace company.
The Crew Dragon capsule carrying Doug Hurley and Robert Behnken parachuted into the Gulf of Mexico off the coast of Pensacola, Florida, just before 3 p.m. local time — the first splashdown by American astronauts in 45 years, according to NASA.
"Anybody who's touched Endeavor, you should take a moment to just cherish this day especially given all the things that have happened this year," Hurley said before exiting the capsule, adding that he was "just proud to be a small part of this whole effort."
SpaceX launched Hurley and Behnken into space on May 30. They were the first human crew to be carried into orbit on an American rocket since 2011 when Hurley piloted the final flight of NASA's Atlantis space shuttle.
The Crew Dragon docked at the International Space Station on May 31 where it remained before beginning the return trip Saturday. While at the space station, Hurley and Behnken conducted several spacewalks and contributed to the orbiting laboratory's investigations as they completed more than 1,000 orbits around Earth.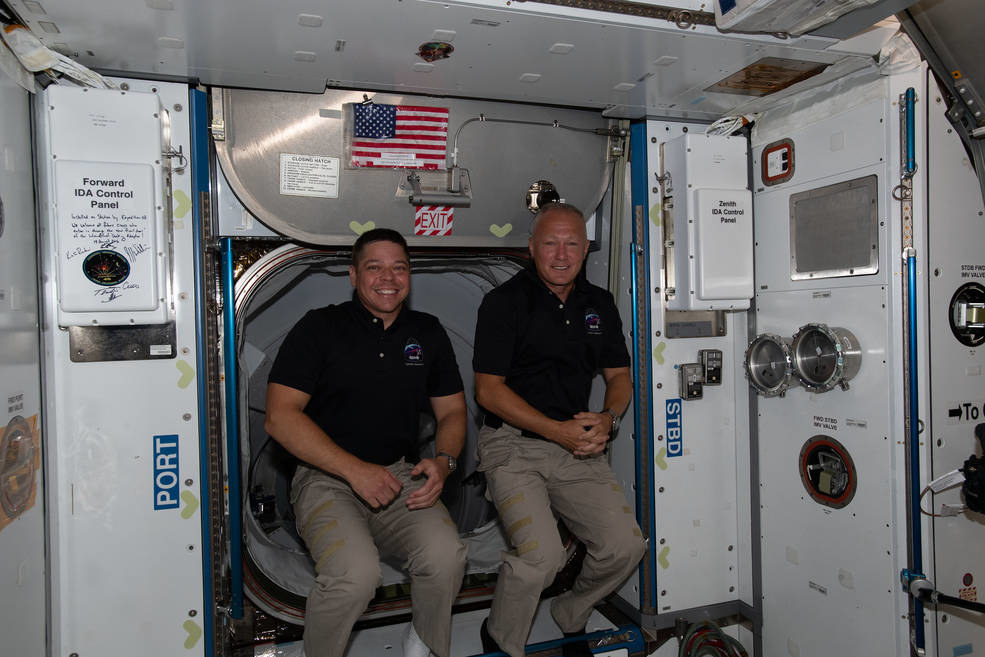 The NASA demonstration mission is the first to be completed under the agency's commercial crew program. NASA intends to pay both SpaceX and Boeing to send astronauts to the ISS aboard seven-person capsules. SpaceX is expected to charge the space agency $55 million per seat, while Boeing is projected to charge $90 million per seat, according to a 2019 report by NASA's inspector general.
"This is the next era in human spaceflight where NASA gets to be the customer," NASA Administrator Jim Bridenstine said shortly before the astronauts' return, the Associated Press reported.
SpaceX president and COO Gwynne Shotwell called the successful landing "the beginning" of the future of space travel for the US.
"We are starting the journey of bringing people regularly to and from low Earth orbit and onto the moon and then ultimately onto Mars, so today is a great day," Shotwell said during a press conference after the landing.
She added that she was "incredibly pleased" that the trip and landing "went as smoothly as it did."
"I have such an extraordinary team here at SpaceX — I don't want to undermine any of that — but I think probably the greatest surprise was that this mission was as smooth as it is," she said.
President Donald Trump tweeted that it was "great to have NASA Astronauts return to Earth after very successful two month mission."
The spacecraft will now return to SpaceX's facility in Florida for inspection and to process the vehicle's performance data, according to NASA. The Crew Dragon is scheduled to launch into orbit again with its first four-person operational crew later this year.