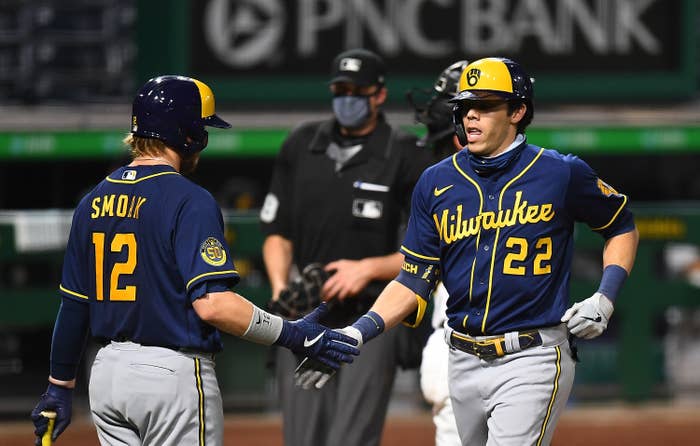 Hours after the Milwaukee Bucks set off an NBA-wide postponement of playoff games in protest of the police shooting of Jacob Blake, a Black man, in Wisconsin, the Brewers and the Cincinnati Reds called off their game for Wednesday evening.
The Major League Baseball teams were set to play at Miller Park in Milwaukee for the third game in a four-game series.
"With our community and our nation in such pain, we wanted to draw as much attention to the issues that really matter, especially racial injustice and systemic oppression," the Brewers and Reds said in a joint statement.
The decision to not move forward with Wednesday's game was first reported by the Wall Street Journal's Jared Diamond.

The games between the San Francisco Giants and the Los Angeles Dodgers and the San Diego Padres and Seattle Mariners were also postponed Wednesday night after players chose not to play.
"Given the pain in the communities of Wisconsin and beyond following the shooting of Jacob Blake, we respect the decisions of a number of players not to play tonight," MLB said in a statement. "Major League Baseball remains united for change in our society and will be allies in the fight to end racism and injustice."
The league said the Brewers and Reds would make up the postponed game with a doubleheader on Thursday to finish out the four-game series.
Shortly after news broke about the Bucks' decision not to take the floor in Game 5 of the first round of their playoff series against the Orlando Magic, Milwaukee Brewers reliever Josh Hader spoke to reporters about the team's decision.
"I think it's an enormous stand," he said, according to the Milwaukee Journal Sentinel. "It's more than sports, and they showed it. It's not about the game; it's more than that. And this is a time where we need to really not stay quiet and show our power and our voices."
Police shot Blake, 29, seven times in the back as he got into his car with three of his children inside in Kenosha, Wisconsin, on Sunday evening, according to his family and their attorney. Blake is now paralyzed, his family has said.
"Obviously with what's happened in Kenosha it hits close to home," Brewers outfielder Ryan Braun told reporters after the team announced their decision. "We made the decision today that the most impactful thing we could do was not play our baseball game — to not distract from what's going on in the country."