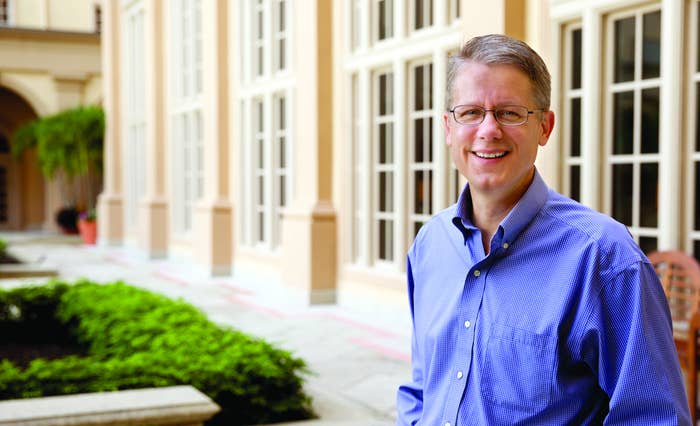 University of North Carolina Wilmington professor Mike Adams, who was known for his anti-LGBTQ, misogynistic, and racist remarks, killed himself Thursday, days before he was due to retire as part of a settlement with the school.
New Hanover County Sheriff's Lt. Jerry Brewer told BuzzFeed News deputies were called to Adams' home in Wilmington at 12:30 p.m. for a welfare check and found the professor dead. On Monday, the sheriff's office said investigators had determined Adams died by suicide.
"The homeowner had not been seen or heard from in a couple of days," the sheriff's office said in a statement, adding that deputies were initially unable to gain access to the professor's home because the doors were locked. "Once they were able to gain access to the home deputies found the homeowner, Mike Adams, deceased in a bedroom."
No one else was in the home at the time and foul play is not suspected, officials said.
Citing records from the county 911 center, the News & Observer reported that Adams' friend had called 911 and told the dispatcher that the professor had been "erratic" in recent weeks and "under a lot of stress."
Earlier this month, UNCW agreed to pay Adams, a criminology professor, more than $500,000 as part of an early retirement settlement reached between the parties after the professor again came under fire for his tweets about the coronavirus and recent protests against racism and police brutality. According to the News & Observer, Adams was set to retire Aug. 1.
In May, Adams criticized Gov. Roy Cooper's pandemic stay-at-home orders in several tweets, calling him "Massa Cooper."

In another tweet, he wrote, "Don't shut down the universities. Shut down the non essential majors. Like Women's Studies."
Over the years, people have started online petitions calling on the university to fire Adams. A recent Change.org petition that described him as a longtime "thorn in the side of UNC Wilmington" garnered more than 60,000 signatures.
In a letter announcing Adams' retirement, UNCW Chancellor Jose V. Sartarelli wrote that the settlement was "less damaging" to the university and the best way its leadership could resolve the situation.
Sartarelli said that attempting to fire Adams would have resulted in "very costly litigation, that we might not win," citing a 2014 First Amendment lawsuit he filed that cost the university about $700,000.
"In addition to saving money, the settlement will prevent the continued disruption to our educational mission, reduce concerns around campus safety, and lessen the harm to the institution," the chancellor said. "Dollars are precious, but our institutional integrity is priceless."
A university spokesperson said in a statement, "It is with sadness that we share the news that the New Hanover County Sheriff's Office is conducting a death investigation involving Dr. Mike Adams, professor of criminology. Please keep his friends and loved ones in your thoughts."
The National Suicide Prevention Lifeline is 1-800-273-8255. Other international suicide helplines can be found at befrienders.org.

UPDATE
This story has been updated with additional information released by the New Hanover County Sheriff's Office Monday about the manner of Adams' death.