The husband of Los Angeles County's top prosecutor pointed a gun at Black Lives Matter organizers who showed up outside the couple's home early Monday morning, telling them to leave or he would shoot.
The confrontation, which came just one day before voters decide whether to reelect Los Angeles County District Attorney Jackie Lacey in what has been a heated primary contest, was captured on video.
"[In] front of DA Jackie Lacey's house for that community meeting she promised with the @BLMLA crew. Rang her bell to invite her," wrote Melina Abdullah, a Black Lives Matter organizer and professor at California State University, Los Angeles. "Her husband pulled a gun, cocked it, pointed it at my chest and said 'I'll shoot you. I don't care who you are.'"
In the video, David Lacey is seen standing in the front door pointing a gun at the protesters as he says, "Get off of my porch."
Abdullah asks him, "Are you going to shoot me?" Lacey responds, "I will shoot you. Get off my porch."
Abdullah asks if he can tell the district attorney that they are there, and he says, "I don't care who you are. Get off of my porch right now."
He tells the protesters he will call the police before closing the door.
During a press conference, Jackie Lacey apologized to the protesters, saying her husband's "response was in fear."
"Now that he realizes what happened, he wanted me to say to the protesters, [the] person that he showed the gun to that he was sorry," Lacey said. "He meant no one any harm."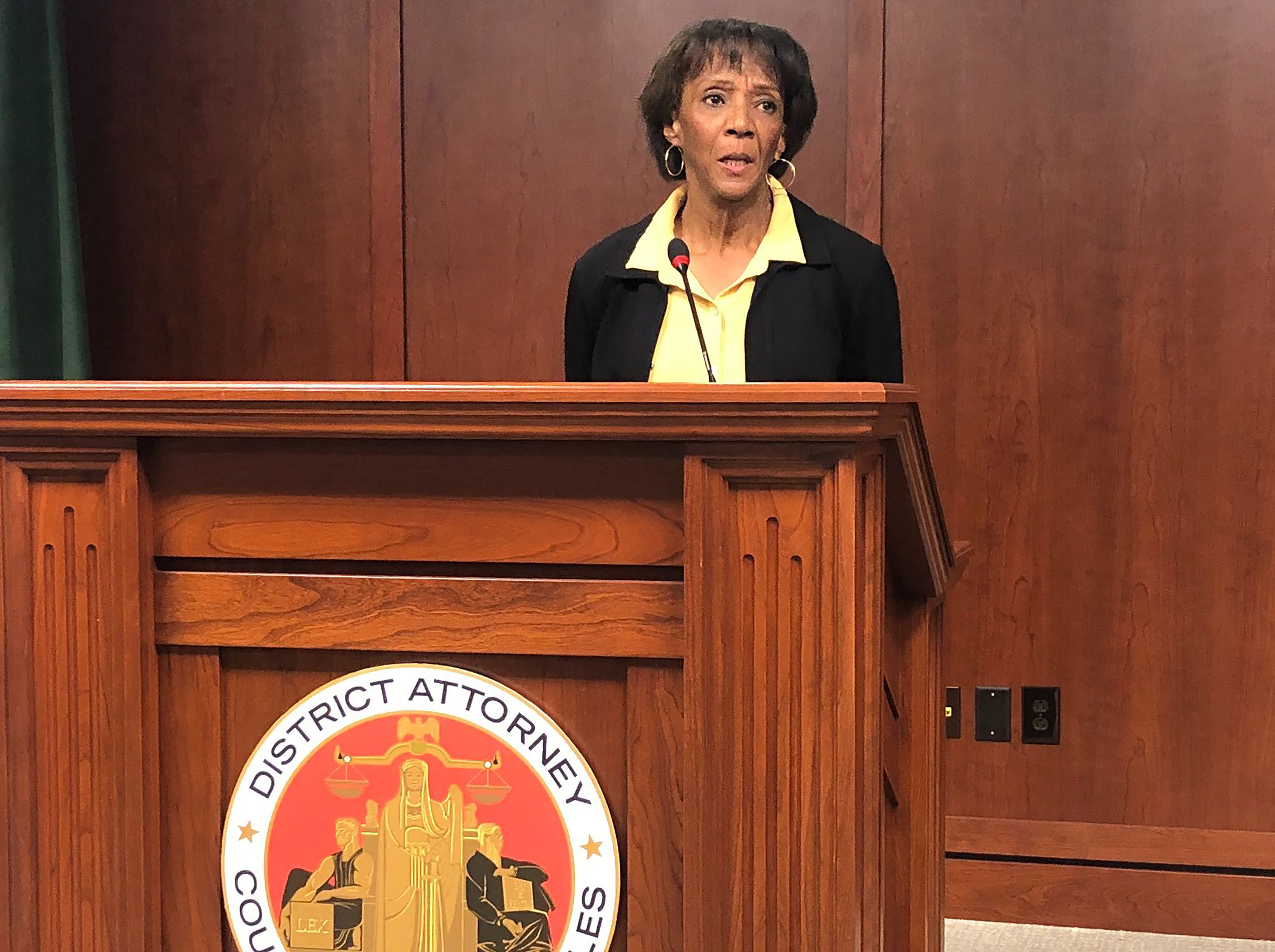 Lacey, who has been criticized for rarely prosecuting police use-of-force cases, acknowledged that this wasn't the first time protesters have showed up on the couple's doorstep, but said that they didn't know what was going to happen.
"I don't think you ever get used to anybody coming to your house," Lacey said. "It was frightening."

The couple was asleep when they heard noises outside the house. Lacey said she immediately called police to tell them that she thought protesters were outside while her husband went downstairs.
She said she didn't know he was taking a firearm with him to the door.
"I, too, am sorry if anybody was harmed. It's never my intent to harm any protester," she said. "I just want to live in peace and do my job."
Lacey said her office has turned over an investigation into the incident to another agency.
"As with any incident, LAPD will first investigate and if appropriate bring to an independent prosecutor's office for review," the office said in a statement emailed to BuzzFeed News. "The California Attorney General's Office will assist LAPD in this matter."
A spokesperson for the attorney general confirmed to BuzzFeed News that the office agreed to review any material regarding the incident that is presented by LAPD.
Organizers with the local Black Lives Matter group told reporters at a separate press conference that they were traumatized by the incident and felt threatened by David Lacey's actions.
"When I saw the gun on me, my heart sank," said Justin Andrew Marks, one of the organizers who was there.
Abdullah said the organizers were attempting to take Lacey up on a previous promise she made, but never fulfilled, to meet with Black Lives Matter. Abdullah said after setting up chairs on the sidewalk, they walked to the front door and rang the doorbell.
"We heard someone come to the door, we heard what sounded like a gun being cocked," Abdullah said. "Never in our wildest dreams did we think he would pan the three of us who were standing on his porch and say, 'I will shoot you.'"
Lacey is up for reelection in Tuesday's primary and has faced stiff opposition. Former San Francisco district attorney George Gascón and former Los Angeles County public defender Rachel Rossi are challenging her for the job.