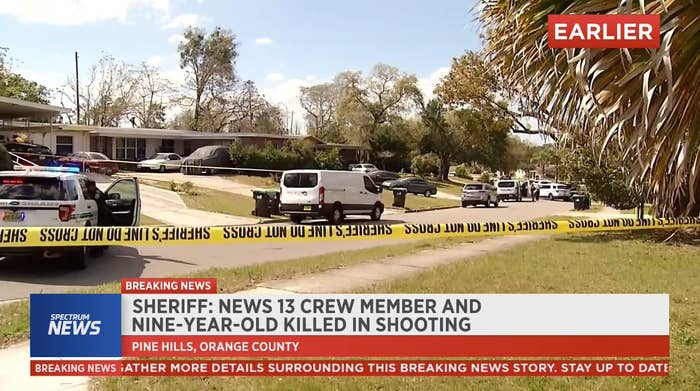 A man who police believe shot and killed a woman returned to the scene of the crime hours later and opened fire on a TV news van and at a nearby home, killing one journalist and a 9-year-old girl.
Orange County Sheriff John Mina said law enforcement had already cleared the scene in the 6100 block of Hialeah Street in Pine Hills, an unincorporated community outside of Orlando, when the suspect returned to the area around 4 p.m.
Mina said the suspect walked up to a Spectrum News 13 vehicle and shot two men, a reporter and a photographer who were covering the earlier homicide. The suspect then allegedly walked into a home about a block away and shot a 9-year-old girl and her mother. All four victims were transported to local hospitals, where the child and one of the journalists died. The girl's mother and the other News 13 journalist remained in the hospital Wednesday night in critical condition.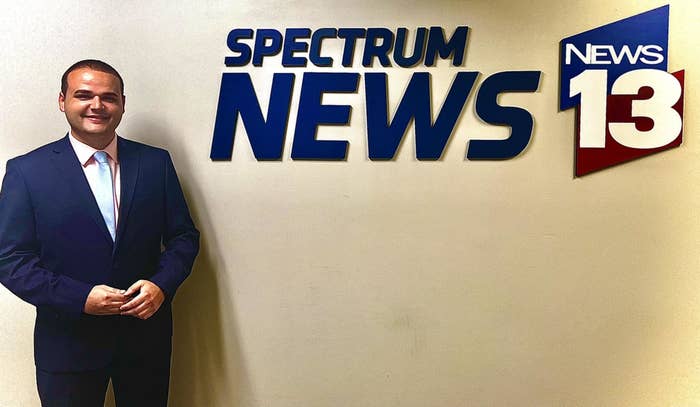 On Thursday, officials identified the victims killed in the shooting as Nathacha Augustin, 38, Dylan Lyons, 24, and T'yonna Major, 9.
Lyons, the journalist, was a Philadelphia native who moved to Florida to attend the University of Central Florida, remaining in the state and building his career there after he graduated.
"He took his job very seriously. He loved his career. He loved what he did," his friend and fellow reporter Josh Miller told Spectrum News 13. "He loved the community, telling the stories of people, reporting on the news, and he was just passionate about what he did."
A GoFundMe for Lyons's family, which was set up by his older sister, said he was devoted to his parents and served as a father figure to his niece and nephew. He would have turned 25 just weeks after the shooting.
Lyons's fiancé, Casey Lynn, shared a link to the GoFundMe, which is intended to pay for his funeral. "The love of my life was murdered. I will never be the same person ever again," she wrote in a tweet.
The photographer, who was critically injured, was identified by the station as Jesse Walden.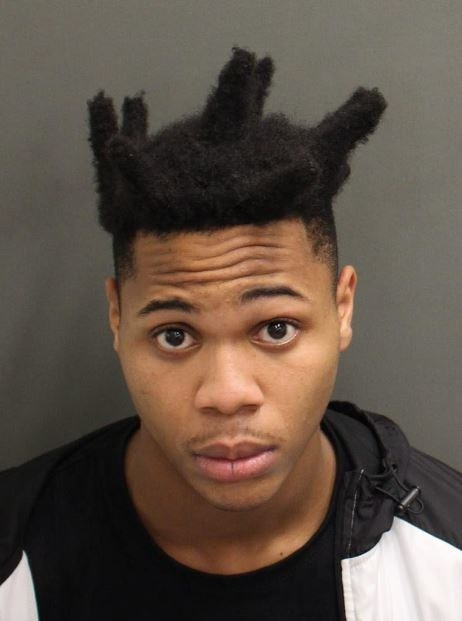 After the shooting, deputies located and arrested the suspect, 19-year-old Keith Melvin Moses, who authorities said was armed with a handgun near the scene.
"Why he shot them in that house [is] really unclear as to why he shot the news vehicle as well," Mina said during a news conference.
"Please - keep my News 13 family in your thoughts tonight and for the next several days," tweeted Zach Covey, a meteorologist for the station. "I'm going to pull back from social for a little while I process tonight. Please respect our distance during this time."
Mina said Moses was "not saying much" to law enforcement and that it was unclear if he knew that the two men were journalists.
The sheriff said the vehicle where the journalists were shot did not look like a news vehicle and that it was parked in the same location where the earlier homicide occurred. Deputies first responded to a report of a shooting in the neighborhood at 11 a.m. Wednesday and found a woman who had been shot and killed in a vehicle.
Mina said investigators believe the woman, Nathacha Augustin, was an acquaintance of Moses. By the time he returned to the scene, detectives had identified him as the suspect in the shooting, Mina said.
"What a horrible day this has been for our community and our media partners," the sheriff said. "No one in our community, not a mother, not a 9-year-old, certainly not news professionals, should become the victim of gun violence in our community."
Moses has been charged with first-degree murder for the shooting of Augustin, who police had previously described as in her 20s. And additional charges are expected, police said. As of Thursday, Moses remains in jail without bond. The 19-year-old has "a lengthy criminal history," which includes charges of aggravated battery, assault with a deadly weapon, burglary, and grand theft, the sheriff said.
In a statement, the office of the State Attorney for the Ninth Judicial Circuit said Moses' only arrest as an adult was for marijuana possession in 2021. But because the amount he possessed, about 4.6 grams, did not meet the state's testing threshold, prosecutors were unable to move forward and dismissed the case.
The office did not address his juvenile record, citing Florida laws that require such records to be confidential.
"We look forward to working with our law enforcement partners to ensure accountability in this unfathomable tragedy related to yesterday's shooting in Pine Hills," the state's attorney's office said.
Outside the Orlando Regional Medical Center, WESH 2 journalist Luana Munoz broke down as she described the scene at the hospital. Fellow journalists gathered to cover the shooting and were also grieving together, she said.
"This is really difficult to cover," Munoz said on camera. "This is every reporter's absolute worse nightmare. We go home at night afraid that something like this will occur and that is what happened here."
The American Public Health Association says gun violence in the US is a public health crisis. It is a leading cause of premature death in the country, responsible for more than 38,000 deaths annually. As of Feb. 23, at least 2,713 people have died from gun violence this year, and another 3,564 have died by suicide, according to data from the Gun Violence Archive.