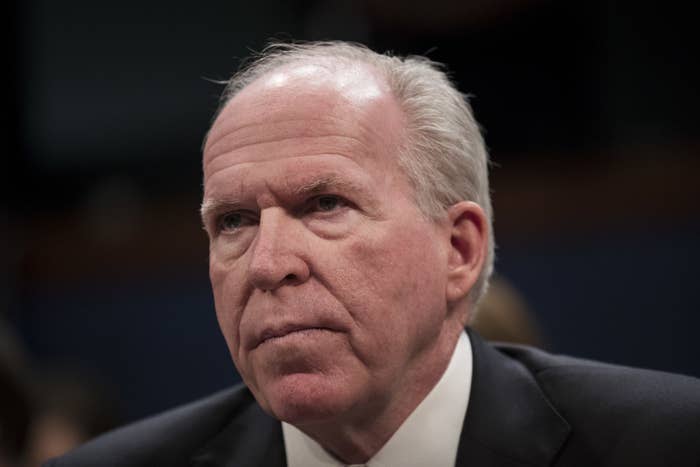 Former CIA director John Brennan, a vocal critic of Donald Trump who was targeted in the pipe bomb scare Wednesday, said the president helped stir up the anger behind the acts of terror.
"Unfortunately, I think Donald Trump, too often, has helped to incite some of these feelings of anger, if not violence, when he points to acts of violence or also talks about, you know, swinging at somebody from the press or the media," Brennan said at the University of Texas at Austin Wednesday evening, in reference to Trump's praise of a Republican lawmaker who physically attacked a reporter at a campaign event last year.
"His rhetoric, too frequently, I think, fuels these feelings and sentiments that now are bleeding over into potentially acts of violence," Brennan added. "I think one can make an argument that it has emboldened individuals to take matters into their own hands."
Multiple packages containing explosive devices addressed to prominent members of the Democratic Party, including Hillary Clinton and former president Barack Obama, were intercepted before they reached their intended targets. A similar package intended for Brennan, a contributor to MSNBC and NBC News, was also delivered to CNN's New York headquarters, forcing an evacuation of the building while its anchors were on the air.
Speaking with Mark Updegrove, president and CEO of the Lyndon Baines Johnson Foundation, Brennan addressed the scare, calling the attempted act of violence "a very unfortunate turn of events."
"I recognize that there are a lot of raw emotions and feelings in the country ... but this country was founded upon the foundation of freedom and liberty and freedom of speech, and if I and others are being targeted because we're speaking out and we're living up to our responsibilities as citizens, I think that's, again, a very unfortunate turn of events," Brennan said.

When Updegrove asked the former CIA chief about Trump's call for unity in the wake of the incident, Brennan joked that he was "tempted to say, 'that was said by Donald who?'" before calling out the president, as he has time and again.
The FBI said the packages addressed to Brennan and others are all similar in appearance and contain "potentially destructive devices," noting that they are being sent to the agency's lab in Quantico, Virginia, for analysis. The agency emphasized that there may have been additional packages mailed to other locations.

Earlier on Wednesday, Trump called on the country to "unify" and condemned whoever sent the devices to the very people and outlets that he often rails against in front of adoring crowds who adopt his rhetoric.
"I just want to tell you that in these times we have to unify. We have to come together and send one very clear, strong, unmistakable message that acts or threats of political violence of any kind have no place in the United States of America," Trump said. "We're extremely angry, upset, unhappy about what we witnessed this morning, and we will get to the bottom of it."
Brennan said he wished Trump had expressed that sentiment before and hoped the bomb scare would mark a "turning point" in his rhetoric.
"I'm hoping that this is going to make it clear to him that what he has done heretofore, as far as a lot of this rhetoric, really is counterproductive. It is un-American. It is what a president should not be doing," Brennan said. "What he said today is what the president should be doing. But follow up on those words with actions and with his future comments."
Meanwhile, at a political rally a thousand miles away in Wisconsin, Trump called for "all sides" to come together, but also made digs at Democrats, liberal protesters, and the media.