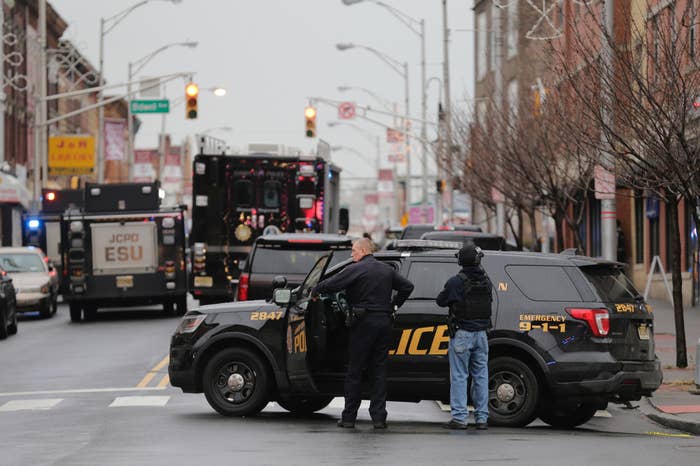 Six people, including a police officer and two suspects, are dead after a shootout at a New Jersey convenience store brought a neighborhood to a standstill for hours Tuesday as hundreds of gunshots rang through the streets.
Jersey City Police Chief Michael Kelly said at around 12:30 p.m. officers responded to a call of shots fired at a grocery store at 223 Martin Luther King Drive. When officers arrived, they were immediately engaged by "high-powered rifle" gunfire, he said.
Around the same time, Kelly said the department received a call of an officer down at the Bayview Cemetery. The officer, identified as Detective Joseph Seals, has since died.
Officials said they believe Seals was attempting to engage the two armed suspects when he was shot at the cemetery. The two men then entered the store, where a shootout unfolded with other officers.
Following an hours-long standoff during which hundreds of bullets were fired, Kelly said officials entered the store and found five people who were dead.
"We believe two of them are bad guys, and we believe three of them are not," Kelly told reporters during a press conference Tuesday evening.
Kelly said the investigation into the incident is ongoing, and a motive has not been determined. He added that police were also examining a stolen U-Haul truck that was left near the scene of the shootout.
He said at this point police don't believe the shootout was an act of terrorism or motivated by hate.
"We have no evidence that's pointing in that direction at this time, but that's certainly on the table," he said.

On Wednesday morning, the Jersey City mayor tweeted that after extensive review of CCTV footage "it has now become clear from the cameras that these two individuals targeted the Kosher grocery location."
Fulop said that at this time there are no credible further threats.
Multiple law enforcement agencies responded to the incident, including the New York City Police Department, New Jersey State Police, the FBI, and the Bureau of Alcohol, Tobacco, Firearms and Explosives. Rapid, prolonged gunfire could be heard in videos recorded near the scene.

A bystander video provided to a police advocacy group showed armed officers in plain clothes and uniforms walking down the sidewalk with their guns drawn.
Two officers were shot and then treated and released from a hospital, Kelly said. The three civilians who were found dead in the store were killed by "bad guy fire," he added.
Witnesses who gathered around the crime scene Tuesday said they were stunned by the amount of gunfire they were hearing in the shootout.

"I got caught in a one-way street with a bunch of cars, and I was wondering why nobody was moving. And all of a sudden I heard it. All the shots started. Shots started ringing out," Brian Clark told CBS New York. "I never heard that many shots in my life. It was like I was in a war zone."

One woman who lives in the area told the TV station that residents were used to gunshots in the neighborhood, "but nothing like this."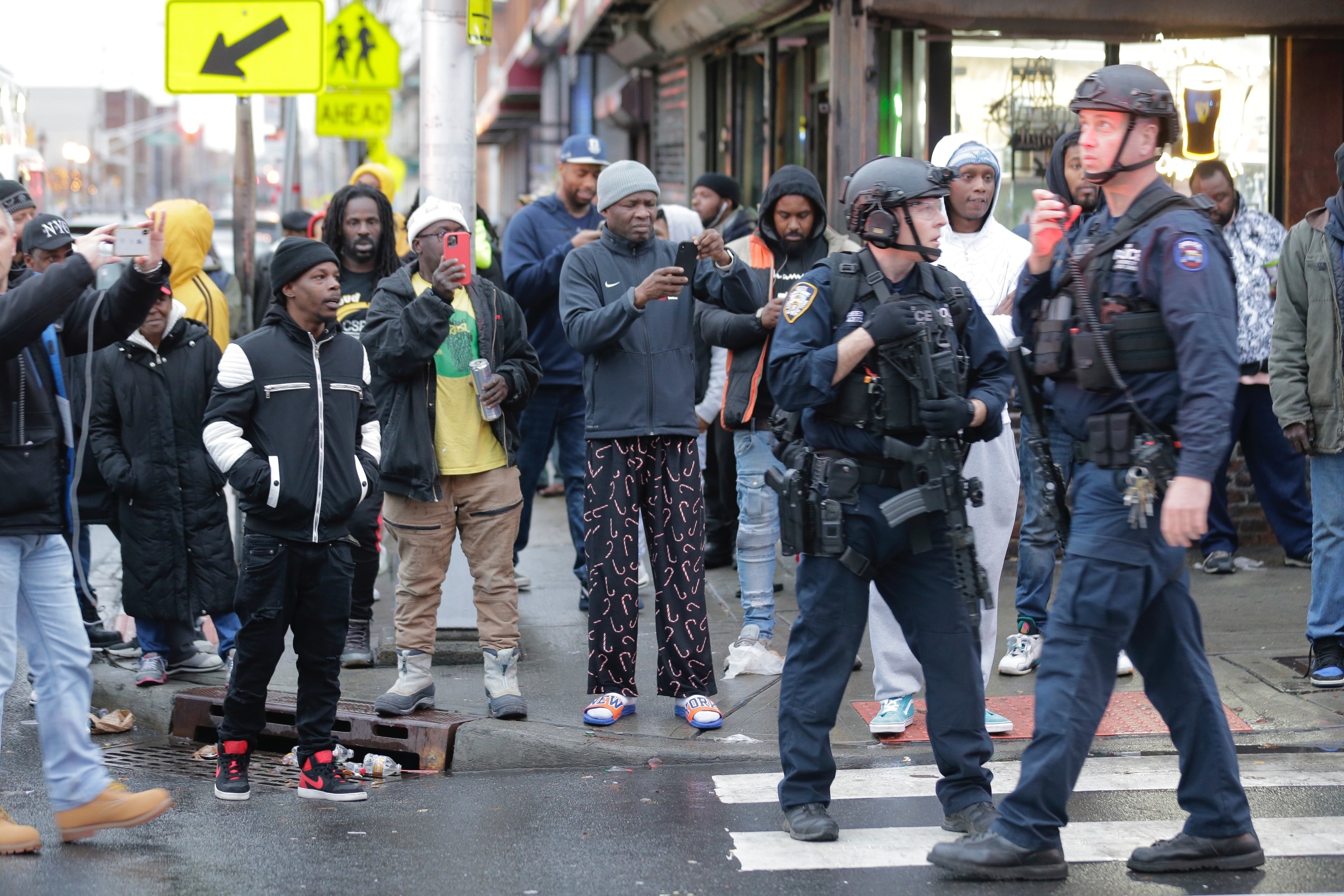 Jersey City Mayor Steven Fulop described Seals as "one of our best" police officers, saying it was a tough day for the police department and the city.

Seals, a father of five, had been with the department since 2006, according to Fulop.
"He was our leading police officer in removing guns from the street," Kelly said. "Dozens and dozens of handguns he's responsible for removing from the street."
Schools across the city were placed on lockdown for hours as the incident unfolded.

"Our thoughts and prayers are with the men and women of the Jersey City Police Department, especially with the officers shot during this standoff, and with the residents and schoolchildren currently under lockdown," New Jersey Gov. Phil Murphy said on Twitter. "I have every confidence in our law enforcement professionals to ensure the safety of the community and resolve this situation."