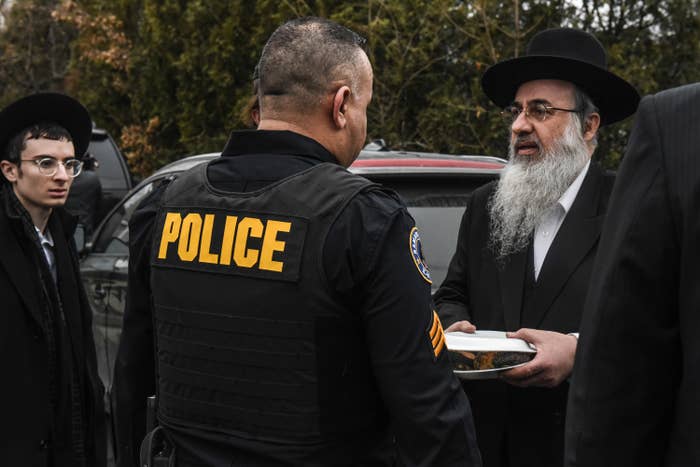 Five people were stabbed at a rabbi's home in a New York suburb on Saturday as people gathered to celebrate the seventh night of Hanukkah.
New York Gov. Andrew Cuomo called the incident "an act of domestic terrorism," saying it was about the 13th anti-Semitic attack in the state in the last few weeks.
"It is intolerant, it is ignorant, but it is also illegal," Cuomo said. "This is violence spurred by hate. It is mass violence and I consider this an act of domestic terrorism."
The stabbing occurred just before 10 p.m. at 47 Forshay Road in Rockland County's Monsey, an area that is home to thousands of Orthodox Jews.
The suspect fled the scene and was later arrested by the New York City Police Department in Harlem. The NYPD latest released video of the traffic stop that led to the arrest:
Police identified the man as Grafton Thomas, 37, of Greenwood Lake, though other news reports, as well as a police dispatcher, earlier named him as Thomas Grafton.

He faces five counts of attempted murder and one count of burglary.
The Orthodox Jewish Public Affairs Council said all five stabbing victims were Hasidic Jews. The council said one of the victims was stabbed at least six times and that two were transported to local hospitals in critical condition.

Ramapo Police Chief Brad Weidel said two of the victims were still hospitalized as of Sunday morning. He did not know their conditions.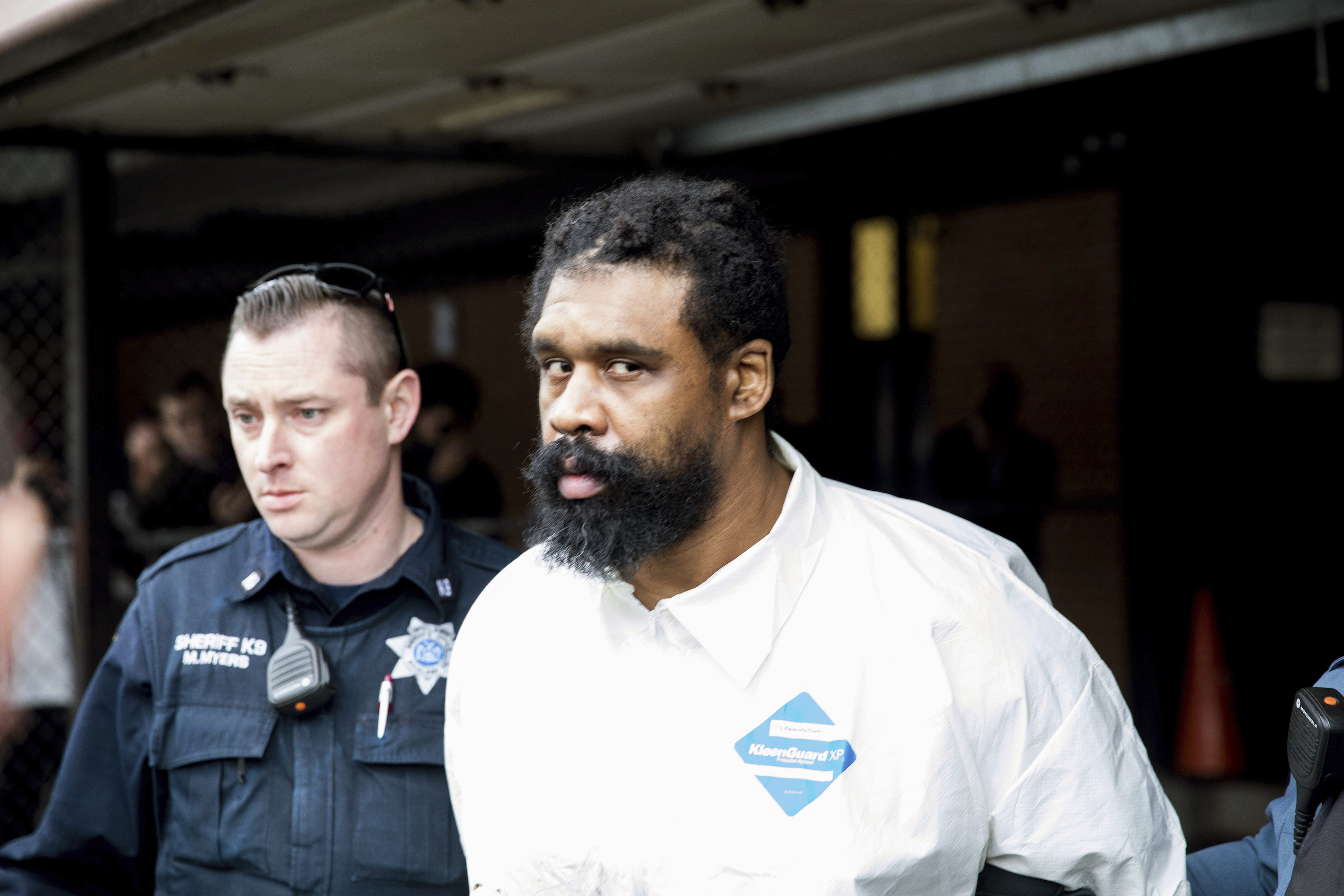 The NYPD Counterterrorism Bureau said it was closely monitoring the situation.

Aron Kohn, who was inside the rabbi's home when the attack occurred, told WABC the suspect walked into the residence and began attacking with a knife he described as almost as big as "a broomstick."

"I saw him walking in by the door. I asked who was coming in in the middle of the night with an umbrella. While I was saying that, he pulled it out from the thing and he started to run into the big room," Kohn said. "I ran into the other room to save my life. I saw him running this way, so I ran the other way to save my life."
A video from the scene shows emergency responders rolling someone down the street in a gurney:
"The guy came in wielding a big knife, sword, machete — I don't know what it was," said Josef Gluck, who told the Associated Press he hit the man with a coffee table during the attack.

"He took it out of his holder, started swinging," Gluck added.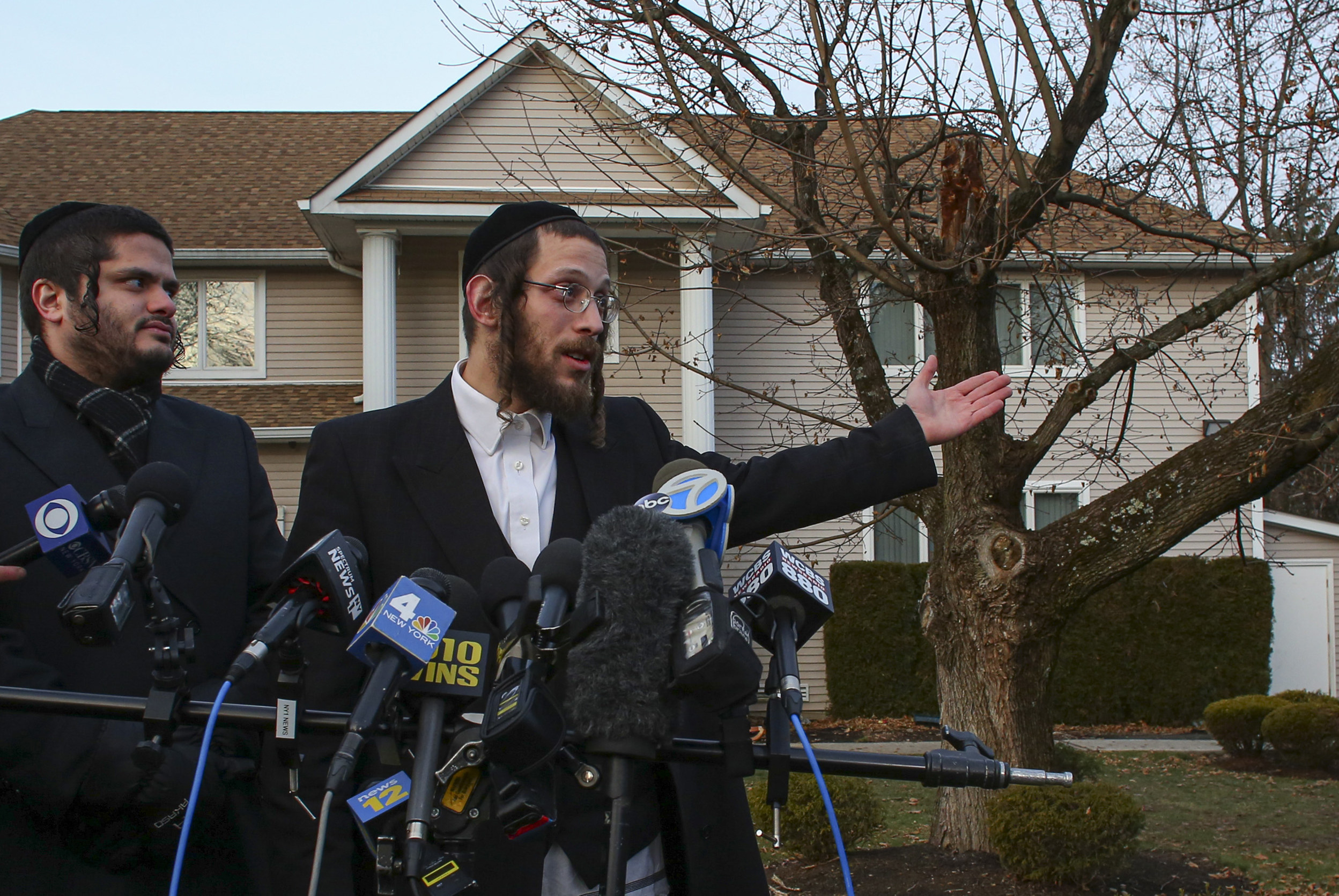 Levy Kraus, 15, told the AP he was outside the rabbi's home when he saw a tall man enter with a covered object that looked like an umbrella.
Kraus said he later saw the man rushing out of the house and screaming at someone, "I'll get you."
A witness who followed the suspect as he rushed to his car to flee wrote down his license plate number and provided that information to police, Weidel said.

"We immediately plugged that information to the system," he said, adding that the plate was captured as the vehicle entered New York City. "It was critical to the case."
After the attack, the rabbi and members of the congregation gathered in the synagogue next door to his home and continued to pray and celebrate.
One of the rabbi's children was among those stabbed, according to OJPAC cofounder Yossi Gestetner.
Earlier this month, a shootout at a Jewish convenience store in Jersey City left six people dead, including a police officer and the two perpetrators. Local officials described the incident as a "hate crime" against the Jewish community.
President Donald Trump described Saturday night's stabbing as an "anti-Semitic" attack, calling it "horrific" in a tweet.
"We must all come together to fight, confront, and eradicate the evil scourge of anti-Semitism," Trump tweeted. "Melania and I wish the victims a quick and full recovery."

New York City Mayor Bill de Blasio on Sunday called anti-Semitism "a crisis" for the region and the country, partially blaming Trump for the rise in attacks.
"An atmosphere of hate has been developing in this country over the last few years," de Blasio told Fox News anchor Ed Henry. "A lot of it is emanating from Washington and it's having an effect on all of us."

In response to the stabbing, Cuomo said he planned to propose a state law specifically against domestic terrorism "to express how ignorant this is."
"These are people who intend to create mass harm, mass violence, generate fear based on race color creed that is the definition of terrorism," Cuomo said. "Just because they don't come from another country doesn't mean that they are not terrorists and they should be prosecuted as domestic terrorists because that's what they are."
Thomas entered not guilty pleas on the charges and was ordered to be held on a $5 million bond during an arraignment Sunday. He is due back in court on Friday.

Prosecutors said Thomas was taken into custody wearing blood-soaked clothing, according to the Journal News.
The newspaper reported that Thomas did not speak during his arraignment and that his attorney, Kristine Ciganek, entered the plea on his behalf.
Ciganek told the court that her client did not have a criminal record. However, he did have menacing and reckless endangerment charges lodged against him last summer in Greenwood Lake.