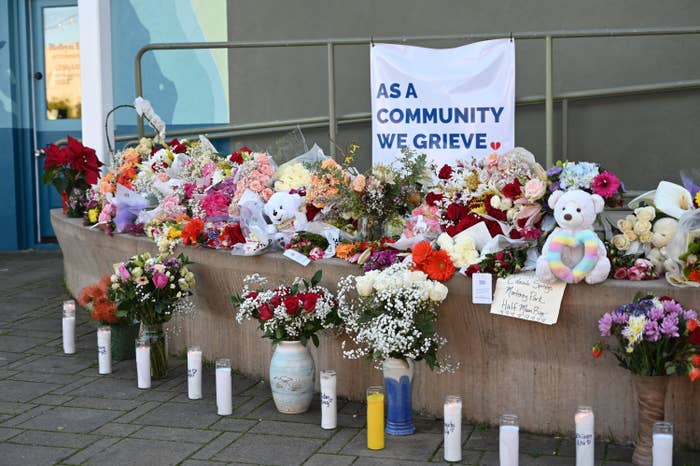 The man accused of killing five men and two women at mushroom farms in Half Moon Bay had a dispute with his supervisor and one of the coworkers he killed on the morning of the shootings, BuzzFeed News has learned.
San Mateo County District Attorney Stephen Wagstaffe told BuzzFeed News on Thursday that the dispute was "what ignited everything" for 66-year-old Chunli Zhao, who is facing seven counts of murder and one count of attempted murder, along with several enhancements, in connection with Monday's shootings.
That's "when he decided enough is enough," Wagstaffe said by phone. He did not share any details about the nature of the dispute.
On Wednesday, the San Mateo County coroner's office identified the victims as Qizhong Cheng, 66, of Half Moon Bay; Yetao Bing, 43, whose residence was unknown; Jingzhi Lu, 64, of Half Moon Bay; Marciano Martinez Jimenez, 50, of Moss Beach; Zhishen Liu, 73, of San Francisco; and Aixiang Zhang, 74, of San Francisco. The office was withholding the name of the seventh victim pending the next of kin being notified; however, charging documents identified him as Jose Romero Perez. Five of the victims were Chinese citizens, according to the Chinese Consulate-General in San Francisco.
An eighth person, identified in the court papers as Pedro Romero Perez, was also injured in the shootings, which authorities have described as a likely case of "workplace violence." A spokesperson for California Terra Garden, one of the farms where the shootings took place, has said that the suspect had worked for the farm for several years prior to the company taking over in March 2022. Four of the victims and the individual who was injured in the shooting also worked at the farm.
In a Thursday jailhouse interview with NBC Bay Area anchor Janelle Wang, the suspect reportedly admitted to fatally shooting seven individuals and wounding another, saying that he experienced bullying for years and had concerns about long work hours and being overworked.
"He brought those up and said those were not addressed," Wang told her local TV station colleagues following the interview, which was conducted in Mandarin.
"He described to me that he believes that he suffers from some sort of mental illness," Wang said. "He says on Monday he was not in his right mind."
The suspect, who is a Chinese citizen, told Wang that he has a green card and has been in the US for 11 years. He lives in Half Moon Bay with his wife and has a 40-year-old daughter who is in China.
San Mateo County officials said sheriff's deputies were dispatched at 2:22 p.m. Monday to California Terra Garden, formerly known as Mountain Mushroom Farm, and found four people dead from gunshot wounds as well as a fifth person with life-threatening injuries. Deputies then discovered three more bodies at another nursery, Concord Farms, about a mile away. The suspect was later taken into custody in the parking lot of a sheriff's office station in a moment that was captured on video by local news outlets.
He told Wang that he regrets what he did and drove to the sheriff's station to surrender. He also said that he purchased the weapons used in the killings at a store in 2021.
"He did show remorse," Wang said. "I said, 'Do you regret what happened on Monday?' and he says, 'Yes, I do.'"
Zhao is being held without bond. He is due back in court on Feb. 16 for a plea hearing.