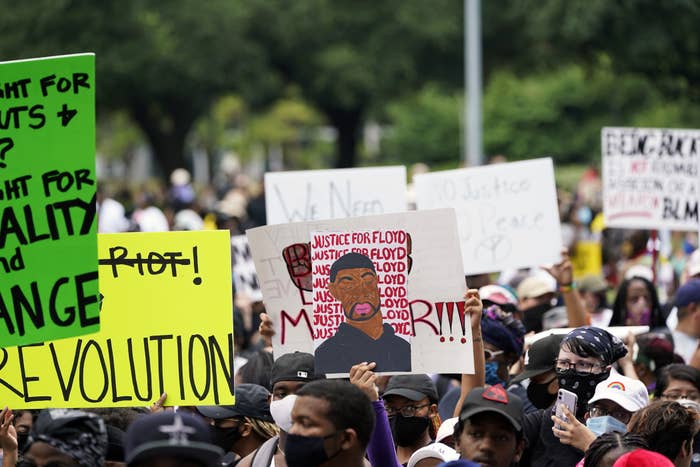 Demonstrations against racism and police brutality took on a more peaceful tone across the country on Tuesday, even as thousands of protesters in cities like New York, Los Angeles, and Washington, DC, flouted curfew orders.
Massive deployments of police and National Guard troops were largely able to control the crowds, and cities were able to avoid the looting and violent clashes seen in recent days.
Demonstrators also policed themselves, discouraging others from engaging in violence or vandalism.
"There's a lotta unity in this group," 16-year-old Diamond Carter told BuzzFeed News during a march in Manhattan. "We want it to be peaceful."
Carter, who also participated in protests on Saturday, said the demonstrations on Tuesday night felt much more peaceful than in previous days, adding that she saw someone try to hit or egg a cop car, but others stopped him.
"They said this is not that type of protest," Carter said.
Other protesters who continued to march into the night said they felt like New York officials, who moved the curfew up to 8 p.m., were trying to silence them.
At the Manhattan Bridge, police blocked protesters from entering Manhattan, saying they had to turn around and go back into Brooklyn.

"The message is deeper than fuck the curfew," 22-year-old Donnell Carrington told BuzzFeed News. "This is our home and you're literally killing people where we live, like, you're killing people on our streets that we pay taxes for ... you can't just tell us like go home that's it to like silence us."
Still, the overall mood of the demonstrations was much lighter than in days past, when cities saw heavy looting and vandalism.
Earlier in the day, healthcare workers applauded protesters as they marched through the city.
At the Stonewall Inn, hundreds gathered for the second night in a row to demand justice for black trans people killed by police.
Washington, DC
In Washington, DC, protesters gathered outside the White House after a 7 p.m. curfew, chanting "hands up, don't shoot" and "we're not moving."
Police and National Guard members were seen in the area, but did not immediately make any moves to disperse the crowd.
As night wore on, huge numbers of National Guard members, police, and federal officers kept crowds largely under control and away from national monuments.
There, too, demonstrators also engaged in self-policing.
"I cannot emphasize enough [how] much of a disconnect there is between the majority of the people here who want to keep this peaceful and people who want to force a conflict," BuzzFeed News reporter Ellie Hall tweeted from the scene.
After someone in a crowd started throwing water bottles over the fence, others started yelling at them to stop.

"They already want to kill us, stop!" one woman yelled. "There's a lot of people here for the wrong reasons."
It was in stark contrast to Monday, when police cleared a crowd of peaceful protesters with tear gas minutes before curfew so that President Trump could walk to St. John's Episcopal Church for a photo op.

Los Angeles
Risking arrest for violating a 6 p.m. curfew, thousands also took the street in multiple Los Angeles neighborhoods and surrounding cities to protest, but they too were more subdued than in recent days.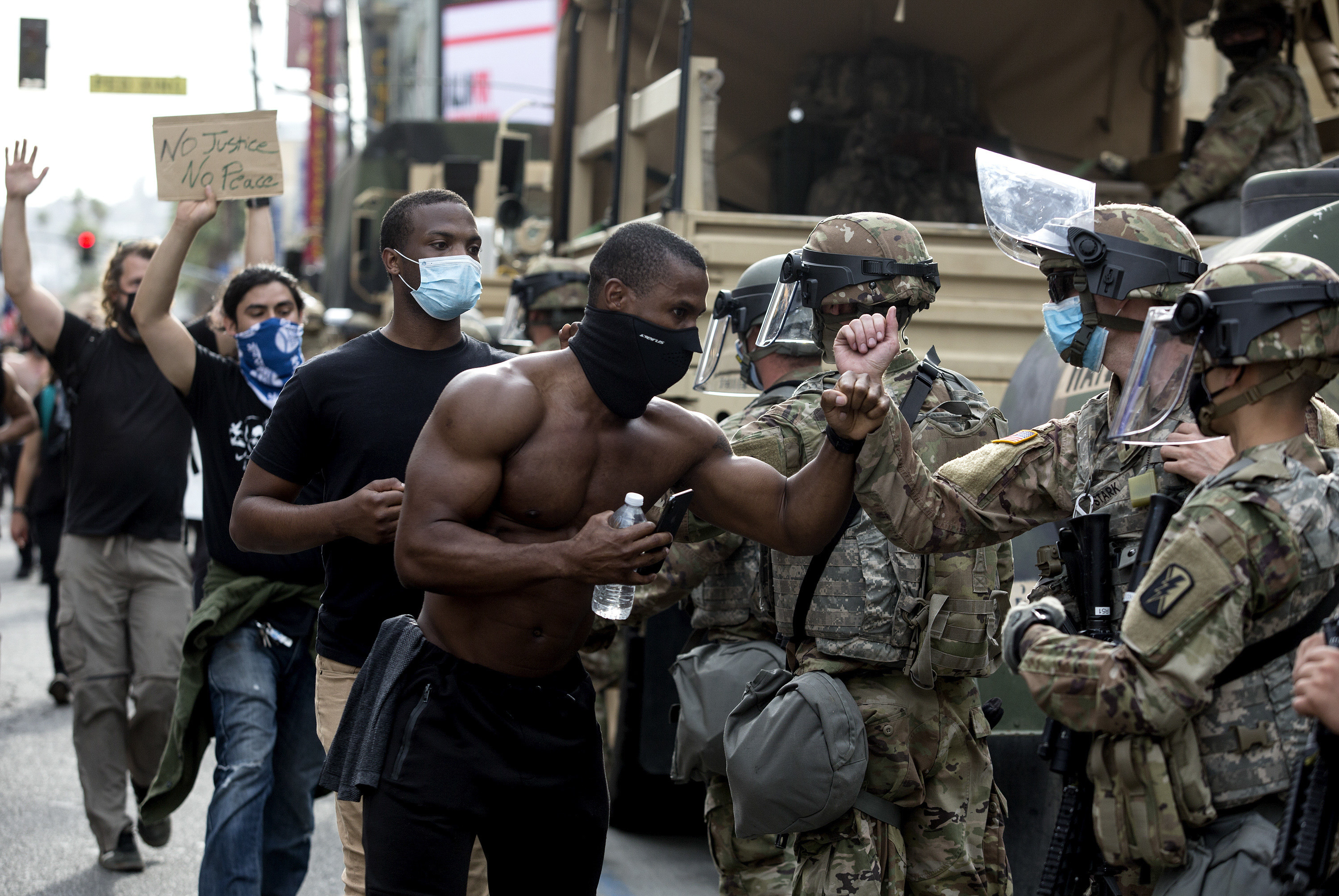 Hundreds of people have been arrested since Sunday during violent clashes with police and heavy looting, but those scenes were mostly absent as night fell. But the gatherings were against a backdrop of National Guard units stationed throughout the region. LAPD Chief Michel Moore also said the first time in decades, "every sworn member of the Los Angeles Police Department is working."
In Hollywood, interactions with police and National Guard troops took on a less confrontational tenor. As protesters tried to get officers to join the march, multiple National Guard troops took a knee to applause.
Houston
Thousands of people gathered in Houston, Texas, to honor George Floyd — the unarmed black man killed by Minneapolis police while in a knee chokehold — in his hometown.
Some demonstrators even arrived on horseback as crowds marched through the downtown area before gathering at City Hall for a rally.
At one point, demonstrators knelt for 30 seconds in silence for Floyd.
During the rally, Rev. Bill Lawson, who marched with Martin Luther King Jr., told the crowd to continue making their voices heard and to stay mobilized.
"You need to make noise," Lawson, 91, said, according to news station KHOU. "You've been quiet for a long time."
The rally was organized by Houston rappers Trae the Truth and Bun B, and included members of Floyd's family.
Shannon Keating, Otillia Steadman, and Rosalind Adams reported from New York. Ellie Hall and Addy Baird reported from Washington, DC.