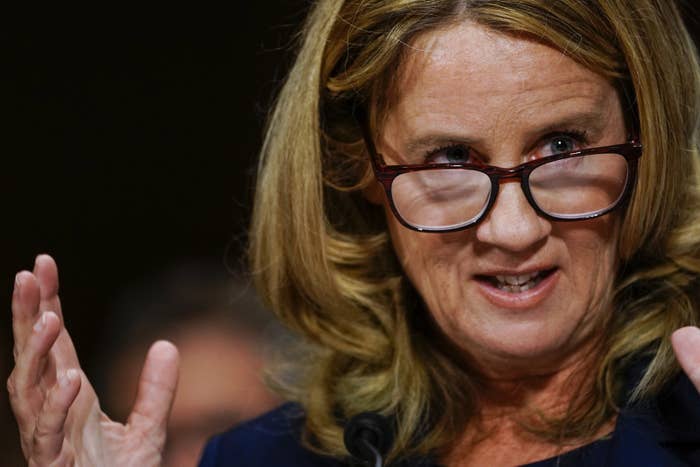 Three days before the FBI is supposed to complete an investigation into sexual assault allegations against Supreme Court nominee Brett Kavanaugh, attorneys for Christine Blasey Ford, whose testimony prompted the probe, said their client still hasn't been interviewed by federal law enforcement officials.
In a letter to the FBI director and general counsel Tuesday, Ford's attorneys, Michael Bromwich and Debra Katz, said they informed the agency that Ford was willing to be interviewed last Friday, shortly after President Donald Trump ordered the investigation, but has since received no response.
"Despite these efforts, we have received no response from anyone involved in this investigation, and no response to our offer for Dr. Ford to be interviewed," Ford's attorneys wrote.
Last week the Senate Judiciary Committee heard emotional testimony from both Kavanaugh and Ford, who accused the judge of sexually assaulting her in the early 1980s when they were both in high school.
The testimony prompted a one-week delay on the full Senate's vote to confirm Kavanaugh to allow the FBI to conduct a supplemental background investigation into allegations against the nominee.

The bureau was directed to investigate "current credible allegations" against Kavanaugh, but has discretion on how to interpret that.
Citing sources, NBC News reported Tuesday that the FBI had no intention of interviewing Ford because the White House believed Ford's testimony to the committee was sufficient.
Ford's attorneys said they hoped those reports were inaccurate.
"It is inconceivable that the FBI could conduct a thorough investigation of Dr. Ford's allegations without interviewing her, Judge Kavanaugh, or the witnesses we have identified in our letters to you," Ford's attorneys wrote.

The FBI declined to comment on whether Ford will be interviewed. A spokesperson for the White House did not immediately respond to a BuzzFeed News request for comment.
Multiple outlets, including the New York Times and the Wall Street Journal, reported that the investigation could conclude as early as Wednesday.
The FBI has so far spoken with the three people Ford identified as having been at the gathering where she alleges Kavanaugh assaulted her — Mark Judge, Leland Keyser, and P.J. Smyth — as well as Deborah Ramirez, the second woman who accused Kavanaugh of sexual misconduct.
Ramirez's attorney John Clune said his client spoke with the FBI for more than two hours on Sunday and provided officials with the names and contact information for more than 20 witnesses, but the agency has not spoken with any of them.
"Although we do not know the status of the investigation, we are not aware of the FBI affirmatively reaching out to any of those witnesses," Clune tweeted Tuesday afternoon. "Though we appreciated the agents who responded on Sunday, we have great concern that the FBI is not conducting — or not being permitted to conduct — a serious investigation."
Julie Swetnick, the third woman who came forward with allegations against Kavanaugh, has also not been contacted by the FBI, according to her attorney Michael Avenatti.
The bureau has also not responded to Kerry Berchem, a former Yale classmate of Kavanaugh's who reportedly has text messages that suggest Kavanaugh asked former classmates to refute Ramirez's story before it went public.
On Monday, the White House reportedly instructed the FBI to interview anyone it wanted to in relation to the Kavanaugh accusations, and Trump said that he wanted a "comprehensive" investigation.