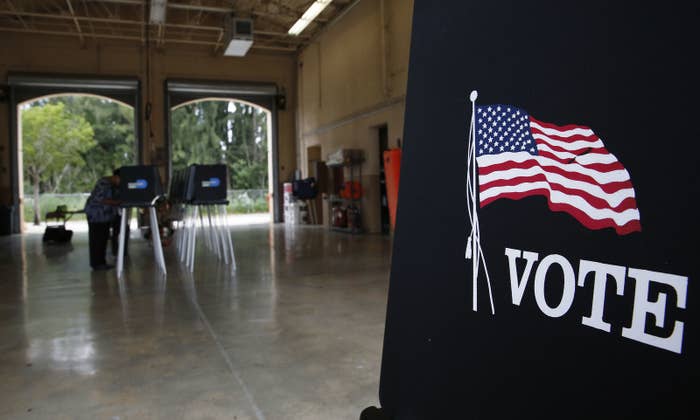 About 1.4 million Floridians who haven't been able to cast ballots in elections because of laws barring convicted felons from voting regained their right to vote under a constitutional amendment approved by voters Tuesday.
According to preliminary election results, 64% voted in favor of Amendment 4, which restores voting rights to felons, except those convicted of murder and sexual offenses, automatically after they complete all the terms of their sentences, including parole or probation.
The amendment needed 60% of votes to pass.

"We think this would add to the chorus of the Florida electorate," Neil Volz, political director for the Florida Rights Restoration Coalition, the group behind the amendment, told BuzzFeed News. "It would allow millions of people whose voices have been silenced to get their voices back."
Convicted felons had been permanently barred from voting in Florida unless granted clemency by the governor on a case-by-case basis in what has been a yearslong process under outgoing Gov. Rick Scott.
Nearly 1.7 million Floridians were disenfranchised — the highest in the nation — as of 2016, according to data from the Sentencing Project. About 21 percent of black Floridians — or more than 499,000 — were disenfranchised.
The state was one of four that deny the right to vote to all felons until they petition for rights restoration.
"It's a very arbitrary process and the governor has full control, so depending on who's in office you can have a good chance of getting your rights restored or not at all," Morgan McLeod, a spokesperson for the Sentencing Project, told BuzzFeed News.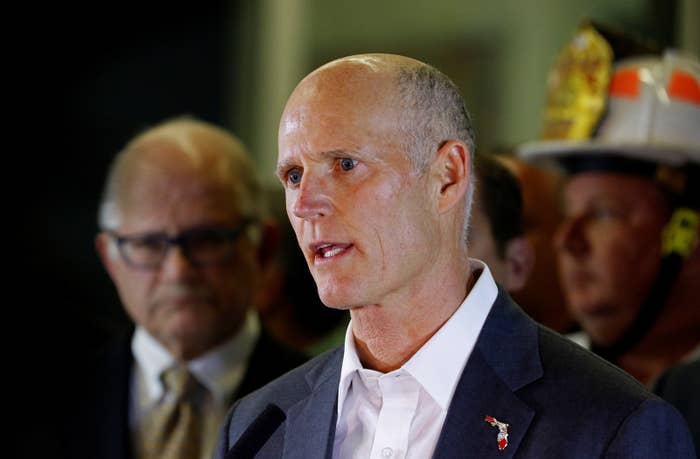 Under Scott, felons who served their time had to wait at least five years before they could apply to have their voting rights restored. Then they'd still have to wait to get a hearing before the state's clemency board, which meets just four times a year.
As of last year, more than 10,000 people were still waiting for a hearing, according to an ongoing lawsuit challenging Florida's clemency process.
Jon Sherman, senior counsel for the Fair Elections Center, which is representing the plaintiffs in that case, said only about 3,000 people have had their rights restored since Scott took office in 2011. More than 150,000 felons had their rights restored during his predecessor Charlie Crist's four years in office.

"It's the worst voting rights crisis in America," Sherman said.
The amendment drew wide support from various groups, including the American Civil Liberties Union, which contributed more than $5.5 million to the campaign, according to campaign finance records.
"This victory is the culmination of decades of hard work," ACLU of Florida Executive Director Howard Simon said in a statement. "For too long, Florida has been an extreme outlier — our state's lifetime voting ban was the single most powerful voter suppression tactic in the country, shutting more people out of the voting booth and out of our democracy than any other single law or policy in the country."
No meaningful opposition campaign formed; however, Tampa lawyer Richard Harrison has argued that the amendment went too far by providing "blanket restoration."

"We don't think that's the right approach," Harrison, executive director of Floridians for a Sensible Voting Rights Policy, told BuzzFeed News. "It excludes people convicted of the worst crimes — murder and sexual felonies — but even leaving out those there are still plenty of bad people that are covered."
Since 1997, 23 states have reformed their felon disenfranchisement laws, according to the Sentencing Project. Most states automatically restore felons' voting rights after they're released from prison or once they've completed their sentence.
Still, in Tuesday's elections more than 6 million people were ineligible to vote.
"Denying the right to vote to an entire class of citizens is just deeply problematic to a democratic society," McLeod said. "If we keep sending messages that they are second-class citizens, it creates barriers to their integration."