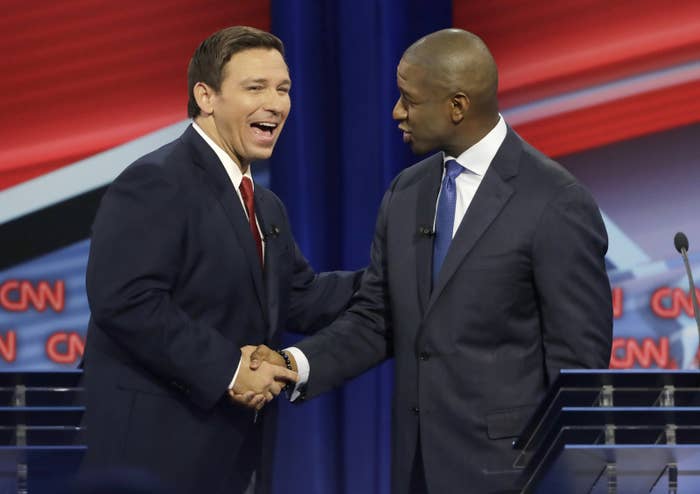 Andrew Gillum, the Democratic nominee for Florida governor, all but accused his Republican opponent of being a racist during their second and final debate Wednesday night.
Gillum — the state's first black gubernatorial nominee from a major party — called out former US representative Ron DeSantis for multiple race-related controversies that have bogged down the Republican nominee's campaign, including DeSantis's refusal to return a campaign contribution from a donor who called Barack Obama the n-word on Twitter.
"Now, I'm not calling Mr. DeSantis a racist," Gillum said during the debate. "I'm simply saying the racists believe he's a racist."
The day after Gillum, the mayor of Tallahassee, won the Democratic nomination in Florida's gubernatorial race, DeSantis said a vote for the black nominee would "monkey this up" and called Gillum "articulate" — a backhanded compliment often reserved for candidates of color.
Soon after, a neo-Nazi podcast and website put out a robocall disparaging Gillum with racist stereotypes.
DeSantis addressed the racial controversies during the debate, denying suggestions that he discriminates against people of color.
"When I was a prosecutor I stood up for victims of every race, color, and creed. That's the only way to do it in our country," DeSantis said. "It's something I believe in and as governor I will represent all the people. Everyone will get a fair shake."