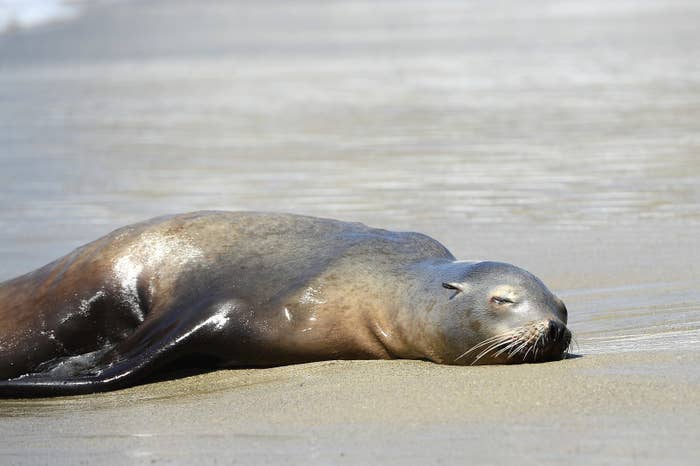 Several sea lions have been found shot to death along Washington's shoreline in recent months as populations of the marine mammal return to the area for the winter.
Since September, at least 13 California sea lions have been reported dead, including six that were confirmed shot, in Puget Sound and Hood Canal, according to the Seal Sitters Marine Mammal Stranding Network, a volunteer group that responds to reports of stranded or dead sea lions.
Most recently, one animal washed up on the shore in West Seattle with its head sliced off, the Seal Sitters wrote in a blog post this week.
All 13 deaths are suspected to have resulted from human interactions, according to the group. The National Oceanic and Atmospheric Administration Fisheries Office of Law Enforcement is investigating the shooting deaths of several of the sea lions, who are protected under the Marine Mammal Protection Act.
The act, enacted in 1972, prohibits the harassment, hunting, capturing, or killing of marine mammals. Violations of the act can result in fines of up to $28,520 and one year in prison.
Officials have responded to reports of sea lion shootings in the fall and winter in Puget Sound in recent years.
Michael Milstein, a spokesperson for NOAA Fisheries, said this is the time of year when the sea lions, particularly the males, travel north to the area from the Channel Islands off Southern California in search of food.

"The reality is we do see this happen from time to time," Milstein told BuzzFeed News in reference to the shootings. "Historically, there's been animosity toward sea lions because in some sense they compete with us for resources — for fish."
Between 1998 and 2017, as many as 700 California sea lions were found with gunshot and stab wounds, according to National Geographic. The magazine reported that charges were filed in only a handful of those killings and all were filed against fishermen.
Milstein cited the recent sentencing of a fishing boat captain in Alaska who regularly ordered his crew to shoot at sea lions as an example of a successful prosecution.
Despite the illegal killings, the California sea lion population has rebounded in recent years, increasing from fewer than 90,000 animals in 1975 to an estimated 281,450 in 2008, according to a recent NOAA study.

Milstein said while he didn't consider the number of killings to be high, the proximity of several shootings to dense areas of West Seattle was particularly troubling.
"If there's a lot of people around, on the one hand, that presents the risk of somebody getting hurt," he said. "At the same time, we are hopeful that people will see or hear something that will help us in these cases, and we really need people to be our eyes and ears out there."
Anyone within information about a possible marine mammal violation is asked to call 1-800-853-1964. To report a dead, injured, or stranded marine mammal, call 1-866-767-6114.