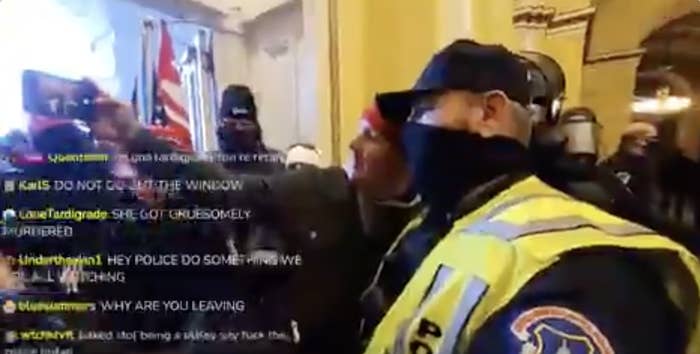 At least two Capitol Police officers have been suspended for fraternizing with Trump supporters who rioted and violently breached the Capitol last week, a member of Congress said Monday.
"One was the selfie officer and another was an officer who had a put a MAGA hat on and started directing some people around," Rep. Tim Ryan, who chairs the committee that oversees Capitol Police, told reporters during a virtual press briefing.
Ryan, a Democrat from Ohio, said he wasn't sure if the officer was "letting them in" or "letting them out," but he added that the department's interim police chief determined their actions were grounds for "immediate suspension."
Capitol Police acting chief Yogananda Pittman later confirmed in a statement that the department was reviewing video and other materials that showed officers appearing to violate regulations and policies.

"Our Office of Professional Responsibility will investigate these behaviors for disciplinary action, up to, and including, termination," she said. "Several USCP officers have already been suspended pending the outcome of their investigations."
In his initial press briefing, Ryan added that another individual had been arrested. However, he said he wasn't sure about the details surrounding the arrest. His office later issued a statement saying no Capitol police officers have been arrested. The statement did not address whether another person working for law enforcement had been arrested as Ryan previously suggested.
Ryan said that while he did not yet have any "direct evidence" indicating that law enforcement helped rioters during the Jan. 6 insurrection, officials are investigating whether anyone may have been involved.

"The Capitol Police are looking at everybody involved that could have potentially facilitated at a big level or a small level in any way," he said.

Citing congressional officials, the Washington Post confirmed the two suspensions and reported that more than a dozen others were under investigation for suspected involvement or providing support for the demonstration.