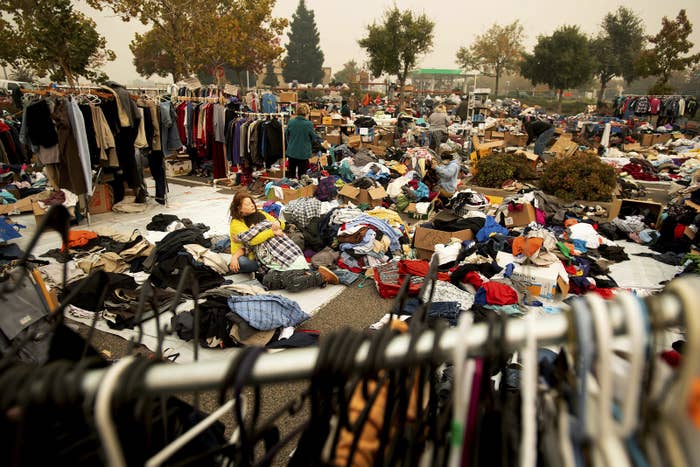 CHICO, California — Pam Denna and her husband thought they would be able to go home when they hitched a ride with friends Thursday morning to escape the Camp fire as it tore through Paradise in Northern California.
Now, they're stranded in nearby Chico with no vehicle and no home to return to, sleeping in a tent in the parking lot of a Walmart with what local organizers estimate is nearly one thousand other evacuees displaced by the deadliest and most destructive wildfire in the state's history.
"If somebody told me that in five years you're going to be living in a Walmart parking lot, I wouldn't have believed them," Denna told BuzzFeed News on Wednesday. "It's unreal."

Mel Contant, one of the lead volunteers at the makeshift Chico Walmart evacuation center, has been permanently attached to her walkie-talkie for days. She and about a dozen other volunteers have been working 12-to-14-hours a day buzzing around as streams of evacuees flow in and out, rifling through racks of clothes on wood pillars, standing in line at food trucks to get a hot meal, and milling around the dozens of tents now covering the parking spots and grass in the shopping center.

Contant told BuzzFeed News that the parking lot has 15 portable toilets and the biggest issue is finding available showers — she has been coordinating other volunteers to shuttle evacuees to local shelters and the homes of Chico residents who have offered their facilities so people can bathe.

The organizer described the situation as a humanitarian crisis and lamented that government presence and assistance has been non-existent, since FEMA and other agencies are set up elsewhere.

The Red Cross finally stopped by Wednesday, but "they asked what we need," she said. "We're overflowing with donations. They don't need anything. We want to know what they're going to do."
Contant said that there is "no plan" in place to move and relocate all the people, who have been sleeping for days in tents and cars shrouded in smoke. Temperature is also an issue, she told BuzzFeed News, as it can get down to 45 degrees at night and if you're not wearing gloves, your hands will hurt from the cold.

"It's going to rain. What are we going to do?" she said, gesturing toward the piles of vulnerable donations and tents. "We need to get a roof over their heads."

There are several dozen children living at the camp, clutching new toys and adjusting their face masks to filter the smoke.

Two of the children, friends Preston, 9, and Brooklyn, 7, talked to BuzzFeed News about how they've spent their past few days.

His home is safe, hers is gone. They evacuated with their parents and entire neighborhood, whose future is now hanging in the balance. Since Saturday, they've been at the WalMart. They spend their days "just sitting around," petting dogs, and playing baseball. They say they've gotten used to the cold.

Eric Bass, a neighbor watching the two children while their parents got food for their families, told BuzzFeed News they had been told "it's anywhere from between two weeks and a year" until they'll be able to return to their homes — or what remains of them.

"At 8 a.m. that day, our lives changed," he said. "We're taking it minute-by-minute now."
As of Wednesday night, the fire had killed 56 people, but more than 100 others were still missing. The blaze had also destroyed more than 10,300 structures, burned 135,000 acres, and displaced tens of thousands of residents in the rural Butte County.
Many have found temporary shelter at hotels, evacuation centers, parking lots, and with friends from Redding to Sacramento, but as they begin to search for more longterm housing, they may end up in other parts of the state or be forced to leave California altogether.

"We won't have the housing stock to replace what was burned," Ed Mayer, executive director of Butte County's Housing Authority, told BuzzFeed News. "I don't think it's likely these households will find housing in California."
Paradise Mayor Jody Jones, who along with the rest of the town council lost her home to the fire, estimated that around 90% of the town's housing units and about 50% of its commercial area were destroyed.
The rural retirement community of 26,000 had a median age of about 50 years and a median household income of just $47,533, according to US Census estimates.
"It means that we're going to have a large population of low-income seniors and disabled and low-income in general looking for housing," Mayer said.

He added that Paradise was relatively affordable compared to the rest of the state and uniquely situated near more metropolitan cities like Chico and Sacramento.
"Where else can you go to in California to find relatively affordable rents and access to service?" Mayer asked. "My answer is likely nowhere."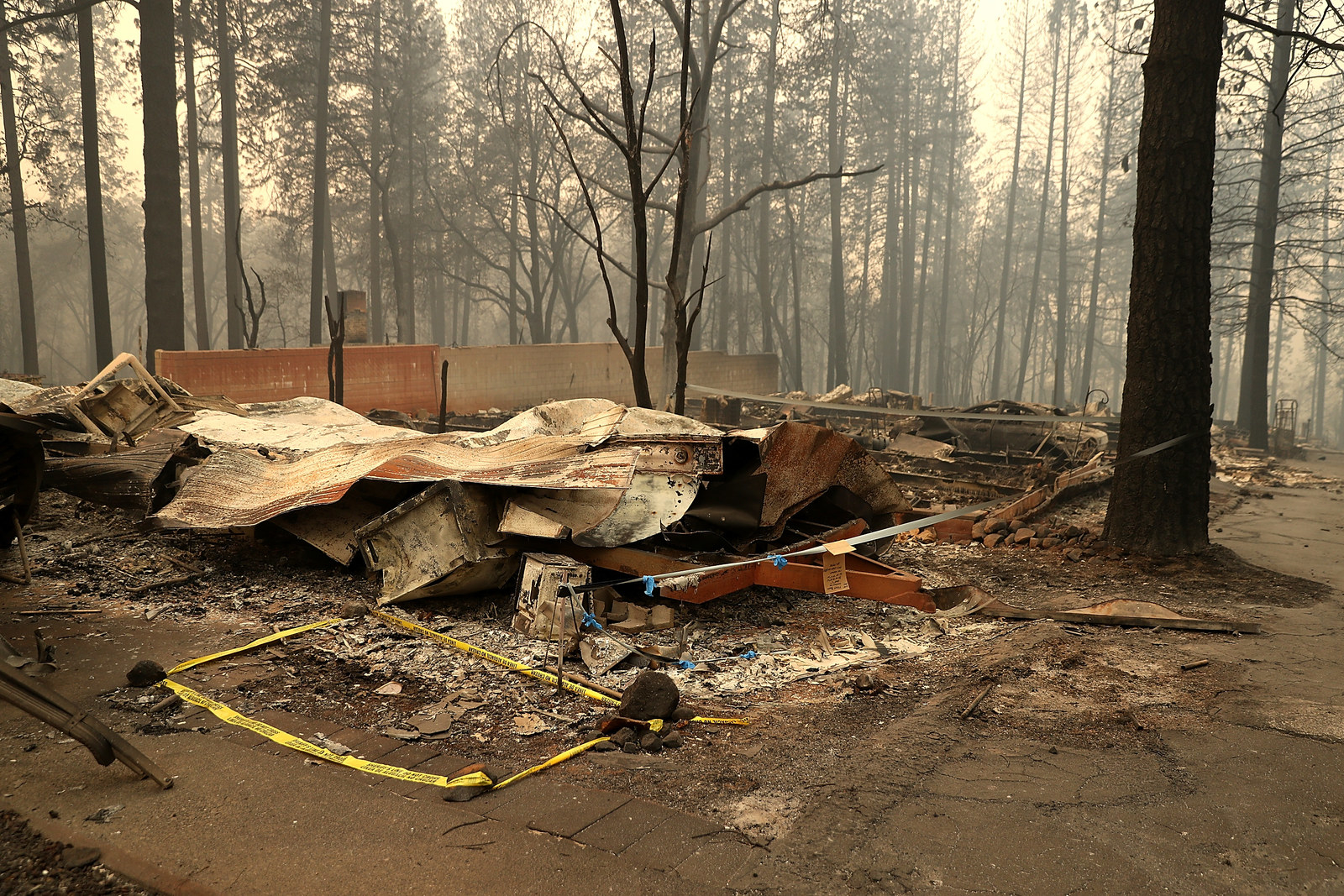 Before the Camp fire, the county had a housing vacancy rate of just 1.5% to 2.5% and officials were struggling to find homes for 1,900 households, Mayer said. As a result of the fire, any rental units that are available are getting scooped up quickly.

Mark Ghilarducci, director of the California Governor's Office of Emergency Services, said officials are searching for rental properties and hotel rooms in and around Butte County, and are even looking at the possibility of bringing in mobile homes and trailers.
"One of our priorities is getting people now out of the shelters," Ghilarducci said at a news conference Wednesday.
Officials were aware that people are also sheltering in parking lots and that they want "to move as expeditiously as possible to get them out of that environment," he added.
Kate Leyden, executive director of the Chico Builders Association, told BuzzFeed News the group is also looking into setting up an RV park on private land for displaced families.
Jones, who is currently living in a motorhome on a vacant lot in Chico with her husband, is among those looking for a place to rent while they wait to begin what she acknowledged will be a long and difficult process to rebuild the community.

She told BuzzFeed News that while she and others are adamant about rebuilding their homes, she doesn't know how many residents will return to Paradise.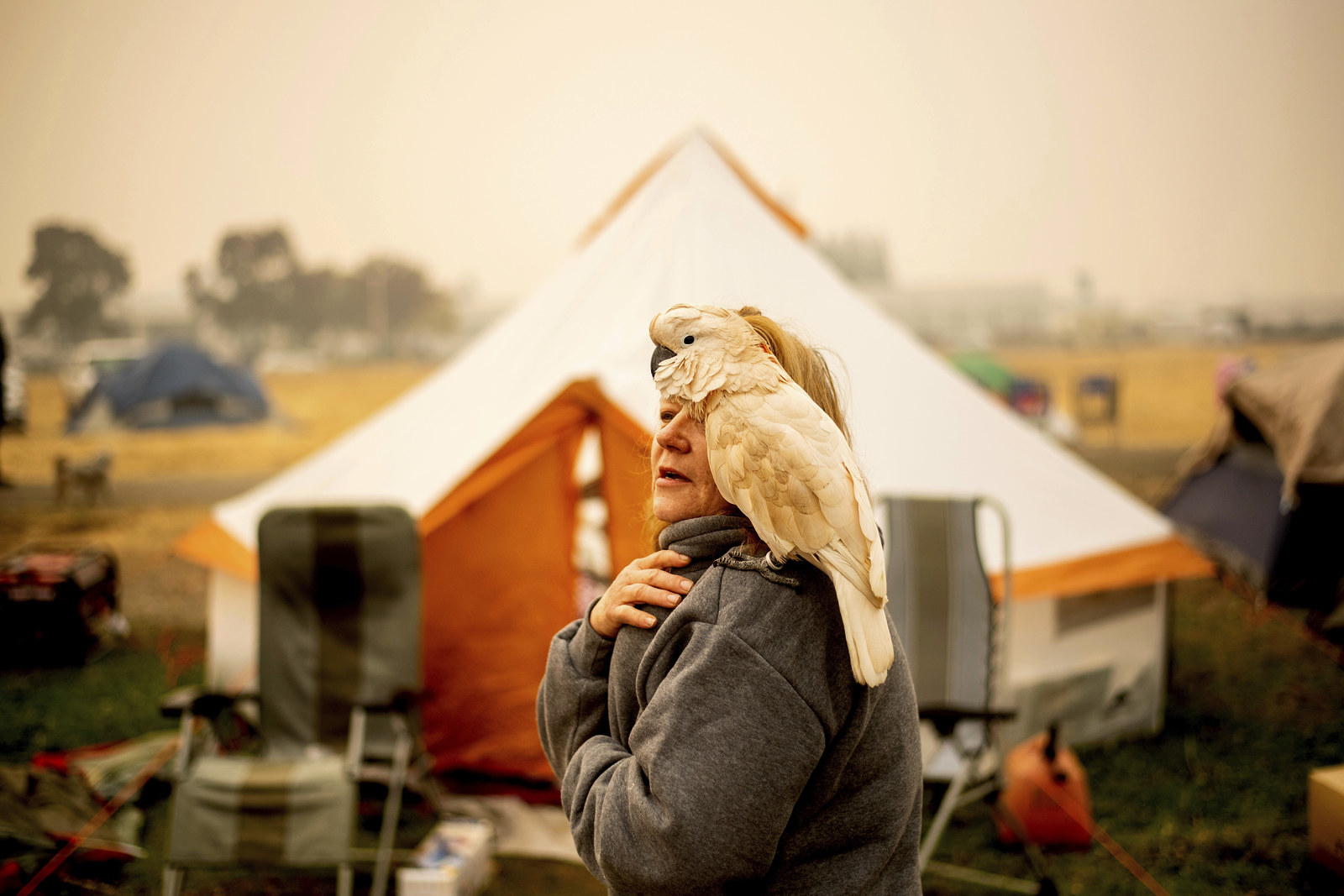 "Some people will probably go stay other places, some people won't come back — it's very early to tell," Jones said. "Many people have no idea what they're going to do yet."
Brock Long, administrator of the Federal Emergency Management Agency, said federal officials would be in the area for years to help rebuild the town, adding that "you're not going to be able to rebuild Paradise the way it was."
"This is going to be a very long and frustrating event for the citizens of Paradise, but we all have to work together to find a new normal," he said.
Barbara Zarembinski, 71, and her husband Dave Vanicek, 79, don't plan on moving back to Paradise, where they lived for 15 years. The couple is staying at a hotel in Roseville after evacuating last week.
"It's just the whole ordeal, going over plans, getting permits, cleaning the land — we don't want to do that," Zarembinski told BuzzFeed News. "We're in our 70s. We just want to buy a house and live there."
Vanicek said they moved to the town in search of "a slower pace of life" and to be "closer to nature" after retiring from jobs in Sacramento.
"Paradise kept coming up in 'places to retire' books, so we thought we'd drive up here and take a look at it," said Vanicek, who taught biology at California State University, Sacramento for more than 30 years.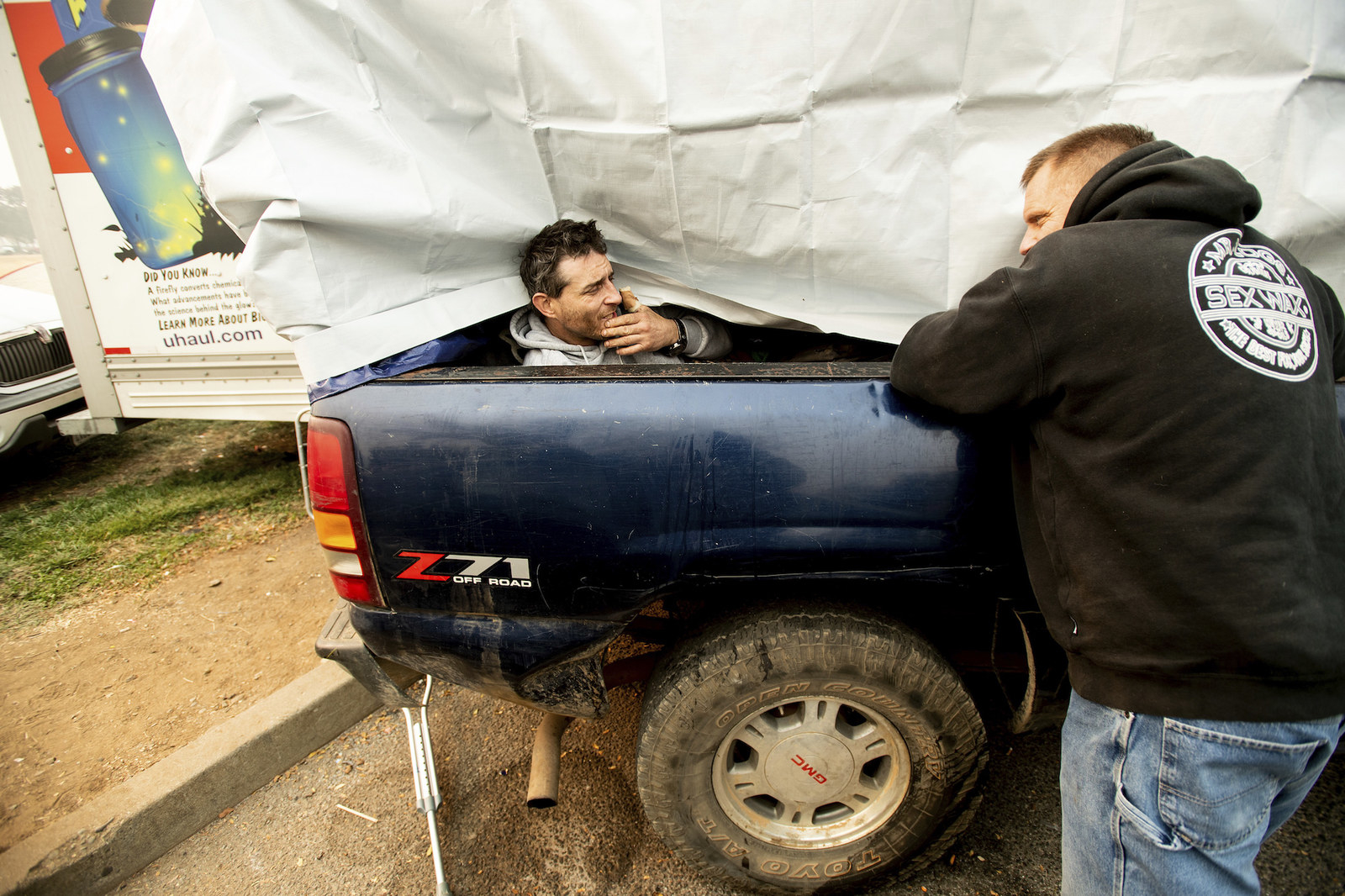 He guessed that two-thirds of their neighborhood wouldn't return.
"We do have a lot of older people in our neighborhood, and they probably feel the same way we do about going back there," he said.

Charles Brooks, however, told BuzzFeed News he and his wife were "110% committed" to rebuilding their Paradise home.
"We will figure this out, because otherwise if everybody bails out it's just going to be a burnt piece of ground up on the hill and a ghost town, and that doesn't work," said Brooks, who is now renting a small home in Chico for his wife and two kids.
The 38-year-old has lived in Paradise since 2005, and said he and his family always knew there was a risk that a wildfire could destroy their home. But the risk over time was "pretty low," he said, adding that rebuilding could allow officials to make the town better prepared for and able to withstand future fires.
"I don't know the mechanics of how that's going to happen, but it has to happen because it's such a special place," he said. "I didn't realize truly how much I loved it until I can't be there."
Susie Rees, another Paradise resident who lost her home, said that ideally she'd like to go back and rebuild, but she doesn't know how plausible that is.
The 56-year-old, who ran a cake business out of her home, is out of a job and staying with one of her adult daughters in Southern California while her husband searches for a place to rent in or near Chico.

"I don't know what we're going to do," she said.
Denna, who has been living at the Walmart since the fire broke out, said that for now, she and her husband are just going to wait it out in the parking lot. She pointed out that volunteers have been taking care of evacuees, providing them with food, clothing, and other supplies.
"I know we can't move back," she said. "We're probably going to have to rent an apartment sometime outside of town, maybe relocate, I don't know."

"I can't even think," she continued. "We're still all in shock that we're all here in this one little community Walmart parking lot."