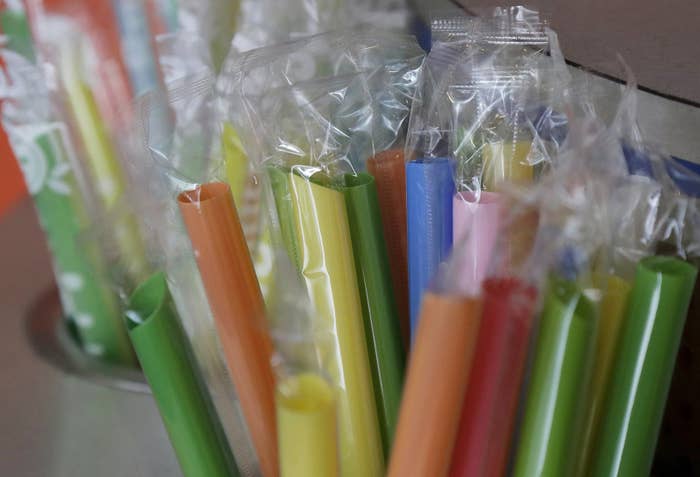 California is about to become the first state to restrict the distribution of plastic straws at restaurants under a bill approved by lawmakers Thursday.
The legislation, which awaits Gov. Jerry Brown's signature after passing the Assembly on a 45–20 vote, would prohibit full-service, dine-in restaurants from providing single-use plastic straws unless requested by customers.
Brown's office said it doesn't comment on legislation before it reaches his desk, but the governor did sign a law in 2014 banning single-use plastic bags at grocery stores, pharmacies, and liquor stores.

Several cities in the Golden State have already adopted policies regulating or banning the use of plastic straws, including San Francisco, Davis, and Malibu.
Straws are the sixth most common item found during beach cleanups, according to the California Coastal Commission. During cleanups between 1988 and 2016, the agency reported collecting 835,425 straws.
The state assemblyman who introduced the legislation in January, Ian Calderon, a Democrat from Whittier, has said providing straws only upon request will help the state meet solid waste goals and reduce plastic pollution.

"It's something that's a convenience that we're just used to but it is generally — for most people — unnecessary," Calderon told BuzzFeed News, acknowledging that straws are a necessity for some like people with disabilities. "It's a small step, but in the scheme of things, it's a significant step because before we even started to take this step nobody was talking about it."

The legislation does not prevent cities or counties from adopting stricter ordinances to further regulate plastic straw use.

Violators could face fines of $25 for each day the restaurant is in violation.
The anti-straw movement has been around for more than a decade, but gained steam in 2015 thanks to a video of a plastic straw being pulled out of sea turtle's bloody nose.
In the past few months, Seattle's ban has taken effect and San Francisco moved to adopt its own. Last month, Starbucks announced it would stop offering plastic straws in all of its stores by 2020. Other companies, Marriott International, American Airlines, and the Walt Disney Corporation, have taken similar steps.

Plastic straws often end up in the ocean, where they endanger aquatic animals and contribute to pollution. Studies estimate that there will be more plastic than fish in the ocean when measured by weight by 2050.

Jackie Nunez, founder of the Last Plastic Straw and project manager for the Plastic Pollution Coalition, said that while she wished California's legislation was more comprehensive to include fast-food restaurants and other single-use items, it was a step in the right direction toward reducing waste.
"It's a common sense approach," Nunez told BuzzFeed News. "It's a win-win for everyone. The businesses save money and our municipalities save money not only in waste but also in source reduction and cleanups."