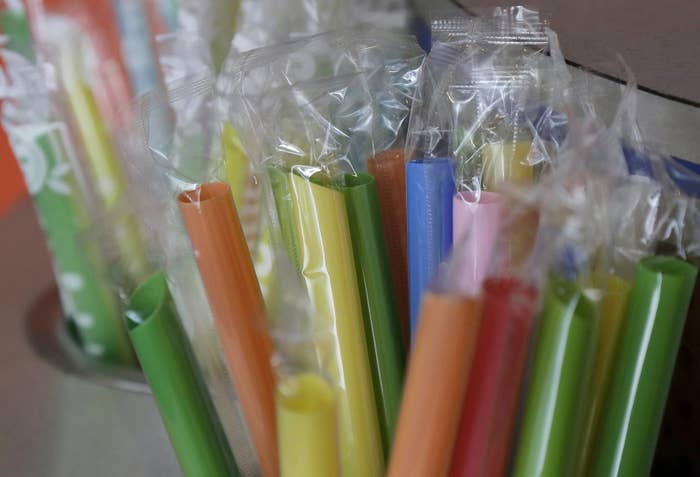 California just became the first state to restrict the distribution of plastic straws at restaurants under a bill signed into law by Gov. Jerry Brown Thursday.
The new law prohibits full-service, dine-in restaurants from providing single-use plastic straws unless requested by customers.
In a letter to legislators, who passed the legislation last month, Brown called the law "a very small step" to help reduce waste from single-use plastic products.
"And it might make them pause and think again about an alternative," Brown wrote. "But one thing is clear, we must find ways to reduce and eventually eliminate single-use plastic products."
Several cities in the Golden State have previously adopted policies regulating or banning the use of plastic straws, including San Francisco, Davis, and Malibu.
Straws are the sixth most common item found during beach cleanups, according to the California Coastal Commission. During cleanups between 1988 and 2016, the agency reported collecting 835,425 straws.
The legislation does not prevent cities or counties from adopting stricter ordinances to further regulate plastic straw use.

Violators could face fines of $25 for each day the restaurant is in violation.
The anti-straw movement has been around for more than a decade but gained steam in 2015 thanks to a video of a plastic straw being pulled out of sea turtle's bloody nose.
In recent months, Seattle's ban has taken effect and San Francisco moved to adopt its own. In July, Starbucks announced it would stop offering plastic straws in all of its stores by 2020. Other companies, including Marriott International and American Airlines, have taken similar steps.

Plastic straws often end up in the ocean, where they endanger aquatic animals and contribute to pollution. Studies estimate that there will be more plastic than fish in the ocean when measured by weight by 2050.
A recent poll found most Americans would rather see businesses limit straws than have an all-out ban.