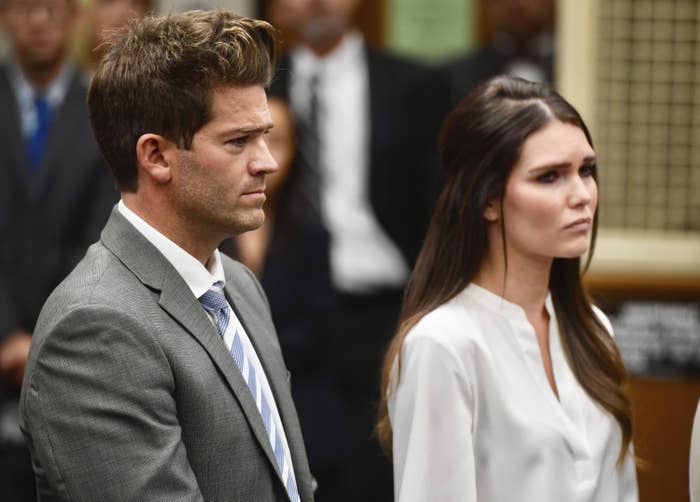 Prosecutors in California are dropping all charges against a surgeon and his girlfriend who were previously accused of drugging and raping a number of women, citing a lack of evidence.
Dr. Grant W. Robicheaux, who once appeared on the Bravo reality show Online Dating Rituals of the American Male, and Cerissa Riley were charged in 2018 with kidnapping, rape by use of drugs, and other crimes. At the time, prosecutors accused the couple of engaging in a predatory pattern: meeting women in restaurants and bars, spiking their drinks, taking them to Robicheaux's apartment, and sexually assaulting them.
Prosecutors initially said they had more than 1,000 videos of what may be women being sexually abused. But on Tuesday, Orange County District Attorney Todd Spitzer, who was elected after the case was filed, said there were no such videos.
"There is not a single piece of evidence or video or photo that shows an unconscious or incapacitated woman being sexually assaulted," Spitzer said during a press conference. "Not one."
Spitzer has repeatedly criticized his predecessor, Tony Rackauckas, for filing the case. In September, he sent a letter to California Attorney General Xavier Becerra, asking the state to take over the case because it was "rife with prosecutorial misconduct," according to the Orange County Register.
The state ultimately declined, saying that the district attorney's office was "fully capable of handling it," the Register reported.
Spitzer on Tuesday said he assigned new prosecutors to the case after he took office; he added that their review found there wasn't enough evidence to prove the case beyond a reasonable doubt.
"This office will go to court as soon as possible and seek a dismissal on all the charges against the defendants," he said, according to the Associated Press.
On Friday, a judge said he would consider the request for dismissal but wanted to take more time to examine the evidence before making a decision, the Los Angeles Times reported.
"Politics have infected this case," Judge Gregory Jones said. "Mixing politics with prosecution gives you a toxic cocktail."
In a statement Thursday, Rackauckas voiced concern that his successor's decision would deter sexual assault victims from coming forward in the future and claimed that Spitzer did not talk to the victims in this case before announcing the dismissal.

"This case should not be dismissed, and he certainly should not have made this decision without informing the Jane Does," Rackauckas said. "If there really was no evidence to support this case, Todd should redact any personal or identifying information about the Jane Does and allow the public to decide if there was indeed no evidence to go forward."
Both Robicheaux and Riley have denied the allegations.

After announcing his decision to drop the charges, Spitzer apologized to the alleged victims and said he will meet with them to explain why the evidence did not meet their burden of proof.
"What happened in their lives and how this case materializes is nothing short of a travesty," he said, according to CBS Los Angeles.