Senate Staffers Have Asked Brett Kavanaugh About An Anonymous Fourth Allegation Of Sexual Misconduct
An anonymous letter sent to a Colorado senator alleges that Kavanaugh physically assaulted a woman outside a bar in 1998. He denied the allegation.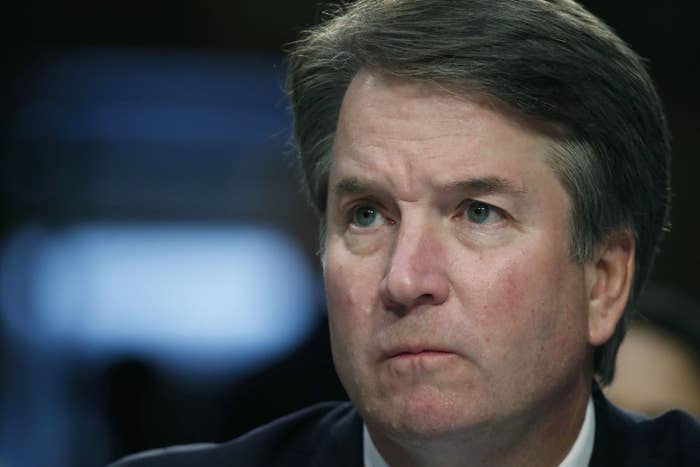 Senate Judiciary Committee staff have asked Supreme Court nominee Brett Kavanaugh about a fourth allegation of sexual misconduct, according to a transcript of a Tuesday phone call between aides and the judge.
The allegation was initially reported to Colorado Sen. Cory Gardner, who received an anonymous letter on Monday alleging that Kavanaugh physically assaulted a woman he was dating after leaving a bar in Washington, DC, in 1998.

The author said the woman was a friend of her daughter's and that her daughter and three others witnessed the incident.
"Her friend was dating him. When they left the bar (under the influence of alcohol) they were all shocked when Brett Kavanaugh shoved her friend up against the wall very aggressively and sexually," the letter stated.
The woman called the author's daughter on Friday "wondering what to do about it," the letter stated, but "they decided to remain anonymous."'
Kavanaugh denied the allegation, calling it "ridiculous."
"We're dealing with an anonymous letter about an anonymous person and an anonymous friend," he said, according to the transcript. "It's ridiculous. Total twilight zone. And no, I've never done anything like that."
Gardner's press secretary, Casey Contres, confirmed that they received a letter about an alleged incident involving the judge in 1998 but declined to discuss its contents.
"The letter contained no names, no address, and no contact info," Contres told BuzzFeed News on Wednesday.
A spokesperson for Chuck Grassley, the chair of the Senate Judiciary Committee, said the committee did not view the letter as credible and had no way to investigate the allegations made.
"We have no reason to assign the letter credibility, and even if we did, we'd have no way to investigate the allegation as it was made anonymously and cannot be corroborated," the spokesperson said.
News of the anonymous allegation comes just hours after another woman, Julie Swetnick, came forward to accuse Kavanaugh of sexual misconduct in a sworn affidavit.
Swetnick alleged in the declaration that Kavanaugh and his friends helped spike the drinks of girls at high school house parties in the early 1980s to "cause girls to lose inhibitions and their ability to say 'no.'"
She also said that Kavanaugh was present when she was gang-raped at a party in 1982.
Swetnick is the third woman to go public with sexual misconduct allegations after Christine Blasey Ford, the college professor who alleges Kavanaugh sexually assaulted her in high school, and Deborah Ramirez, a Yale classmate of Kavanaugh's who said he exposed his penis to her at a college dormitory party.
Ford told the Washington Post that Kavanaugh pinned her to a bed, groped her, tried to remove her clothes, and put his hand over her mouth to stop her from screaming at a high school party in Maryland when he was 17 and she was 15.
She and Kavanaugh are scheduled to testify about the alleged incident before the committee Thursday.
During the Tuesday phone call, committee staff members also asked Kavanaugh about allegations made by Swetnick's lawyer, Michael Avenatti, prior to the release of her affidavit, including that he was involved in "a drug- and alcohol-induced gang rape" and that entries in his yearbook made sexual references.
"I've never participated in a gang rape. I've never participated in sexual activity with more than one woman present and me," Kavanaugh said, according to the transcript. "In other words, I've never had a threesome or more than a threesome."

Avenatti, a prominent critic of the Trump administration who represented Stormy Daniels, also said Kavanaugh's yearbook refers to "'FFFFFFFourth of July,' that is 'Fourth of July' with a total of seven Fs,'" and that he believes that stands for "find them, French them, feel them, finger them, fuck them, and forget them," according to the transcript.
Kavanaugh said "that's wrong" and that the multiple Fs referred to an inside joke.
"It refers to this one guy and his — and a joke that everyone had about him and how he said 'fuck you,'" he said.
Avenatti also told the committee that Kavanaugh's yearbook included the phrase "devil's triangle," which he believes refers to a threesome involving two men and one woman, according to the transcript.
Kavanaugh told the committee staff that devil's triangle "refers to a drinking game where there were three glasses in a triangle," adding that he has never used the phrase to refer to sexual behavior.
When asked about his general reaction to Avenatti's allegations, Kavanaugh said, "I think it's absurd, outrageous, a joke, a farce, the twilight zone."