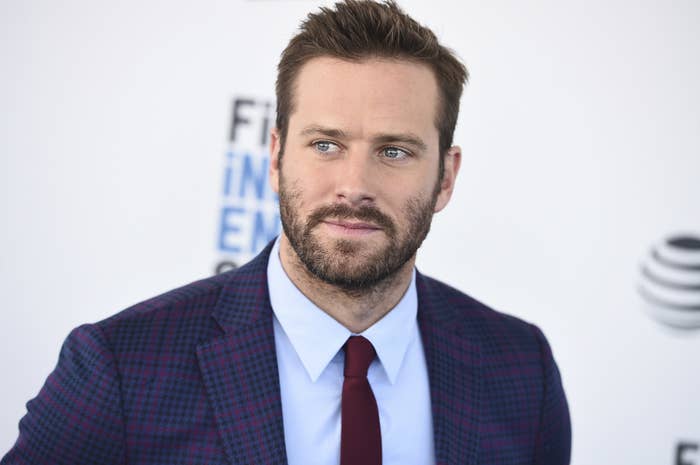 Prosecutors in Los Angeles are reviewing a case against Armie Hammer after police opened an investigation two years ago into allegations that he raped and sexually abused a woman in 2017.
Los Angeles County District Attorney spokesperson Tiffiny Blacknell declined to confirm the nature of the case under review but told BuzzFeed News in a statement Tuesday that the office takes "allegations of violence against women very seriously." In 2021, the Los Angeles Police Department said Hammer was the suspect in a sexual assault investigation.
"We can confirm that the LAPD has presented the LADA with a case against Armie Hammer," Blacknell said. "We will not confirm allegations or names of potential victims."
An attorney for Hammer did not immediately respond to BuzzFeed News' request for comment. The Call Me by Your Name actor has previously denied all allegations of sexual misconduct.
On Feb. 3, 2021, police began investigating allegations that Hammer raped and abused a woman after an anonymous Instagram account posted screenshots of direct messages allegedly sent by him, detailing graphic sexual fantasies, which included references to violence, rape, and cannibalism. In the wake of the scandal, Hammer quit multiple acting gigs, and his agency, WME, dropped him.
The investigation by police stemmed from allegations made by a woman, identified only as Effie, who said Hammer raped her over four hours on April 24, 2017. During the alleged assault, he repeatedly slammed her head into a wall, bruising her face, she told reporters during a virtual press conference with her attorney Gloria Allred in March 2021.
"I was completely in shock and couldn't believe someone I loved did that to me," said Effie, who met the actor on Facebook in 2016 when she was 20 years old. "I tried so hard to justify his actions, even to the point of responding to him in a way that did not reflect my true feelings."
At the time, Andrew Brettler, an attorney for Hammer, denied Effie's allegations, saying in a statement that the actor's sexual encounters have all been "completely consensual, discussed and agreed upon in advance and mutually participatory."
Hammer recently addressed the allegations in detail for the first time during an extensive interview with Air Mail, where he denied all the claims made against him but said he "treated people more poorly than they should have been treated."