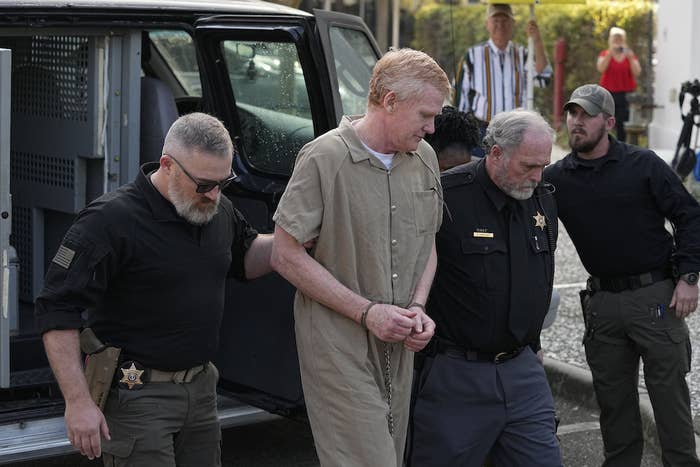 Alex Murdaugh, the scion of a prominent legal family in South Carolina, was sentenced to life in prison Friday after being found guilty of murdering his wife and son in a closely watched trial that captivated true crime enthusiasts around the world.
Dressed in his brown prison jumpsuit, Murdaugh addressed the court before his sentence was handed down, continuing to deny he was a murderer.
"I'm innocent," Murdaugh said. "I would never hurt my wife, Maggie, and I would never hurt my son Paw-Paw."
Murdaugh received the maximum sentence for his crimes — two consecutive life sentences, one for each murder charge. As he handed down the sentence, Judge Clifton Newman, who oversaw the six-week trial in Colleton County, called the case "one of the most troubling" ones he's ever presided over, particularly due to Murdaugh and his family's long history as lawyers.
"I don't question at all the decision of the state not to pursue a death penalty. But as I sit here in this courtroom and look around the many portraits of judges and other court officials, and reflect on the fact that over the past century, your family — including you — have been prosecuting people here in this courtroom, and many have received the death penalty, probably for lesser conduct," Newman said.
Speaking directly to Murdaugh, Newman said he is certain Maggie and Paul come and visit him every night when he's trying to fall asleep.
"All day and every night," Murdaugh replied.
Jurors deliberated for just about three hours before convicting Murdaugh of the fatal shootings of his wife, Maggie, and son Paul in June 2021 after hearing testimony from more than five dozen witnesses, including the defendant.
In the end, the jury found him guilty on all charges — two counts of murder, and two counts of possession of a weapon while committing a violent crime. He faced a minimum sentence of 30 years in prison and a maximum of life in prison without the possibility of parole.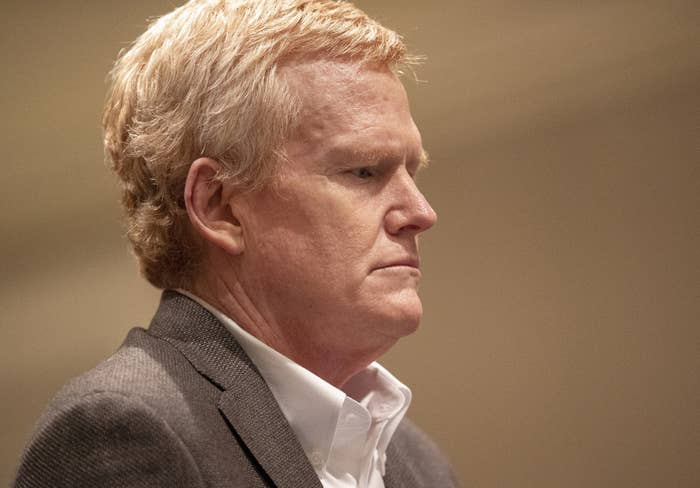 According to one juror, who spoke to Good Morning America ahead of sentencing, nine of the 12 jurors initially believed Murdaugh was guilty when they began deliberating. The others — two who believed he was not guilty, and one who was unsure — changed their minds after about 45 minutes of discussion, the juror, Craig Moyer, said.
"The evidence was clear," Moyer said, specifically citing the video recovered from Paul's phone, which placed Murdaugh at the scene of the crime. "You could hear his voice clearly, and everybody else could too."
Though much of the evidence that the prosecution relied on was circumstantial — and Murdaugh, an admitted liar, denied that he would ever harm his family — prosecutors managed to prove to the jury that he killed his wife and son to divert attention away from himself amid a "gathering storm." At the time of the murders, multiple upcoming events threatened to expose his many alleged financial crimes and bring ruin and scandal to the legal empire his family had built over generations.
"The entire illusion of his life was about to be altered — he couldn't live with that," prosecutor Creighton Waters told the jury in his closing statement. "He's the kind of person for which shame is an extraordinary provocation."
The double-murder case, and the question of whether the wealthy good old boy from a long line of powerful South Carolina attorneys had murdered his wife and son to protect himself from the consequences of his financial misdeeds, fascinated true crime enthusiasts, the media, and everyday people nationwide. Tens of thousands of people tuned in to the court proceedings, which were livestreamed, and two documentaries about the case were produced before the trial even began.
Outside the courthouse on Thursday night, state Attorney General Alan Wilson said it was a "great day for the people of South Carolina."
"We got to bring justice and be a voice for Maggie and Paul Murdaugh," said Wilson, the state's top prosecutor.
The jury's decision to convict Murdaugh served as proof that "no one — no one, no matter who you are in society — is above the law," he added.
"A lot of people doubted that this process would work," Wilson said, "and hopefully for those who did doubt the process, hopefully we have instilled and put a little bit of faith back into you and your lives as you view this process as it unfolds."
In a press conference Friday following the sentencing, the defense said they would appeal the conviction, saying they believe it was an "erroneous decision" for the judge to allow evidence about Murdaugh's financial misdeeds to be admitted.
Going into the trial, Murdaugh had been "somewhat pessimistic" about his chances, defense attorney Jim Griffin said, adding that the judge's sentencing decision didn't come as a surprise.
"We could have had Mother Teresa up there speaking on behalf of Alex at sentencing, but he was getting a double life sentence," Griffin said. "That was expected."
In spite of his conviction, Griffin said Murdaugh's family still believes he's innocent.
"The family came to trial every day for six weeks, expecting to hear proof positive that he killed Maggie and Paul, something that they had not heard before," he said. "After six weeks of trial, they came away more convinced that he did not do this, and they are steadfastly in his camp and support him."
Asked what effort they would make to "find the real killer," defense attorney Dick Harpootlian chuckled.
"Not our job to find the real killer," Harpootlian said, calling the forensic investigation a "comedy of errors."