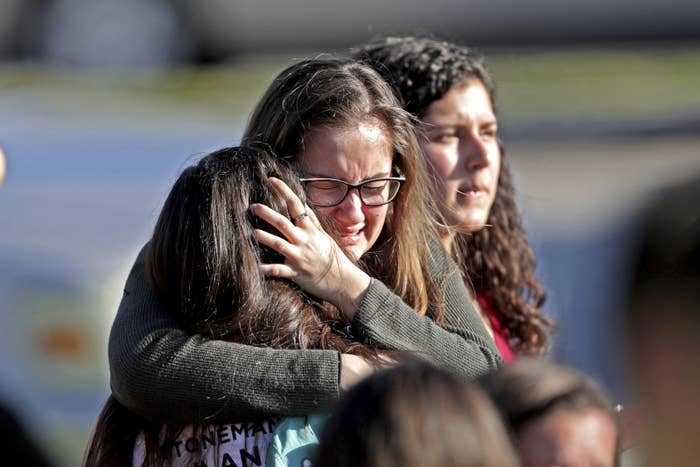 Florida school officials have apologized after a quiz asking whether the former student who shot and killed 17 people at a Parkland high school this year should be given the death penalty was distributed to students at another school in the district.
The assignment, titled "Does Nikolas Cruz Deserve to Die?," was given to students at Coral Glades High School in Coral Springs on Friday, according to Broward County Public Schools.
The decision to give the assignment, which includes a series of questions about the death penalty and references to the shooting, to students in a Broward County school was immediately criticized by survivors and family members of the victims of the Feb. 14 massacre at Marjory Stoneman Douglas High School.
Cameron Kasky, a survivor and organizer of the March for Our Lives movement, said it was "unacceptable."
"I cannot begin to express how pathetic I find this," Kasky wrote on Twitter. "Our school board should add this to the list of 1000+ reasons to be ashamed."
Andrew Pollack, whose 18-year-old daughter Meadow Jade Pollack was killed in the shooting, called the move "despicable."
"Does anyone @browardschools have a brain?" Pollack asked on Twitter.
In a statement to BuzzFeed News, the district said Coral Glades administrators were unaware that the quiz, which came from the New York Times' Upfront magazine, a subscription-based publication that is used as a curriculum resource, had been distributed to students.
"The school's leadership has pulled the assignment, is instituting an approved review process of all such materials and regrets that this incident occurred," district spokesperson Kathy Koch said. "Broward County Public Schools is working with the publisher to make them aware of our concerns."

A spokesperson for the New York Times referred questions to Scholastic, which edits and publishes the magazine. In a statement, Scholastic said the quiz and an accompanying article about capital punishment that referenced the Parkland shooter were meant to provide a basis for conversations about the death penalty.
"We deeply regret if the use of this real life example added in any way to the ongoing suffering of the students, families and educators of the Parkland community," the company said.