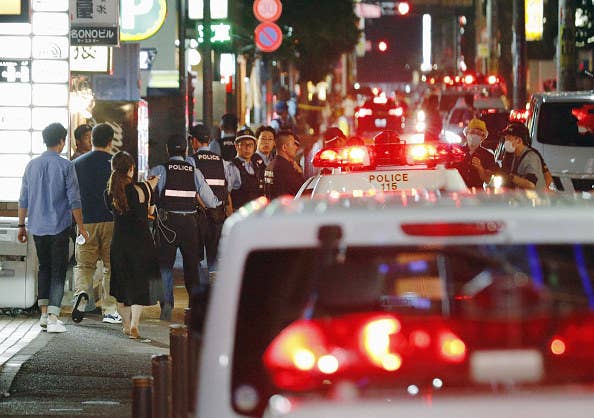 A Japanese blogger was allegedly stabbed to death by an internet troll he had feuded with online after giving a talk Sunday night on how to deal with online disputes.
Kenichiro Okamoto, 41, an employee at an internet security firm, was found with multiple stab wounds to his chest and neck in the bathroom at Fukuoka Growth Next, a startup support center in the city of Fukuoka, around 8 p.m., according to the Mainichi newspaper.
Okamoto, who blogged under the name Hagex, was scheduled to deliver a two-hour lecture on "blog troubles" he had encountered over the years just before the stabbing, according to a post on his blog about the event.
A few hours later, police in Fukuoka Prefecture said a man, later identified as 42-year-old Hidemitsu Matsumoto, had turned himself in and claimed responsibility for the attack, the newspaper reported.
A bloody knife was found inside Matsumoto's bag and he was arrested on suspicion of Okamoto's murder and violating a Japanese law prohibiting possession of firearms or swords with a blade longer than 6 centimeters (2.3 inches).

The newspaper reported that the stab wounds were from a knife with a roughly 16.5-centimeter (6.5-inch) blade.
Authorities said Matsumoto told police he had built up a grudge against Okamoto over the internet and wanted to kill him.
According to the Asahi Shimbun newspaper, Okamoto, who did not identify himself on the blog, wrote a number of posts about an infamous internet troll, believed to be Matsumoto, and condemned the user for "repeatedly posting slanderous remarks on the internet."
Haruka Yamazaki, a friend of Okamoto's, told the Asahi Shimbun the blogger had concerns that his identity would be connected to Hagex when he left his job to start his own business.
"The concerns became a reality," Yamazaki said.

Junichiro Nakagawa, an online news editor who worked previously with the blogger, told BuzzFeed Japan that Okamoto "knew more than anybody how interesting the internet was."
"He hoped that this [online] world would become a healthy environment — he was a leading activist," Nakagawa said. "It really feels lonely to lose one of my 'comrades' who, in the same age, introduced the fun of internet content; something that used to be minor and to be looked down on."