British YouTuber Calum McSwiggan wrote in an Instagram post Monday evening he was attacked after leaving a gay bar in West Hollywood earlier in the day.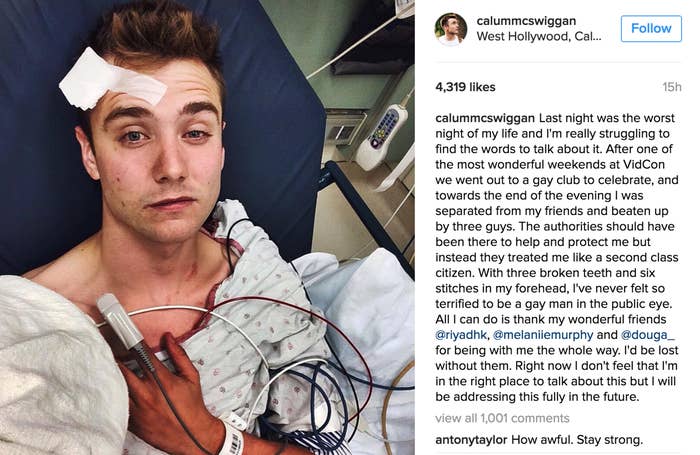 McSwiggan, best known for his personal YouTube videos, had been spending Pride weekend at VidCon, an annual video conference in Anaheim, California.
The 26-year-old has more than 62,000 followers on YouTube. His most watched video "I did Gay Porn & I'm Sorry" has racked up more than 400,000 views. He previously spoke with BuzzFeed UK about his porn experience.
In many of his videos, the LGBT and Lifestyle YouTuber discusses mental and sexual health. He has also appeared in popular sex education videos, sometimes partnering with LGBT charities.
"Last night was the worst night of my life and I'm really struggling to find the words to talk about it," McSwiggan captioned the photo, which shows him sitting in a hospital bed. The caption goes on to describe the events leading up to the alleged assault:
"After one of the most wonderful weekends at VidCon we went out to a gay club to celebrate, and towards the end of the evening I was separated from my friends and beaten up by three guys. The authorities should have been there to help and protect me but instead they treated me like a second class citizen. With three broken teeth and six stitches in my forehead, I've never felt so terrified to be a gay man in the public eye. All I can do is thank my wonderful friends @riyadhk, @melaniiemurphy and @douga_ for being with me the whole way. I'd be lost without them. Right now I don't feel that I'm in the right place to talk about this but I will be addressing this fully in the future."
According to McSwiggan, he was separated from his friends while leaving a bar and assaulted by three men. He said authorities treated him like a "second class citizen" and the experience left him "terrified." McSwiggan suffered three broken teeth and needed six stitches in his forehead, he said.
The Los Angeles County Sheriff's Department said Tuesday officers had responded Monday morning to the reported attack but were "unable to substantiate the assault."
The Los Angeles County Sheriff's Department has an affirmative duty to fully investigate all assaults and reports of violence in our community. Deputies from West Hollywood Station responded to and investigated the report by Calum McSwiggan that he was assaulted by three males after leaving a local nightclub early Monday morning. Responding deputies were unable to substantiate the assault. Mr. McSwiggan, who had no visible injuries, was subsequently arrested after deputies observed him vandalizing a car in the 8900 block of Santa Monica Boulevard. After being booked and photographed, Mr. McSwiggan was placed into a cell by himself at West Hollywood Station. Mr. McSwiggan was then observed injuring himself with the handle and receiver to a payphone inside the cell. Medical personnel were summoned and Mr. McSwiggan was transported to a local hospital for treatment. Mr. McSwiggan's booking photo was taken prior to deputies seeing Mr. McSwiggan injuring himself.
McSwiggan was then arrested when sheriff's deputies said they witnessed him vandalizing a car in the 8900 block of Santa Monica Blvd., near the popular club The Abbey. It was only later, after deputies said they witnessed McSwiggan attempting to hurt himself with a phone receiver in the West Hollywood Station holding cell, that he was transported to the hospital.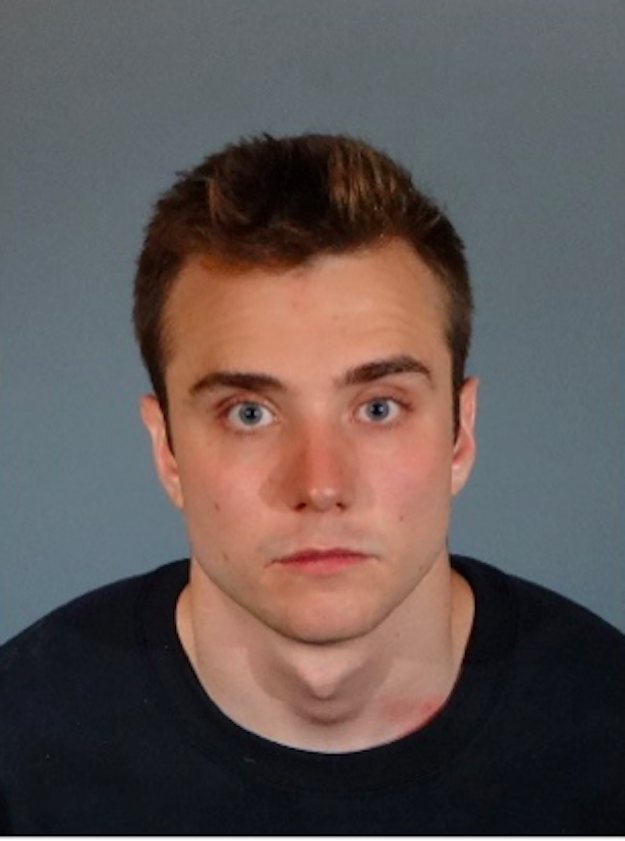 Capt. Holly Perez of the West Hollywood Sheriff's Station told WeHoVille that McSwiggan was found in a grocery store parking lot across from The Abbey with no visible "cuts, bruises, or other evidence that he had been attacked."
Perez reported that as the deputies who found McSwiggan were talking to security guards in the parking lot, McSwiggan pulled a rear view mirror off of a car and began scratching an adjacent car.
In a series of tweets, one of McSwiggan's friends who claimed to have been out with him that night, fellow YouTuber Riyadh Khalaf, said the purported assault may have been pre-meditated: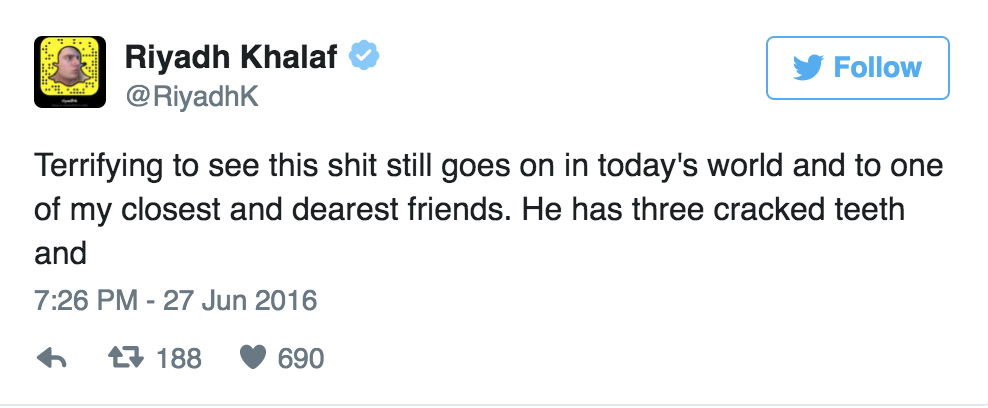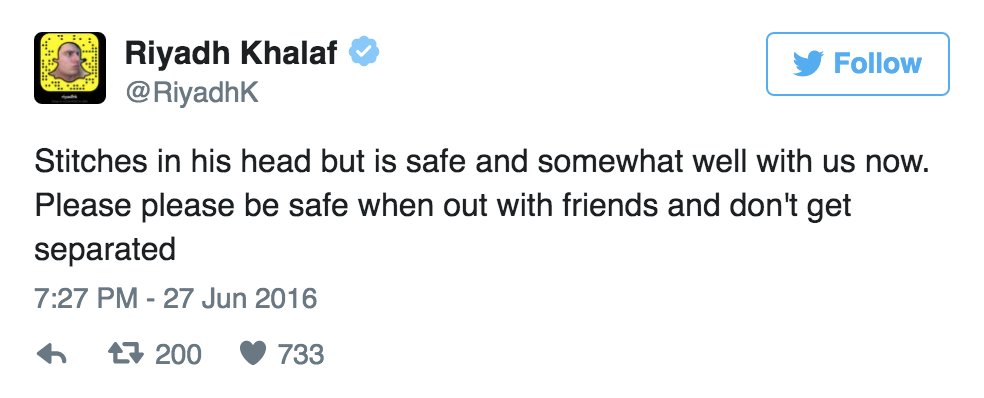 Khalaf also left a series of videos on his Snapchat where he described the moment he received a phone call from McSwiggan alerting him of the incident.
buzzfeed-video1.s3.amazonaws.com
"Calum got separated from us, we didn't know where he was," Khalaf says in the video. "I get a call from him, crying on the phone saying he got beaten up, that three guys were kicking and punching in him the face."
Melanie Murphy and Doug Armstrong, two of McSwiggan's friends who said they were present at The Abbey, also posted to social media about the alleged incident: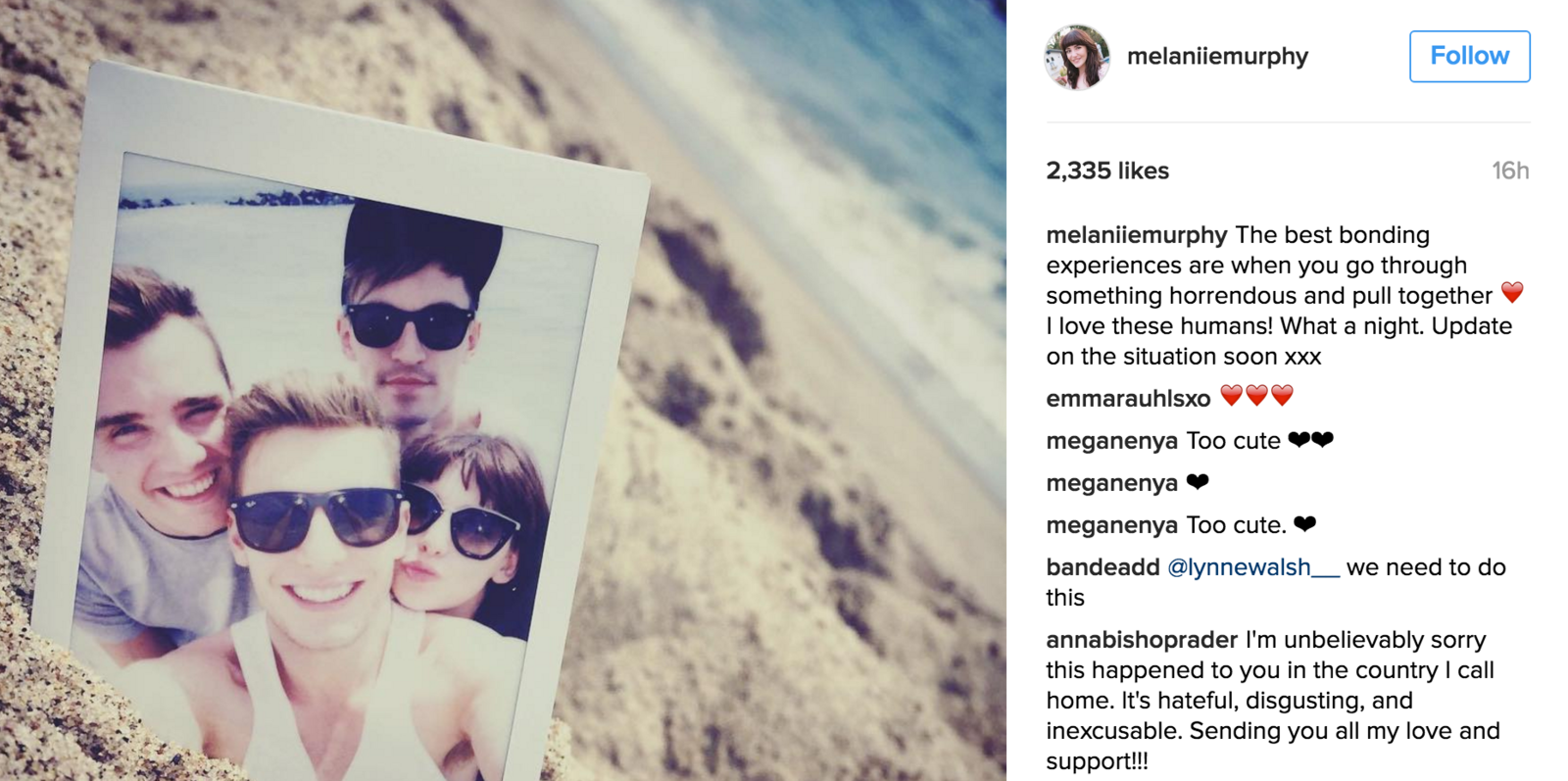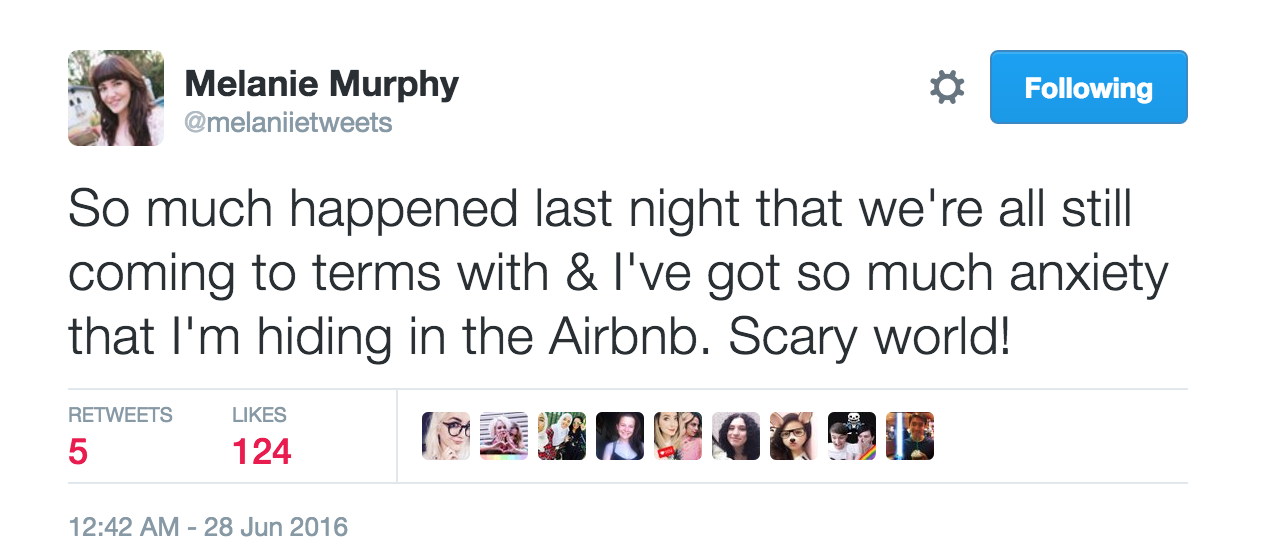 McSwiggan would not provide comment on the record to BuzzFeed News on Tuesday evening. On Twitter, he said he will not be speaking to any media until after his court appearance.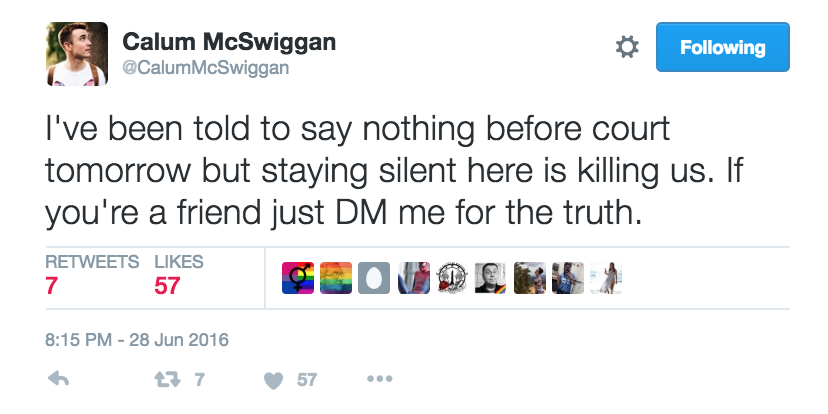 Khalaf similarly would not comment on the record, but tweeted on Tuesday evening McSwiggan "didn't fake it."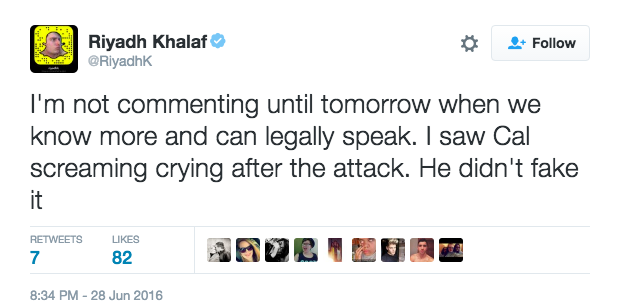 BuzzFeed UK LGBT editor Patrick Strudwick contributed to this report.