Cara Delevingne released a personal statement today detailing two incidents between her and Harvey Weinstein, adding to the growing list of women who have come forward with allegations of sexual harrassment or assault against the celebrated executive.
According to the 25-year-old, the first incident occurred during a phone call with Weinstein in which he asked personal questions concerning her sexuality, specifically if she was sleeping with women, and warned her that having a public relationship with another woman would hurt her career in Hollywood.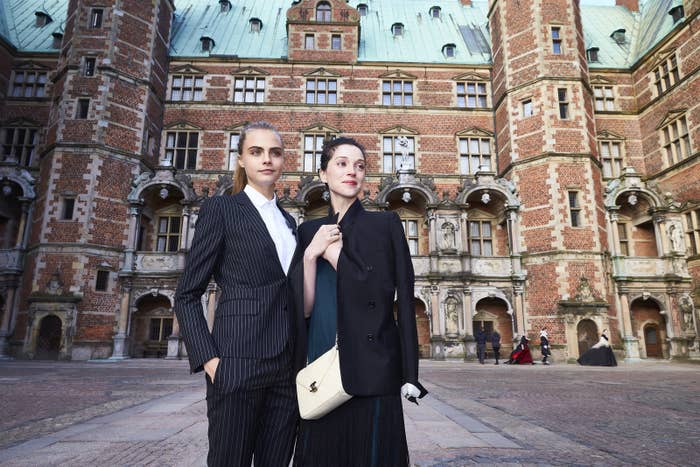 Only a few years later, she says she found herself in a hotel room with Weinstein and another woman following a business meeting. She claims the movie mogul asked the two women to kiss, and then tried to kiss her himself while blocking the door.
A year or two later, I went to a meeting with him in the lobby of a hotel with a director about an upcoming film. The director left the meeting and Harvey asked me to stay and chat with him. As soon as we were alone he began to brag about all the actresses he had slept with and how he had made their careers and spoke about other inappropriate things of a sexual nature. He then invited me to his room. I quickly declined and asked his assistant if my car was outside. She said it wasn't and wouldn't be for a bit and I should go to his room. At that moment I felt very powerless and scared but didn't want to act that way hoping that I was wrong about the situation. When I arrived I was relieved to find another woman in his room and thought immediately I was safe. He asked us to kiss and she began some sort of advances upon his direction.
According to Delevingne's statement, she attempted to divert Weinstein's unsolicited advances by singing — hoping to make the meeting "more professional." Eventually, she managed to leave the room. She landed the role for the film they'd originally met about, but felt guilty about starring in it following the events in the hotel room.
I swiftly got up and asked him if he knew that I could sing. And I began to sing....i thought it would make the situation better....more professional....like an audition....i was so nervous. After singing I said again that I had to leave. He walked me to the door and stood in front of it and tried to kiss me on the lips. I stopped him and managed to get out of the room. I still got the part for the film and always thought that he gave it to me because of what happened. Since then I felt awful that I did the movie. I felt like I didn't deserve the part. I was so hesitant about speaking out....I didn't want to hurt his family. I felt guilty as if I did something wrong. I was also terrified that this sort of thing had happened to so many women I know but no one had said anything because of fear.
"I felt guilty as if I did something wrong," her statement, which she also posted to Instagram, concluded. "I was also terrified that this sort of thing had happened to so many women I know but no one had said anything because of fear."
Many were quick to thank Delevingne for her honesty and bravery in sharing her story.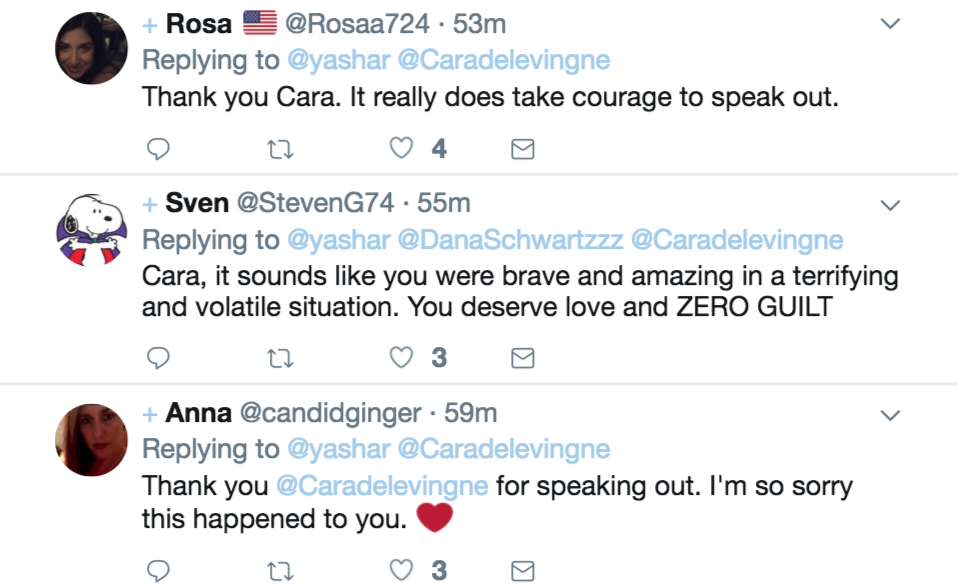 On Instagram, she followed up with a personal message directed toward others who may have had endured similar experiences. "I want women and girls to know that being harassed or abused or raped is NEVER their fault and not talking about it will always cause more damage than speaking the truth," she wrote.
"The more we talk about it, the less power we give them. I urge you all to talk and to the people who defend these men, you are part of the problem."
BuzzFeed News has reached out to Delevingne for comment.