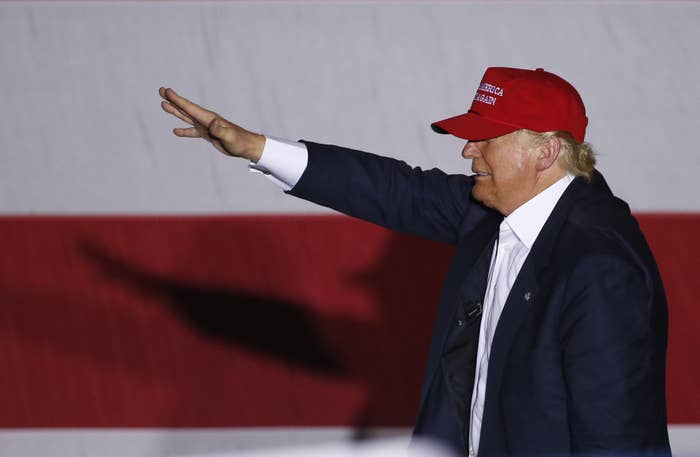 LONDON — Donald Trump has not only excited white supremacist and anti-Muslim organizations across the U.S., he is also finding fans among European far-right groups and populist leaders.
The Republican presidential candidate's fiery rhetoric — from his calls to shut down Muslim immigration to his assertion that "Islam hates us" — echoes the language of populists across Europe, who now hope that their own parties will be less inclined to hold back on promoting their own anti-Muslim beliefs and speech. Tommy Robinson, who launched the UK branch of anti-Muslim group Pegida said a Trump presidency would allow him and others to discuss their feelings about Islam more freely. "It would make it an acceptable debate to have," he told BuzzFeed News.
Robert Ménard, the National Front-supported mayor of Beziers in southern France, told BuzzFeed News that he hopes Trump will win the Republican nomination and the U.S. presidency. Ménard, who is known as one of France's more radical officials, was elected on a far-right ticket in 2014.
Ménard said his colleagues should take take inspiration from Trump's success and not hold back on their anti-immigration language — an apparent swipe at Marine Le Pen, the leader of the National Front, who has attempted to soften the party's message. Her father, Jean-Marie Le Pen, the National Front's founder has enthusiastically supported Trump for president, tweeting "If I was American, I would vote for Donald Trump. May God protect him!"
Ménard said he has advised Le Pen to meet with Trump because "she can learn from him." Such a conversation, he said, would also show Trump that there are "leaders in Europe who share similar ideas to his own."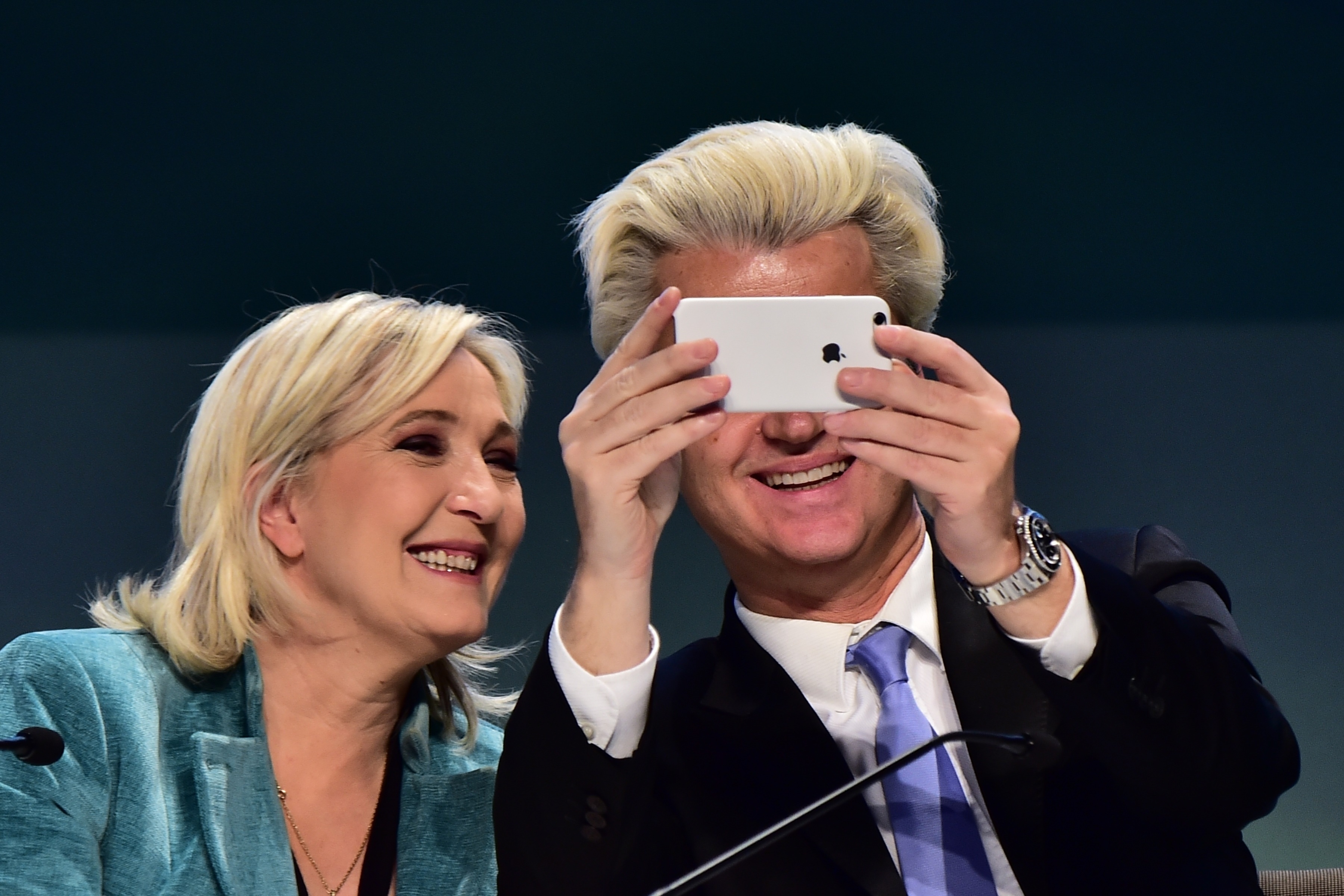 Trump has found fans beyond France. Geert Wilders, the leader of the Dutch Party for Freedom who is known for his anti-Muslim views — he once compared the Islamic holy book to Mein Kampf — has tweeted: "I hope @realDonaldTrump will be the next US President.Good for America, good for Europe. We need brave leaders."

The far-right has been growing across Europe since the economic crash in 2008, finding additional strength after the two terror attacks on Paris last year, and taking advantage of the tensions caused by the refugee crisis. Far-right parties across Europe did particularly well in 2014's elections to the European parliament.
Some far-right leaders in Europe see themselves as precursors to Trump. Filip Dewinter, a leading figure of far-right Belgian party Flemish Interest (Vlaams Belang), said the presidential candidate's campaign came from the playbook of nationalist European parties.
"He understands that in the U.S., a lot of people don't feel represented by traditional politicians so he gives all those people who are anti-Washington a voice," he said. "That's important. He saw it was possible in Europe, the rise of popular right-wing parties, the FN in France, UKIP in Britain, also in Italy and Sweden, Denmark, and Austria. So he's doing almost the same in America now."
There's also no doubt that Dewinter is pro-Trump. "If I was in America, I would vote Trump," said Dewinter, who has previously said that "Islamophobia is a duty" and suggested that all mosques should be supervised. (The Flemish MEP is known for dressing up his 19-year-old daughter in a burka and bikini for an ad campaign in 2012, with her face covered while the words "Freedom or Islam?" were written over her bikini top and "Your choice" was written on her bikini bottom.

Like Ménard, Dewinter thinks that a Trump presidential victory would make it become easier for his party to be more openly critical of Islam. "When Trump becomes president," Dewinter said, "it would be an opportunity to speak up about immigration, about multiculturalism, about Islam. If the biggest democracy in the world is led by Trump, by a president who's outspoken on these topics, it would change the view of many European politicians and political parties."
That's a view taken by a number of anti-Muslim groups. Robinson, who in addition to founding the UK branch of Pegida also founded the English Defence League, said he admired the fact Trump had no sense of political correctness. Robinson and his allies held up "Trump Is Right" posters during a Pegida rally in Birmingham last month because "he is an all right guy."
"All he said is that we need to stop Muslim immigration until we can solve what's going on, why these Muslims hate us, and why they wish to enforce a backward, paedophilic law on the nation. So yeah," Robinson said.
Jimmie Åkesson, the leader of the far-right anti-immigration party Swedish Democrats, has also backed Trump's previous comments. "I agree with Trump that we should reduce immigration, reinforce border controls, and keep better track of who is coming into our country," Åkesson told Expressen, a Swedish broadcaster.
Paul Golding, head of the far-right movement Britain First, which has in the past staged protests in London mosques, agreed. "[Trump] wants to get control of immigration," Golding said. "I think seeing the most powerful man in the world doing those things would have an affect on mainstream Europe."
Tom Sunic, a Croatia-based former diplomat who regularly speaks at far-right conferences around the world, said one of his biggest hopes from a Trump presidency is the opening up of Europe's freedom of speech legislation.
Sunic said that recently he gave a speech to a nationalist group in the UK and that rather than speaking freely, he felt forced to rethink each sentence, fearful that someone in the audience might report him to the police for hate speech, a criminal offence in the UK.
Sunic, who said that he knows David Duke "very well" and respects "many things he has to say" said the term "white supremacist" is simply used to discredit opponents. Instead, he calls himself a "cultural pessimist." He's confident that a Trump presidency would lead to people currently scared of being labelled fascists for their views to speak more freely.
Sunic — and other far-right figures who spoke to BuzzFeed News — also volunteered that their support of Trump stemmed from his admiration for Russian President Vladimir Putin, who has promoted an uber-conservative agenda at home and issued support for far-right parties across Europe, as well as for Trump.
Ménard, the French mayor, said it was "important" that America "stops demonising Russia." Britain First's Golding praised Trump's attitude and said that working with Russia would help Britain to "obliterate ISIS". The Belgian MEP Dewinter also suggested that a new US-Russia partnership could force European countries to alter their relationships with Putin.
Other far-right parties and groups, including some with ties to Putin, such as Golden Dawn in Greece, the National Democratic party of Germany, the Alternative for Germany, Jobbik in Hungary, the Czech president, and Pegida in Germany, did not respond to a request for comment by the time of publication.
Some have already been linked to the Republican candidate, whether they like it or not. The populist Nigel Farage, leader of UKIP, was last month accused of "Donald Trump-style scaremongering" by Liberal Democrats' leader Tim Farron. And in September, the Washington Post published of a profile Viktor Orban, the prime minister of Hungary, and simply said: "Call him Europe's Donald Trump."

The Trump campaign did not return BuzzFeed News' requests for comment.