Imams Criticise French Government Plans To Shut Down Mosques
French imams condemned plans by interior minister Bernard Cazeneuve to close down mosques where so-called hate speakers are invited.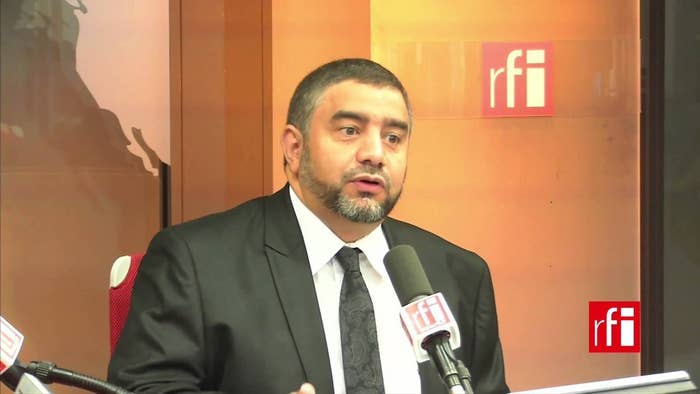 PARIS — French imams condemned plans by Interior Minister Bernard Cazeneuve to close down mosques where preachers of "hate" are invited.
On Sunday night, two days after the terror attacks across paris, Cazeneuve announced the dissolution of mosques where there are "speakers who call for or utter words of hatred."
He said that although the government had already begun to close down mosques, the newly-announced state of emergency would speed up this process.
But speaking outside the Bataclan on Tuesday afternoon, imams said that closing mosques only risked alienating the large majority of French Muslims, who were peaceful. Instead, they insisted, mosques should remain open with the individuals taken out.
Imam Abdelali Mamoun, a popular local figure who hosts a radio show on Beur.fm, a station that reaches out to French Maghrebins, told the crowd outside the Bataclan: "You have to kick out dangerous and harmful elements from mosques. But mosques must not be shut."
He added: "We don't have anything to do with these people [who committed the attacks]. We are on the same side as the rest of the French citizens. We must all stay united and stay away from hatred and division between citizens."
Another imam based in Paris, Imam Abou Omar, who heads up the La Défense mosque, told BuzzFeed News: "The people behind these attacks don't respect neither God's laws nor the laws of the land. We have to work together and combat them."
But he reasserted that Cazeneuve was wrong in his approach. He said: "Closing mosques isn't the solution. You could change the team who heads the mosque, you can remove the imam if he's preaching hate, but we have problems with mosques being closed down."
The imam added his belief that Islamic extremists in France had not been radicalised in French mosques but online. He said that the government needed to do more work on primary school children to stop more young people becoming radicalised.
The imams spoke as more than a dozen imams visited the Bataclan concert hall on Monday afternoon to pay their respects to those killed in Friday's attacks in Paris.
At least 129 people were killed in the attacks that left Paris in a state of shock. At least 350 more were injured and authorities expect the death toll to rise with 99 people still in critical condition.
The imams chose to deliver flowers at the Bataclan as the largest number of victims lost their lives in the terror attacks at the theatre.
This is the second large-scale terror attack to hit Paris in 2015. Seventeen people were killed in January after the Charlie Hebdo satirical magazine, a Jewish supermarket, and other targets were targeted by terrorists.
Back then, a large group of imams marched together in solidarity. BuzzFeed News understands that the group wanted to march again but decided against it while organising the solidarity event this weekend, citing the state of emergency announced by President Hollande.