This Is The UK Activist Group That Helped Identify "Jihadi John"
Cage UK, founded by a man once held at Guantanamo Bay, said it was in touch with the ISIS fighter between 2009 and 2012 after he complained of harassment from the British authorities.
On Thursday, Mohammed Emwazi, a 26-year-old from northwest London, was identified as "Jihadi John," an ISIS militant who has become the masked face of the group's gruesome beheading videos.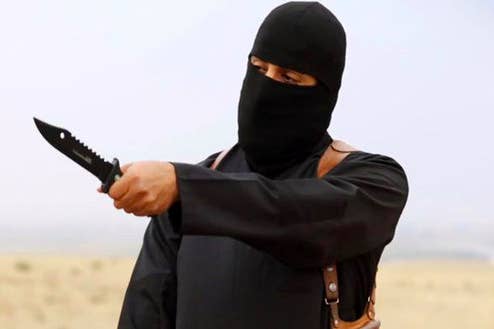 Cage UK, an activist group campaigning against the ill-treatment of Muslims due to anti-terror laws, soon emerged as one of the key sources in identifying Emwazi, and blamed harassment by British security agencies for his radicalization.
But what is Cage?
Cage was set up more than a decade ago by Moazzam Begg, a British citizen who was arrested in Pakistan in 2002 and then detained in Guantanamo Bay on suspicion of being an enemy combatant. He was held for almost three years before being released without charge. He was arrested again in the U.K. on seven terrorism-related charges in February 2014 in connection with a trip to Syria, although the charges were dropped in October.
The group said it was in touch with Emwazi between 2009 and 2012, and published a lengthy article about its interactions with him on its website on Thursday.
Cage said Emwazi approached the group in 2009 after being detained and interrogated by British security services during a trip to Tanzania. It said this "harassment and abuse" continued, and was largely responsible for his radicalization.
Asim Qureshi, the group's research director, told the Washington Post, which broke the story on Thursday, that he was "fairly certain" that Emwazi and "Jihadi John" are one and the same person. He added in a press conference later on Thursday that he could not be 100% sure.
Cage is best known for campaigning for the release of two Muslim men extradited to the U.S. on terror charges.
The first was Talha Ashan, a Londoner arrested by Scotland Yard's extradition unit in 2006 following a U.S. request. Ashan, who suffers from Asperger syndrome, was extradited to the U.S. in October 2012 and submitted a plea bargain to the U.S. government the following year in which he admitted to aiding terrorists. Cage argued that Ashan's illness put him at serious risk while in prison.
Cage is still campaigning for the release of Shaker Aamer, the last British resident at Guantánamo Bay. Aamer, born in Saudi Arabia and a UK resident, was arrested in 2001 and has been held at the prison since 2001 due to alleged links with al-Qaeda. According to both his legal counsel and Cage, Aamer has been subjected to sleep and food deprivation.
While Cage is well-respected among many British Muslims, especially those of a conservative bent, its critics say it is too sympathetic to Islamist extremists. Here's what the founder of a counter-extremism think-tank in London said after the Thursday press conference:
Some critics have raised concerns over some of the people Cage advocates for. Among them is Pakistani national Aafria Siddiqui, who is currently serving an 86-year prison term in Texas for seven counts of attempted murder, armed assault, using a firearm, and assaulting American officers. At one point, ISIS attempted to trade her release for the release of journalist James Foley, who they later beheaded.
By making itself the main advocate for the view that the British security services' intimidation pushed Emwazi into radicalization, Cage has put itself at the heart of the story.
Cage tweeted out some questions and answers from its press conference on Thursday.
Qureshi's narrative that Emwazi was a "kind, gentle, soft-spoken young man," driven to his actions by state harassment, accords with Cage's own long-running campaigns. It is yet to be independently verified.