Nigerians have been tweeting #UndressNASS this week, after local media reports about the clothing allowance for the 469 elected members of the National Assembly, the country's parliament.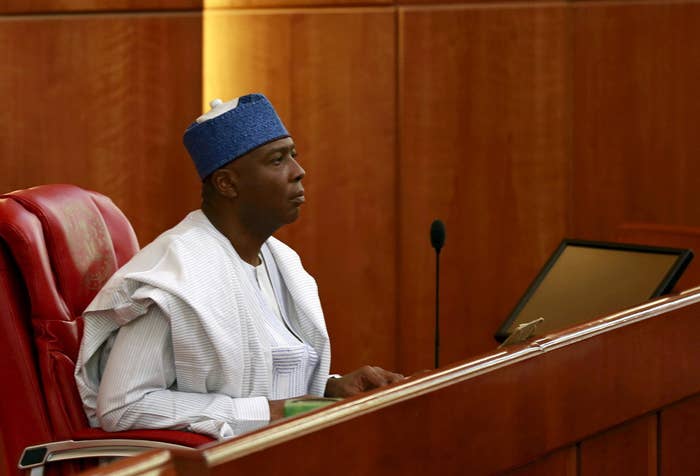 Local media reports had said the annual grant was over $100,000 per person in some cases, but Nigeria's Senate leader knocked that down, saying the true figure was $2,500.
The Nigerian newspaper This Day reported on Tuesday that the country's lawmakers were set to get 8.64 billion Naira ($43 million) as a wardrobe allowance, which would be broken down into a $108,000 yearly grant for each upper house senator and $88,000 for each lower house lawmaker.
After a national outcry, Senate leader Bukola Saraki tweeted that the correct amount for senators was a mere fraction of that. But many people remain angry that the government would allocate any money for this at all.
The debate has Nigerians particularly fired up because they voted in President Muhammadu Buhari, an ascetic former military dictator, earlier this year in a historic election. Buhari, who took office at the end of May, won on his vows to stamp out the country's huge problem with corruption – and, for many Nigerians, this includes even legalized splurges by politicians.
Some people wondered why any clothing allowance was needed when Nigeria's lawmakers are already so generously paid. They get salaries and benefits worth up to $2 million a year, Bloomberg reported in March.
Others joked that they should be given thrifty uniforms like the ones young Nigerians have to wear during national service.
Here's what those uniforms look like.
And earlier in the week, when the wardrobe allowance was thought to be worth $43 million, many pointed out the contrast with Nigeria's monthly minimum wage of $90, its poverty level, and its bad infrastructure.
Nigeria is Africa's largest economy and its biggest oil producer. But according to the CIA Factbook data, over half of its population live in "extreme poverty." The chunk of the population living below the poverty line set by the Nigerian government could be as low as a third, according to the World Bank last year, but many people are only slightly above that line.