Meet The Diaspora Nigerians Campaigning Hard From Afar
Africa's giant faces its tightest presidential election ever this weekend, and the two main candidates are hitting up the diaspora for supportive tweets, cash donations, and London rallies.
LONDON — On a cold and grey Saturday in central London earlier this month, about 40 British Nigerians stood on the street opposite the Nigerian embassy shouting the insult "Ole!" The word means "thief" in Yoruba, one of the country's languages, and it was directed at Nigeria's president. The crowd had baseball caps and banners bearing the face of his opposition rival.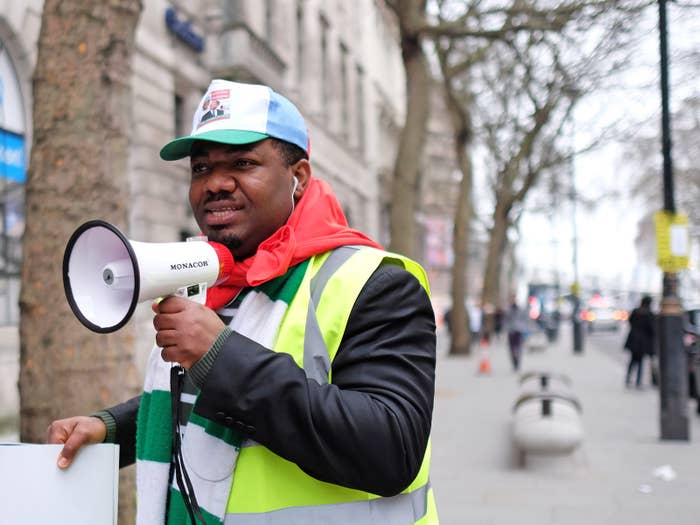 "I think it's a time for change in my country," said 42-year-old Ade Bakare, who has lived in the United Kingdom for 12 years and works at a train depot. Bakare has been urging his relatives in Nigeria to vote for the opposition, and he says the £600–700 he sends home every month gives him a lot of leverage.

Nigeria is gearing up for what's set to be its closest presidential election ever on Saturday, pitting the incumbent President Goodluck Jonathan against the former military dictator Muhammadu Buhari. The prize is the leadership of Africa's most populous country, its biggest oil producer, and its biggest economy.
Both sides are tapping Nigerian diaspora members who are far from the fray to help them win what's set to be a tight race — they can be found campaigning on cold streets and in plush meeting rooms in London, and at laptop screens in Edinburgh and New York. The diaspora is useful for wooing voters in Nigeria, some of whom respect a candidate more if he seems popular internationally, and wooing fellow members of the diaspora, who can't vote from overseas but can make party donations and sway relatives back home.
In return, some volunteers hope for jobs — such as gigs as advisers — in the new government.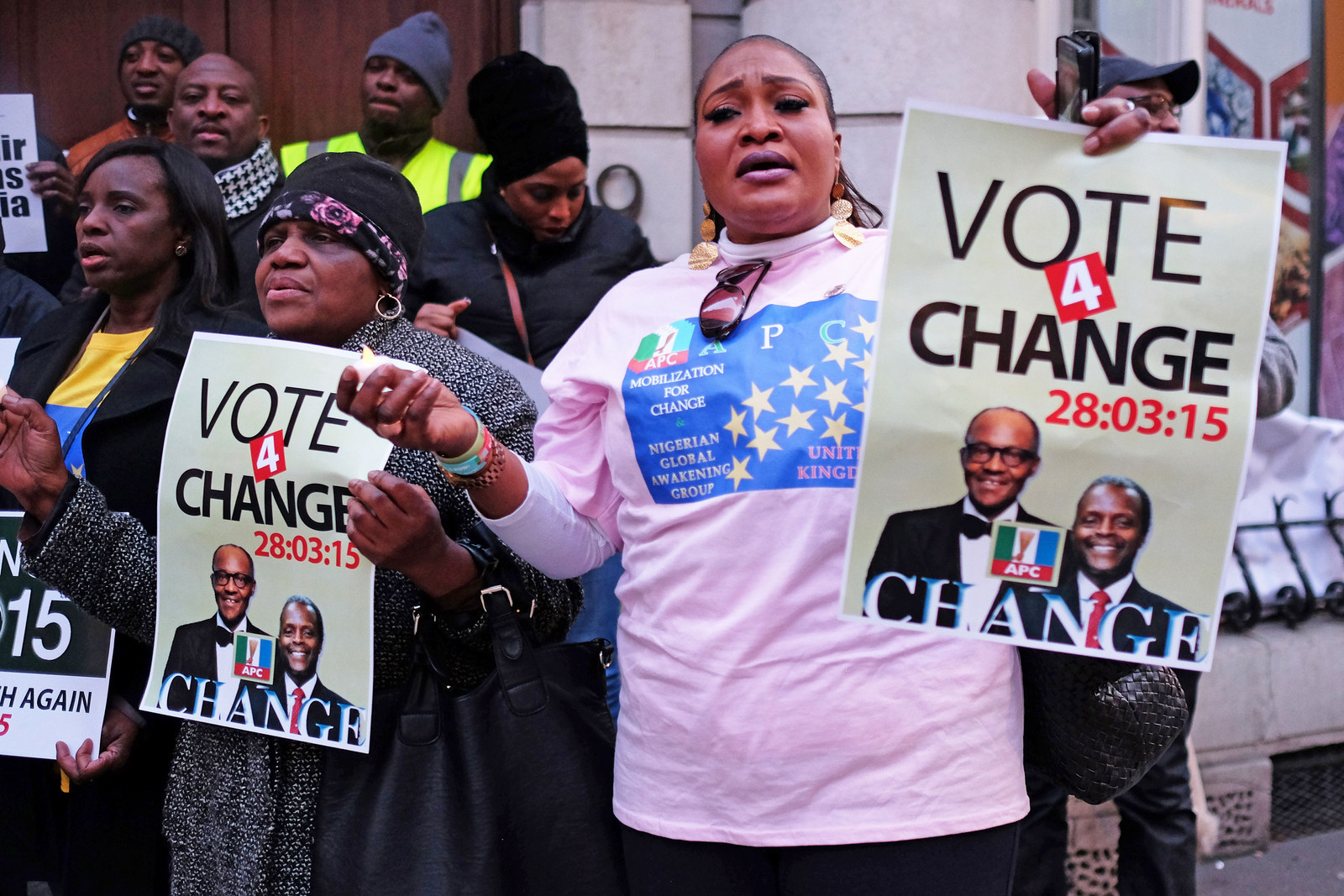 "The whole idea is that you eventually get the recognition that your efforts deserve ... like any other job, you have to climb the ropes," said Chukwuma Obidike, who has lived in south London for a decade and runs a training agency for health care workers. He volunteers for the U.K. wing of the People's Democratic Party (PDP), Nigeria's ruling party, in his spare time.
Nigeria's diaspora sent $21 billion home in remittances in 2013, according to the World Bank. That is close to the federal government's tax revenues that year of $26 billion, according to EIU data. The true value of remittances is likely even higher as many transactions go unrecorded. No wonder Nigeria's diaspora is sometimes called the country's 37th state.
Nigeria's election is partly set to be so close because the two main candidates are both highly flawed, leaving voters struggling to figure out the least bad option.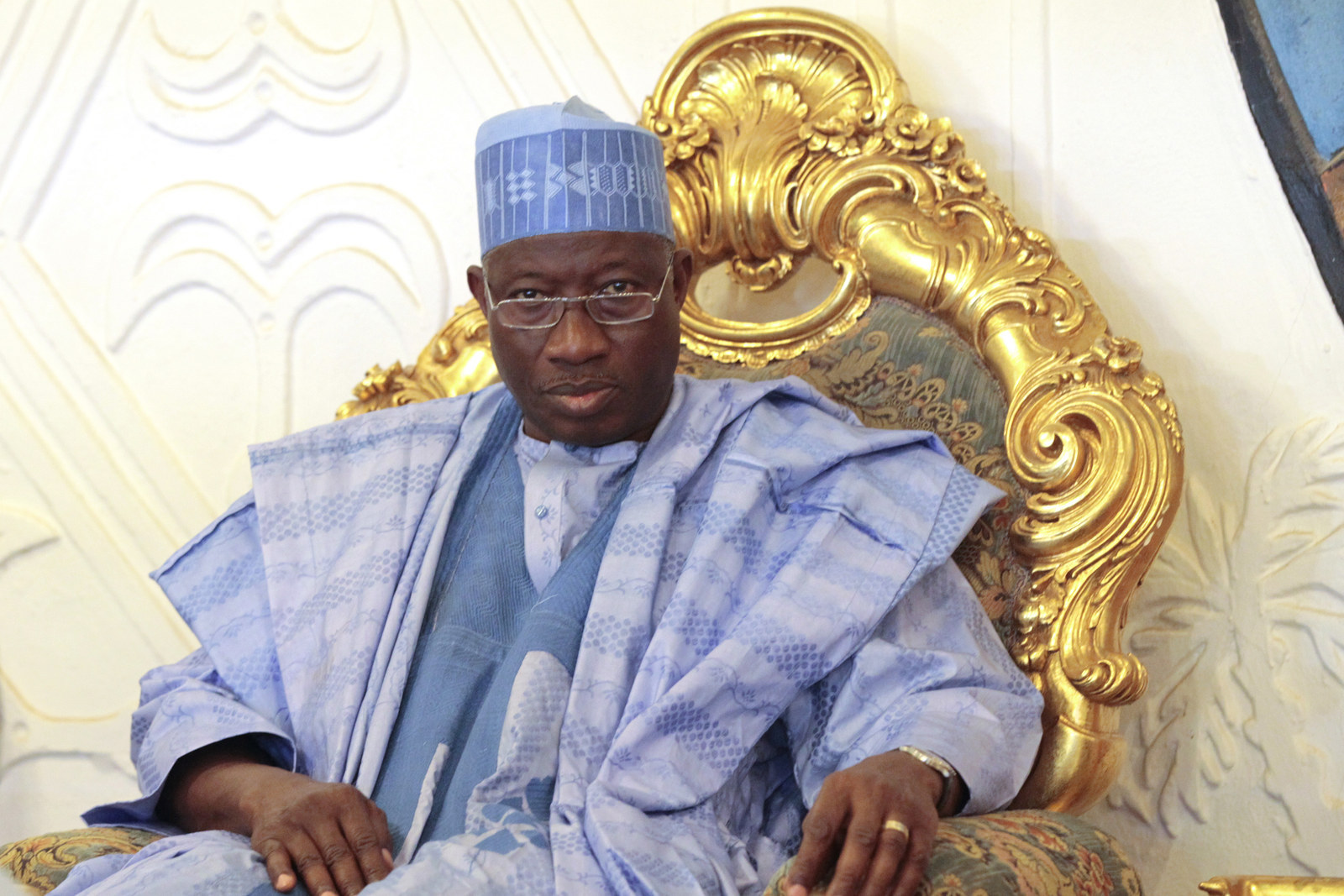 Jonathan is under fire for graft scandals and for struggling to defeat the roughly six-year-old Islamist insurgent group Boko Haram. Buhari took power in a 1980s coup. This year's presidential campaign has thus become noisy and dirty, with mudslinging on both sides.
Influential diaspora members have weighed in by declaring support for either Jonathan and the PDP, or Buhari and his All Progressives Congress (APC).
Punching for Jonathan from New York is Mukhtar Dan'Iyan, known on Twitter as Mr. Aye Dee.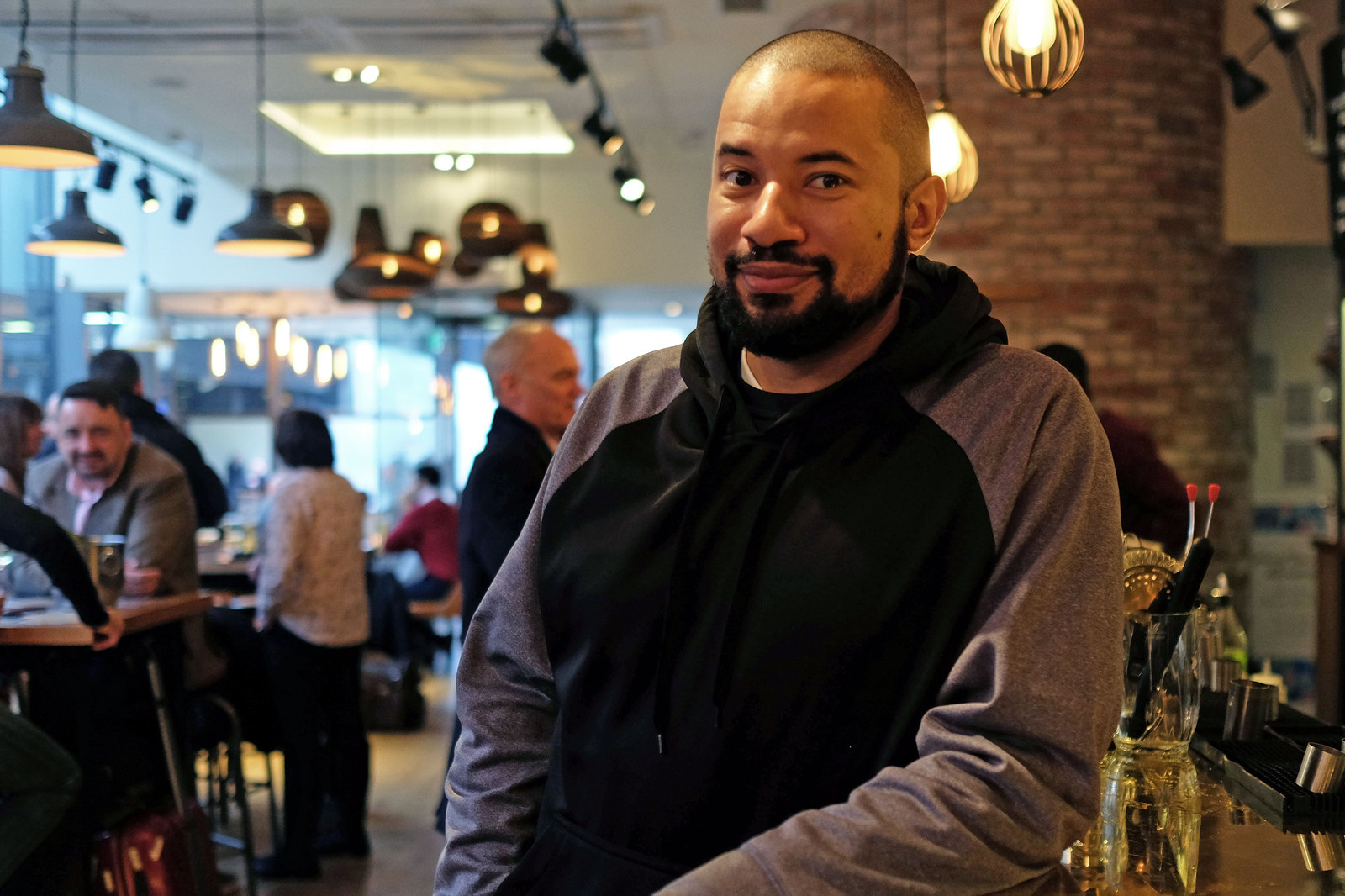 Dan'Iyan aims to debunk criticisms of the PDP and expose the opposition's campaign gaffes, often using multistage Twitterstorms. When Buhari's campaign team reportedly released photos of him being interviewed during his trip to London last month, Dan'Iyan studied them and said they had actually been taken in Nigeria's capital Abuja:
Here's part of a 42-stage response to a leaked recording that allegedly showed PDP members discussing how to rig a state election:
And here's a Dan'Iyan fan saying he should become a government minister (Dan'Iyan retweeted this).
"The idea is getting to people who are influencers," Dan'Iyan told BuzzFeed News in a phone interview, referring to "upwardly mobile" Nigerians who are online and sway those around them. Just under 40% of Nigerians have internet access, including those who only have access via cell phones, according to 2013 World Bank data.
Dan'Iyan, who has backed different Nigerian parties from afar since emigrating in 1994, added that some of the ideas he tweets have found their way into PDP speeches. His work on the photographs led a Nigerian newspaper that had used the pictures to publish a correction. An APC spokesperson said he hadn't released the pictures and didn't know who did. A spokesman for Buhari's campaign team could not be reached for comment.
Feyi Fawehinmi, an accountant by day and Nigerian political junkie by night, has thrown his weight behind Buhari from his home in the U.K.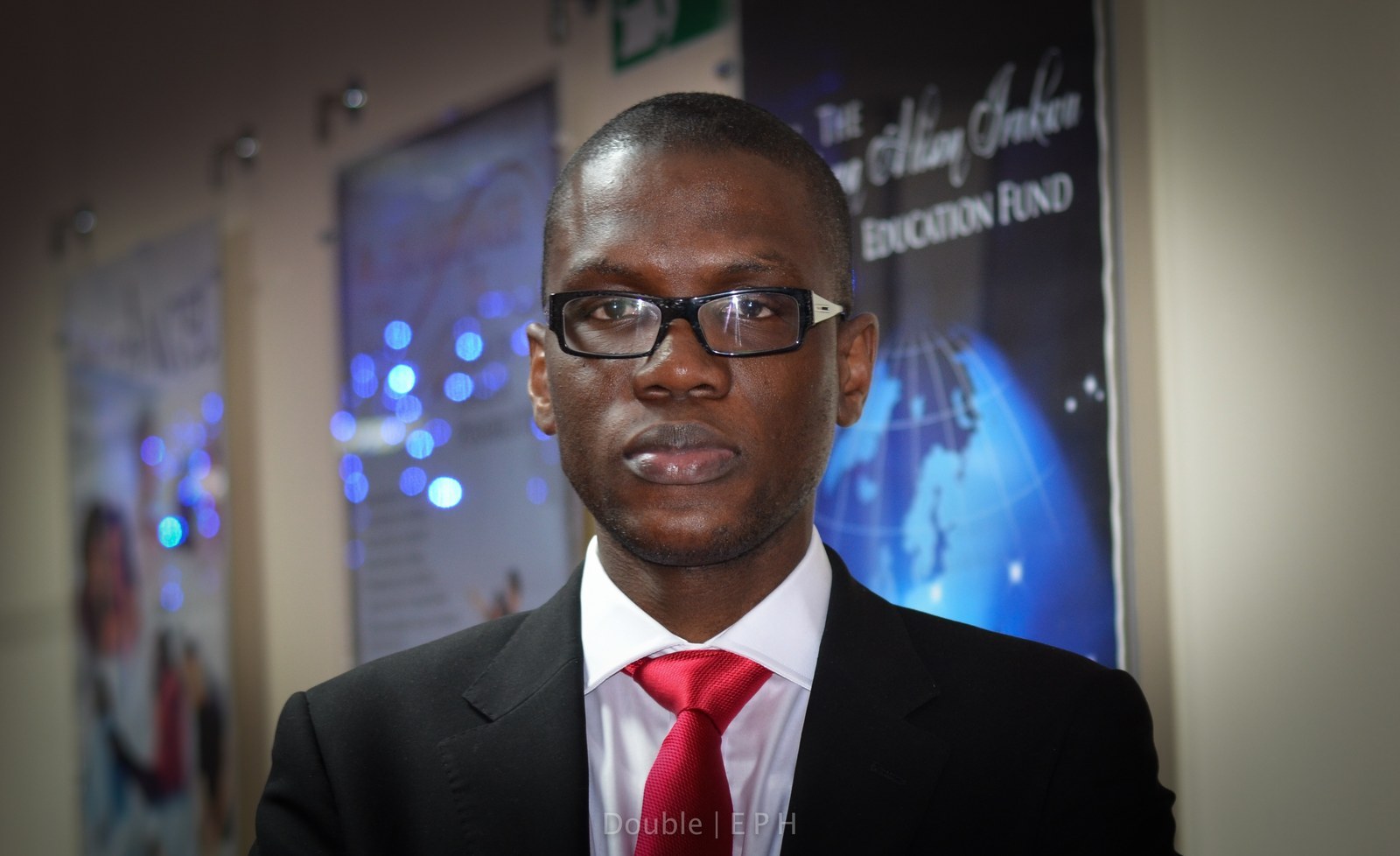 Fawehinmi, who moved to the U.K. over a decade ago, is an accountant who was working in Edinburgh until last week and now works in London. In the evenings and on weekends, he blogs and tweets pro-Buhari messages, and occasionally copyedits party ads and helps with policy proposals.
He told BuzzFeed News that many Nigerian voters just want smart information about the election — they don't care all too much whether it comes from people at home or in the diaspora. "Sometimes, I myself, I'm reading someone's comments for a while before I suddenly think, Oh, this guy is in London," said Fawehinmi, who has 19,500 Twitter followers.
His tweets focus on pointing out problems with Nigeria's economy under Jonathan. Here's one about government debt:
Fancy some inside baseball on a dispute between Chukwuma Soludo, a Nigerian economist, and an adviser to the president (often known by his initials GEJ)?
He also tries to make sure that Nigerian voters know about any boosts Buhari gets internationally.
Some diaspora members volunteer for a candidate they genuinely like, but many others have been paid or promised political appointments if their man wins, said Bimbo Roberts Folayan, chairman of the Central Association of Nigerians in the U.K. "Nigerian politicians are also online, their kids are online, so they look around to see who is big. If you're influential, you get approached," he said.
Fawehinmi and Dan'Iyan both said they have no official or financial link to the candidates they support, and have not been offered a job in a future government. They acknowledged that the issue of paid online supporters is something happening across party lines.
Dan'Iyan has raised eyebrows by going to Nigeria this month and appearing at events organized by the president's supporters. He is covering the costs of the ongoing trip himself, he told BuzzFeed News in a second interview in London last week, during a two-day trip to do interviews before returning to Lagos.
Dan'Iyan says it isn't money or a job that draws him — it's being close to the country's powerful inner circles. "It's just knowing that, in certain regards, I have some sort of access and some sort of influence and some sort of whatever to get things done," he said.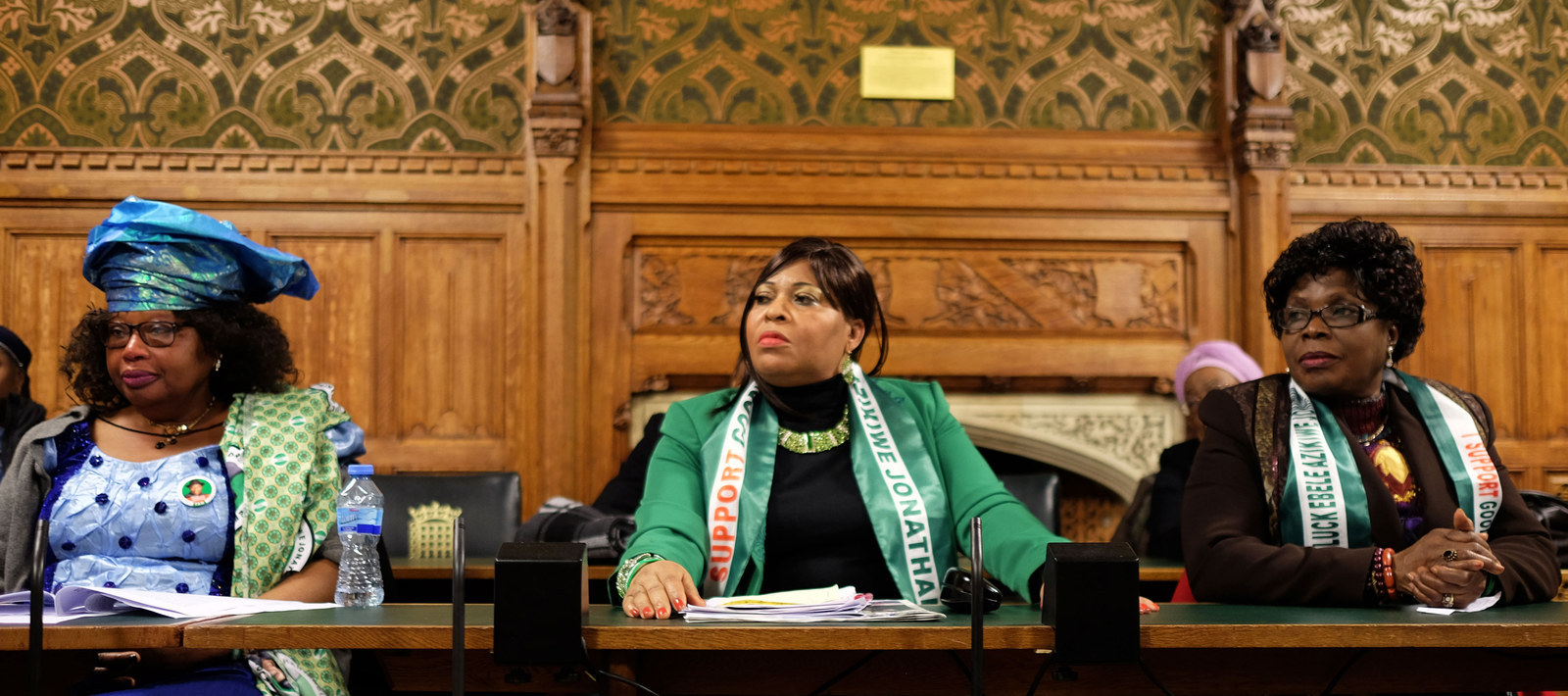 The two parties' overseas chapters are also useful channels to target the diaspora. The PDP's U.K. wing co-hosted a somewhat staid event at a public meeting room in the House of Commons last month, where party reps made adoring speeches about Jonathan and applauded at the mention of his wife, Patience. The APC's U.K. wing co-hosted the London rally where the crowd shouted "Ole." These groups, run by volunteers, also hold all-important fundraisers for Nigerian politicians when they're in town.
Many diaspora campaigners say they don't have political ambitions. At the London rally, many people said they just wanted to help Nigeria improve so they could return home, having been forced to emigrate to find work. Others say they are campaigning for whichever candidate they think can beat Boko Haram, as they fear for their extended family's safety.
But other players are hoping for a political appointment back home in return for their service — hence the host of splinter groups claiming to be each party's U.K. chapter. If you type "PDP UK" into Facebook, you get a host of very similar pages building up the president, including this one, and this one, and this one.
(Chukwuma Obidike, the acting secretary of the PDP's U.K. chapter, said this page was the official one by the way.)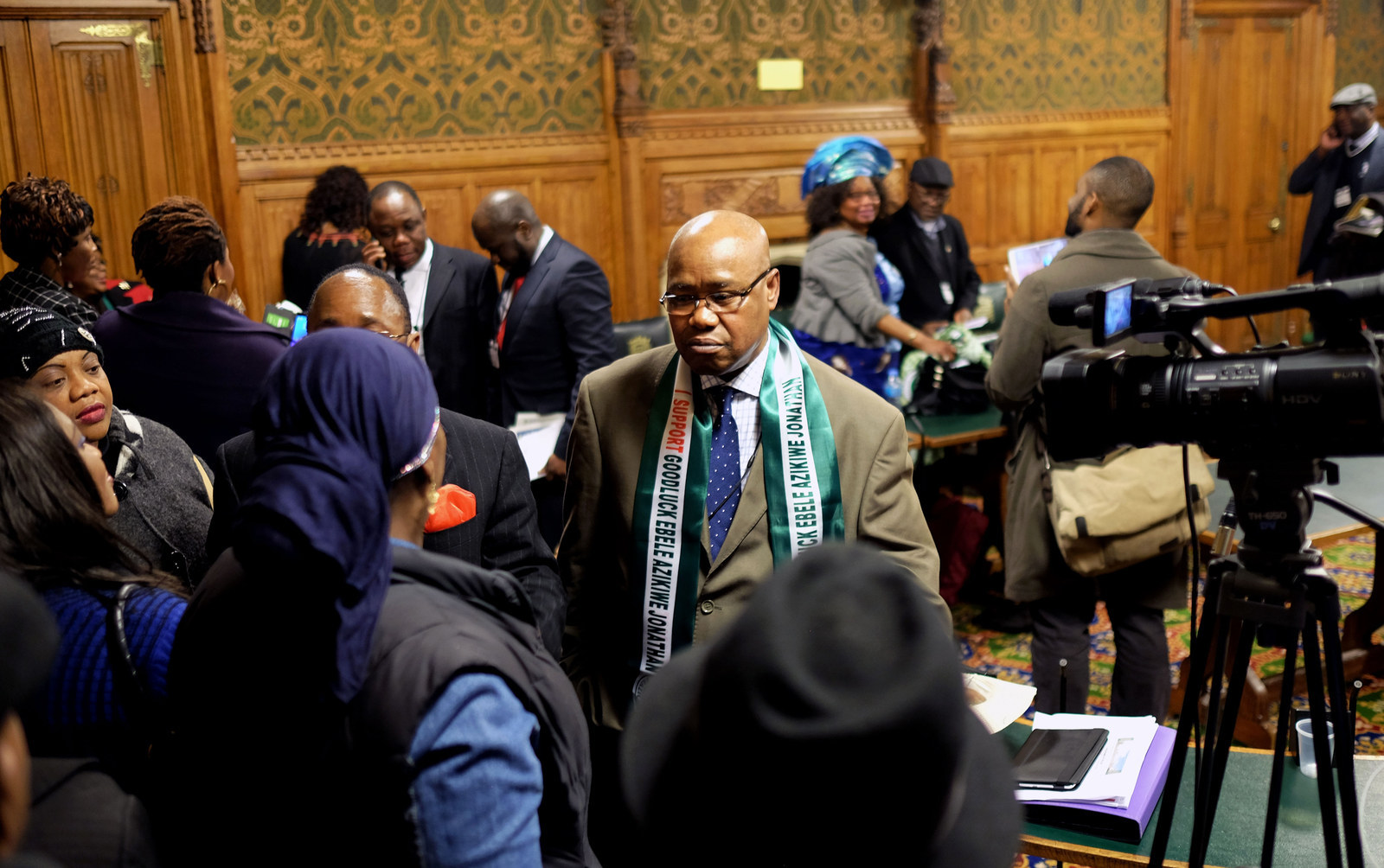 The diaspora feels in demand now but, once the election results come in, the tide could turn. Politicians often dump their overseas campaigners once they win, diaspora leaders warn. Phone calls stop being returned. Those jobs never materialize.
"The political parties … think, Why do you want to come and share this food with us?" said Philip Idaewor, the chairman of the APC's U.K. chapter, who advises people to volunteer because they care about the cause and not simply in the hope of a job.
"They are very happy to have your contributions and help [with] the campaign, but then they don't want you to come to dine with them."