An Indian woman is suing the U.S. taxi-hailing company Uber after one of its drivers allegedly raped her in Delhi in December.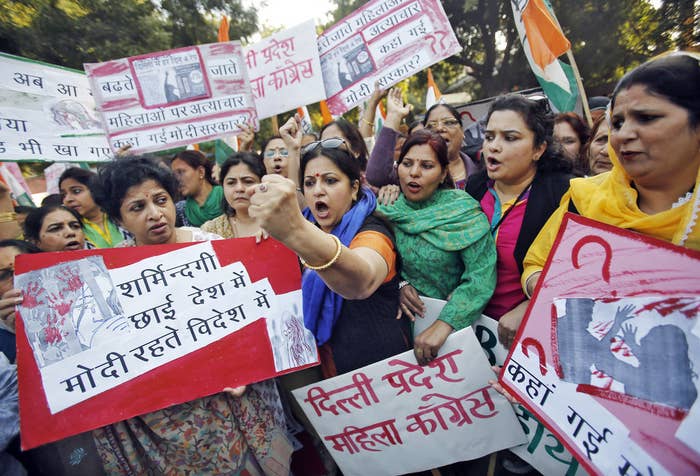 The lawsuit, filed on Thursday at a U.S. federal court in San Francisco, accuses Uber of failing to carry out proper background checks on its drivers and to effectively track their movements while on duty. The suit demands an undisclosed sum of compensation from the company, which is based in San Francisco but operates in 54 countries, and a court order that would force it to put in place more safety measures.
Here is an excerpt from the complaint filed at the court:
This action seeks ... to hold Uber accountable for its negligent and other unlawful conduct, so that no person will ever have to undergo the traumatic and harrowing, life-changing ordeal Plaintiff had to endure.
In the complaint, the woman alleges that her Uber driver took her to a secluded spot and raped her in his taxi on the night of Dec. 5, after she booked the car using the company's smartphone app to return home from a restaurant. She says she fell asleep during the journey and awoke to find herself in an unknown location. The plaintiff's name was not revealed in the suit, as is often the case with sexual assaults.
An Indian court earlier this month charged Shiv Kumar Yadav, an Uber driver, with rape, kidnapping, and intimidation. He denies the charges. In the meantime, the woman hired a high-profile New York attorney at the start of the year to look into whether she could sue Uber on its home soil in a separate case.
At the time of the alleged attack, Yadav was already facing charges for another alleged sexual assault in 2013, Reuters has reported. The U.S. lawsuit argues that Uber committed an oversight by using a driver with previous arrests. It also says Uber's Delhi office did not have immediate access to GPS tracking data for its drivers, which delayed the police's pursuit of Yadav after the alleged attack.
Women's safety in India has been under an international spotlight since a student was gang-raped on a bus in 2012, an attack that sparked nationwide street protests and tough changes to the country's rape laws. However, many women's rights activists say too little has changed on the ground.
Uber has apologized for the alleged attack and has rolled out additional safety measures. Since late December, two of its drivers have also been charged with sexually assaulting passengers in Chicago.
In response to the lawsuit filed on Thursday, Uber said in a statement that its "deepest sympathies remain with the victim of this horrific crime'' and that it was "cooperating fully with the authorities to ensure the perpetrator is brought to justice," the Wall Street Journal reported.
This post has been updated to clarify the nature of the suit and where it was filed.