Here Is An ISIS Guide To Life As A Muslim Woman
The document says most women should marry by the age of 16/17 and only leave the home in "exceptional circumstances." The authors say they are from the Al Khanssaa Brigade, an all-female morality police group formed by ISIS.
A group of ISIS supporters claiming to belong to its all-female morality police brigade has put out a guide to life for Muslim women.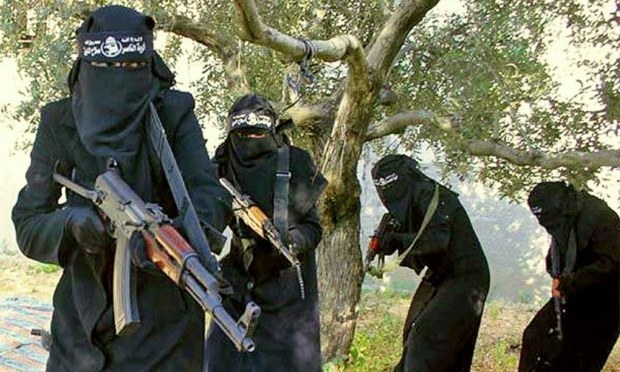 The Quilliam Foundation, a counter-extremism think tank based in London, translated the original Arabic document into English on Thursday after it was posted online last week. It describes the document a piece of propaganda aimed at recruiting Arab women to ISIS.
Some of its thoughts might seem familiar, if not exactly modern. Here is what the guide says a woman's top duty is:
[W]oman was created to populate the Earth just as man was. But, as God wanted it to be, she was made from Adam and for Adam. Beyond this, her creator ruled that there was no responsibility greater for her than that of being a wife to her husband.
Other things are decidedly less so, such as the document's section on when women should marry:
It is considered legitimate for a girl to be married at the age of 9. Most pure girls will be married by 16 or 17, while they are still young and active.
The authors make it clear that Islam gives men "dominance" but not the right to hurt women:
The average Muslim man should not exploit his position to overpower or hurt. The average Muslim man is characterised by goodness and sympathy towards the weak ... They should rise above harming women and criticise those who do, detract against and vilify them.
Women should be educated, and can leave their houses for certain things, like hospital visits, but should only work or study outside the home under "exceptional circumstances" such as:
1. Jihad (by appointment) – if the enemy is attacking her country and the men are not enough to protect it and the imams give a fatwa for it, as the blessed women of Iraq and Chechnya did, with great sadness, if the men are absent, even [if] they are present.

2. The most common reason is for studying the sciences of religion.

3. Female doctors or teachers may leave, but they must keep strictly to Shariah guidelines.
The document's authors — who say they are from the Al Khanssaa Brigade — make it clear that their paper, which rejects many aspects of "Western" life and upholds life in ISIS-controlled areas as safe for women, is not an official ISIS policy document.
"We can say with a high degree of certainty that it's by the Al Khanssaa Brigade, but it's always impossible to verify these things 100%," Charlie Winter, who translated and analyzed the document for the Quilliam Foundation, told BuzzFeed News.
Winter cited the fact that the Arabic document was posted on a known ISIS propaganda site and widely tweeted by pro-ISIS jihadis last week as evidence of its authenticity.
Correction: The Quilliam researcher who translated and analyzed the document is called Charlie Winter. An earlier version of this post gave his name as Charlie Wilson.