Masked gunmen stormed the Charlie Hebdo offices in Paris on Wednesday and left 12 people dead in the worst terrorist attack in France for half a century.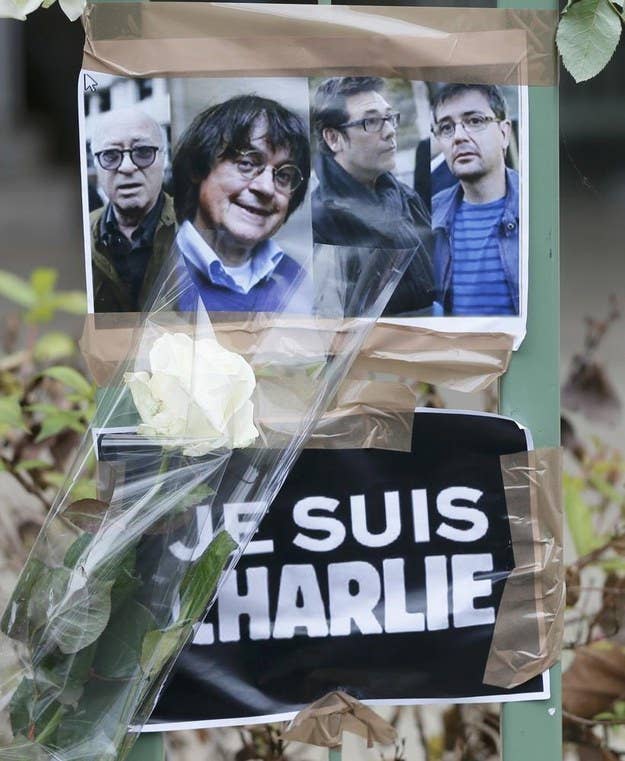 French police then pursued two suspects, Chérif and Said Kouachi, who were on the run for 48 hours. The two brothers were French nationals and were reported to have been on U.S. terrorism watch lists for some time.
Chérif was sentenced to three years in prison in 2008, of which he served 18 months, for his involvement in a network that sent volunteer fighters to Iraq to fight alongside al-Qaeda. Said traveled to Yemen in 2011 and received terrorist training from Al Qaeda's affiliate there, a senior American official told the New York Times.
Both brothers were on U.S. terrorism watch lists, the New York Times and Reuters reported. Here is our report on what appears to be the Facebook page of one of the brothers.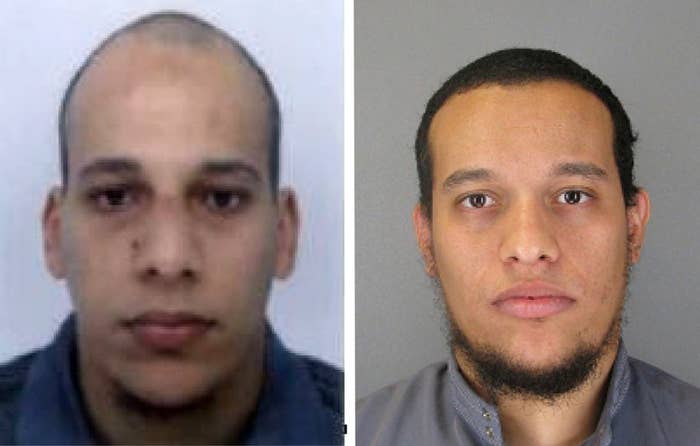 On Friday morning anti-terrorist police surrounded an industrial building northeast of Paris, where the Kouachi brothers were holed up, reportedly with one captive.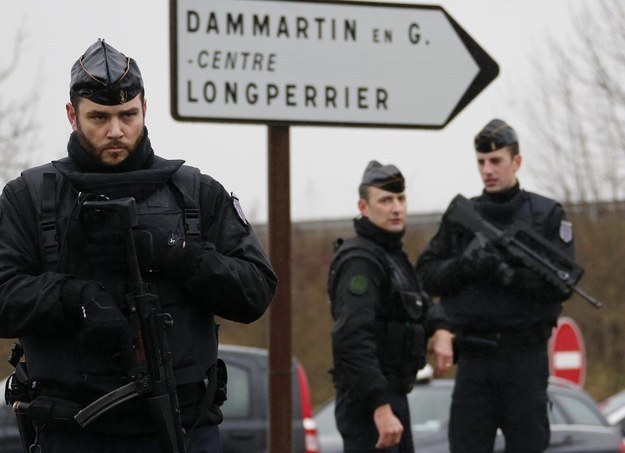 The manhunt closed in on Dammartin-en-Goële, a town 25 miles northeast of Paris.
Police had been searching large areas of nearby woodland on Thursday, after the men were spotted at a service station. It is believed that this search flushed out the brothers and they headed towards the industrial estate in Dammartin-en-Goële. Here is a map of the hunt for them:
According to French media, the brothers told hostage negotiators they were prepared to "die as martyrs".
A policewoman was killed in a separate shootout south of Paris on Thursday morning.
French authorities have issued this call for help with finding two people in connection with the shootout, Amedy Coulibaly and Hayat Boumeddiene: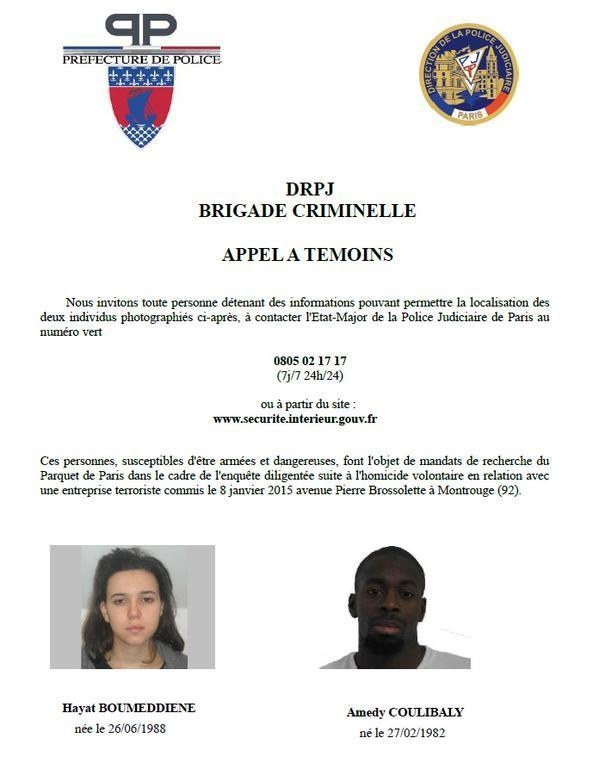 And in a second hostage incident on Friday, a gunman took over a Jewish deli east of Paris.
The two hostage sieges concluded on Friday afternoon, when police raided the industrial building and the deli. Both Kouachi brothers were killed.
The number of other casualties in the sieges has not yet been officially confirmed.
The third and final named suspect in the Charlie Hebdo attack is 18-year-old Hamyd Mourad, who has already turned himself in.
Paris prosecutor's spokeswoman said Mourad turned himself in at a police station in northern France, the New York Times reported. His connection with the Kouachi brothers, if any, is not yet clear. Friends of his reportedly said he was at school during Wednesday's shootings.
No group has officially claimed responsibility for the attack.
Witnesses say the gunmen shouted "Allahu akbar" while storming the newspaper's offices and yelled that they were avenging the prophet during the attack.
Charlie Hebdo has a history of satirizing many religions, including Islam. In 2011, it was firebombed after running a cartoon depicting the Prophet Muhammed. Here is the cover of that issue, which threatens "100 lashes if you don't die laughing!"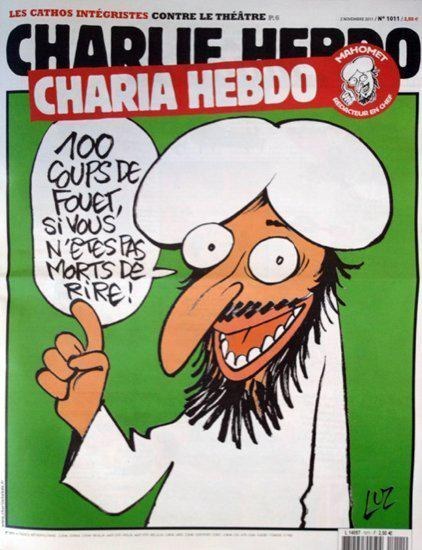 Governments and politicians around the world condemned the attack on the Charlie Hebdo offices and supported the right to free speech.
French President François Hollande tweeted: "Freedom is always stronger than barbarity. Our best weapon is our unity." And here's what Barack Obama said:
There were peaceful protests in Paris, across Europe, and in the US on Wednesday night. Here's the one in San Francisco:
On social media, people used the hashtag #IAmCharlie to show solidarity with those killed in the Charlie Hebdo attack and with freedom of speech.
Some people, including French Prime Minister Manual Valls, used the slogan as their profile picture. The publication's homepage shared a link to a PDF that contained the slogan in seven languages.
The hashtag #IAmAhmed also became popular, to mark the fact that one of the twelve people killed in the attack was a French Muslim policeman, Ahmed Merabet.
Here's a tweet from a co-host at Al Jazeera America:
Twelve people were killed in the attack. They include:
Stéphane Charbonnier, 47, artist and publisher of Charlie Hebdo.
Georges Wolinski, 80, an artist born in Tunisia (left), and Jean Cabut, 76, Charlie Hebdo's lead cartoonist, known as Cabu.
The others who died were:
Philippe Honoré, 73, a Charlie Hebdo cartoonist
Mustapha Ourrad, a Charlie Hebdo copy editor
Elsa Cayat, a Charlie Hebdo analyst and columnist
Bernard Verlhac, also known as Tignous, 57, a member of a group of artists called Cartoonists for Peace
Bernard Maris, 68, an economist and satirist
Michel Renaud, a former journalist and political reporter who was visiting the offices
Frederic Boisseau, a building maintenance worker
Franck Brinsolaro, 49, a police officer appointed to head security for Charbonnier
Ahmed Merabet, 42, a police officer