Women In Israel Poised For Revolution At The Ballot Box
Female candidates are battling harassment, discrimination, and blatant sexism in Israel's municipal elections Tuesday. But they are poised to change the face of politics.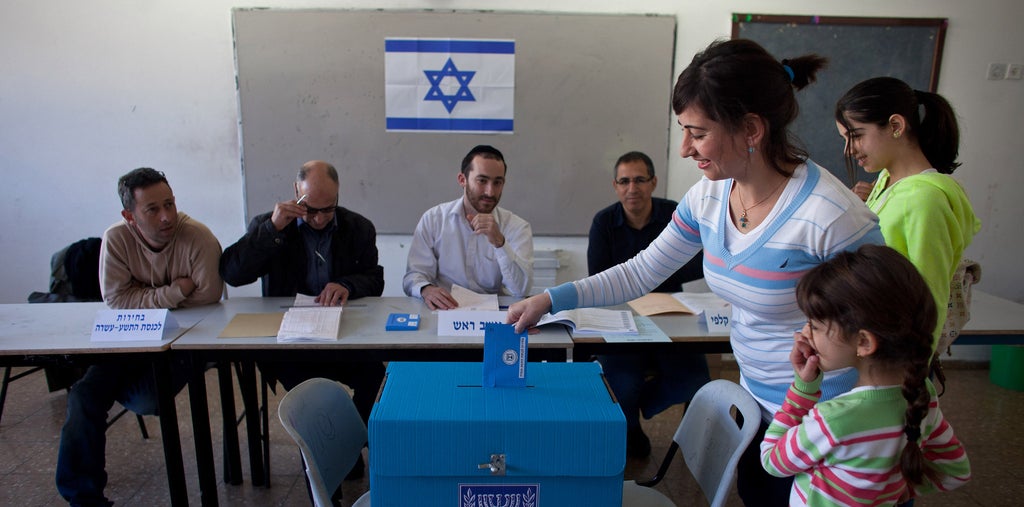 JERUSALEM — Haim Remez has never voted for a woman before, and he says he's not about to start now.
The 67-year-old religious father of five grimaces as he passes by a booth promoting Naomi Tzur and her nearly all-female party list in Jerusalem's local municipal elections.
"It's not for me, I just don't think that a woman's place is on a poster like that," he said. "I think they should be ashamed of themselves."
Female politicians in Israel said that they're all too used to that kind of talk. But when Israel goes to the polls Tuesday for local municipal elections, these women hope they will be voting in a revolution in the country's political landscape. For the first time in Israel's history, women are contending for leadership positions in 40 local municipalities – more than double the number of previous years. Hundreds more are vying for roles on local municipal councils, which at the moment are nearly 90 percent male.
"This is something we've been working toward for years, and we're still battling for a woman's right to run for office," said Merav Livneh Dill, director of the Jewish Pluralism initiative at the New Israel Fund. "Some people look at Israel and wouldn't expect us to have this problem, but there is a lot of discrimination against women running for office here."
She cited a report published last year by the Reform Center for
Religion and State, that found that women's involvement in politics, especially in local governments, has been declining in Israel since 1997.
"Since 1997, the situation has gradually grown more severe, spreading from insular elements of Haredi [ultra-Orthodox] communities into Israeli society at large, going beyond the accepted standards of Jewish law," the report said.
In Jerusalem, where religious parties dominate the political landscape, women are still kept out of many party lists.
Ruth Colin, an ultra-Orthodox law student, said she tried to run on an independent list, but was threatened by members of the religious community and had to pull out.
"They told me, 'You aren't a modest woman, you aren't a religious woman,' [and] I actually began to doubt myself," she said. "But I know that I am a devout good woman, who also believes that as a religious woman I deserve a voice in politics."
Colin has filed a petition with Israel's Supreme Court demanding that state funding be denied to political parties that exclude female candidates, writing that state funding to parties that exclude women endorses the "well-oiled intimidation machine that is based on discrimination and exclusion."
"For too long we've let ourselves be pushed out of politics as religious women because we were scared of what people would say," she said. "It's time these groups, especially these religious groups, give us representation."
She points out that while the lack of women in religious parties is the most visible, it's hardly the only problem.
"There were stereotypes, and just this longstanding apathy toward trying to break the all-male dominance of men in power," said Ifat Zamir, executive director of WEpower, an organization that formed to try and encourage women to run for office. "It was just about trying to get women to test out the water, because we knew they'd love it if they jumped in."
Her group started a campaign three years ago to encourage women to run for office. She said they put together public events and viral videos like this flash mob — dancing to Sisters Are Doing it for Themselves — in the center of Tel Aviv.
"I think we can say the campaign has worked, we have an unprecedented number of women now running for office," said Zamir.
Nowhere is the change felt more than in Israel's Arab communities, where women are challenging the long-established male parties.
In Nazareth, lawmaker Haneen Zoabi, most known for her role in a Turkish flotilla that tried to break Israel's naval blockade of the Gaza Strip in 2010, is giving the incumbent Christian mayor a run for his money.
She's capitalized on her reputation as a firebrand who was often removed from Israel's parliamentary debates for her controversial stances.
"I want the people of Nazareth to know that I won't be scared to say what needs to be said to get Palestinians our equal rights. I won't play the nice smiling woman, I will fight harder than anyone has fought for them before," Zoabi said during an interview with local Israel radio Monday.
Nazareth, which is known as the "Arab capital of Israel," has a population of 82,000, of which 69% is Muslim and 31% Christian.
"I think if we start change here we can spread it everywhere to all Palestinians," said Khulood Badawi, a young female candidate running for a spot on the Nazareth local councils. "People asked me why I was bothering to run, why I needed the headache, but to me this is the most important thing, to bring change to my community."
Since 1948, only one woman has headed an Arab municipality — Violette Khoury of Kafr Yasif was chosen in 1972 by the local council. On Tuesday, women will lead party slates in two Arab municipalities — Sakhnin and Kfar Qasem — and have prominent spots in half a dozen other cities. It's a 150% increase from the last municipal elections, held five years ago.
"I think this is just the beginning. We are starting in these local elections and soon we will be in the national elections," Badawi said. "There are many complicated issues in this place, and we must have a voice in solving them."
Sheera Frenkel is a cybersecurity correspondent for BuzzFeed News based in San Francisco. She has reported from Israel, Egypt, Jordan and across the Middle East. Her secure PGP fingerprint is 4A53 A35C 06BE 5339 E9B6 D54E 73A6 0F6A E252 A50F

Contact Sheera Frenkel at sheera.frenkel@buzzfeed.com.

Got a confidential tip? Submit it here.