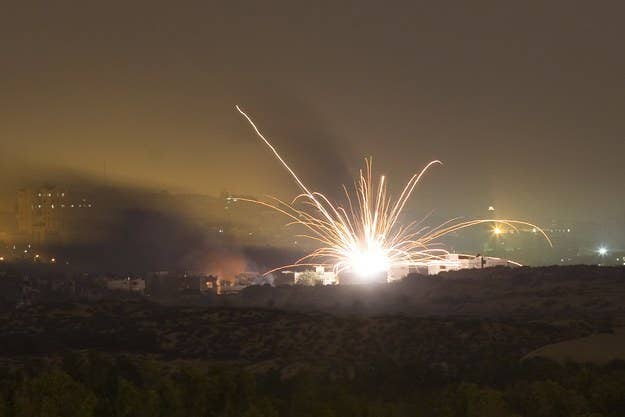 JERUSALEM — As Israeli troops marched into the Gaza Strip on Thursday night, launching the largest ground invasion into the coastal strip since 2008, Israeli officials were quick to praise the one country they said had "greatly improved" the chances of a successful offensive.
"Thank god Egypt is with us now," said Israeli Intelligence Minister Yuval Steinitz in an interview with Israel's Channel Two news. "It would not be possible to meet the targets of this invasion without their cooperation."
Gaza has only limited access to the outside world; its eastern border is controlled by Israel, as is its maritime border, while the small southern border with Egypt consists of one crossing at Rafah.
For years, Egyptian President Hosni Mubarak would go back and forth with his policy toward Gaza, opening and shutting the Rafah border according to regional pressures. Following his ouster in 2011, the yearlong Muslim Brotherhood-controlled government gave Gaza, and Hamas, the friendliest border they have had to date. After Israel's last offensive into Gaza in 2012, the then-Egyptian government encouraged aid money and Arab royals to visit the besieged strip and bolster Hamas. Tunnels flourished, as did a bustling trade in weapons and goods.
But today's Egypt takes a very different stance toward Gaza. Since the removal of the Muslim Brotherhood in July 2013, and the ascension of Egyptian army strongman Abdel Fattah al-Sisi to power, Israel has found its greatest ally to date regarding Gaza.
Sisi has accused Hamas of taking part in terrorist activities against Egyptian soldiers, and launched one of the most thorough operations to date to seal off and destroy the hundreds of tunnels that were once a lifeline between Gaza and Egypt.
Egyptian media has taken up the party line, blaming Gaza for the food and electricity shortages currently befalling Egypt. Hamas, as the Palestinian extension of the Muslim Brotherhood, has been linked to bombings and shootings in Cairo that have been claimed by myriad other groups.
Earlier this week, Egyptian news anchor Tawfik Okasha presented a segment in which he slammed Hamas, calling on Egyptians to forget Gaza.
State TV ran a similar segment in which one of its presenters said, "It's not our business what happens in Gaza. For the last four years they have done nothing but cause us trouble."
On Thursday, as Israel announced its ground invasion, Egypt's foreign minister, Sameh Shukri, called for both sides to stop the "mutual violence." This was unusual wording as most other Arab states focused on calling for Israel to halt its activities. Shukri also laid the blame with Hamas for not accepting the cease-fire deal Egypt had mediated with Israel.
"Had Hamas accepted the Egyptian initiative, at least 40 Palestinian souls would have been saved," said Shukri.
Hamas officials told BuzzFeed that not only had Egypt ignored their demands for a cease-fire agreement — chief among them the opening of the Rafah crossing — they also left Hamas out of the loop during negotiations.
"How can we consider this a fair mediation?" asked one Hamas official, who spoke to BuzzFeed by phone from Cairo. "Egypt has not given us the chance to present our terms, or even responded to our requests on Rafah."
Rafah has remained largely closed save for a handful of medical emergencies and VIPs who have been allowed to cross there.
This means that Hamas is no longer able to restock or re-arm nearly as easily as before, said Israeli officials.
"When we looked at the map, so to speak, and weighed the options of expanding our offensive into Gaza, one of the considerations is how much time will this buy us before they keep launching rockets," said one Israeli intelligence officer, who gave journalists a background briefing Friday. "In the past, we knew that they could bring in more rockets from the tunnels as quickly as we destroyed them. But today the map is different. If today we went in, and destroyed as much as possible of their arsenal, we would be buying a long period of quiet. "
In briefings last week, Israeli officials also noted that there have been fewer protests across the Arab world against Israel's offensive in Gaza.
In Lebanon, one channel came under fire for running the caption "War on Israel" rather than "War on Gaza," which many took as the channel siding with Israel as it defended itself against rockets fired from Gaza.
A screenshot of the Lebanese Channel's declaration went viral, while other newspapers wrote articles denouncing Hamas.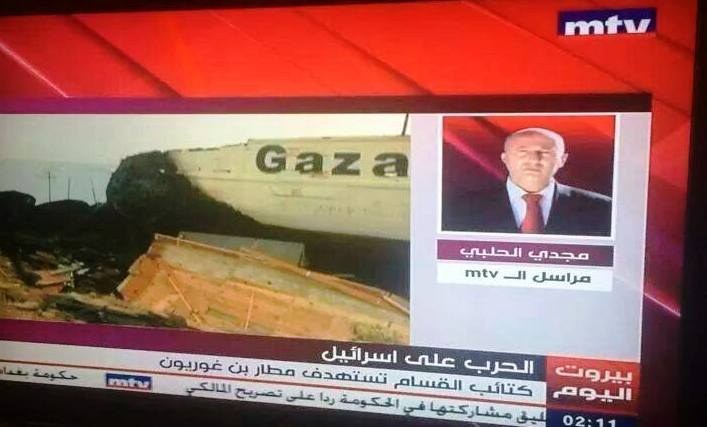 Across the region, the largest protests against Israel have been seen in Istanbul, where protesters attacked the Israeli embassy, causing diplomats there to flee. While small protests in solidarity with Gaza have been held in Amman, Jordan, and in Ramallah, few other countries have commented on the more than 240 Palestinians killed in the 10 days since Operation Defensive Edge was launched.
"We get the feeling that nobody outside cares if we die here in Gaza," said Dr. Walid Taha, a surgeon at Gaza's Shifa Hospital, who spoke to BuzzFeed by phone. Taha, who has been working for three days without rest, said he expected only more bloodshed following Israel's ground invasion on Friday.
"They are now here, inside Gaza, and where is the outrage?" he asked. "Egypt could open Rafah and at least let us get in the medical supplies, other countries could try and send us aide, but they don't ... we only hear silence from our so-called Arab brothers."