Why Do Israelis Think Sharon Was The Last Prime Minister Who Could Bring Them Peace?
Ariel Sharon was convinced that only his single-handed and often forceful intervention could save the Jewish people.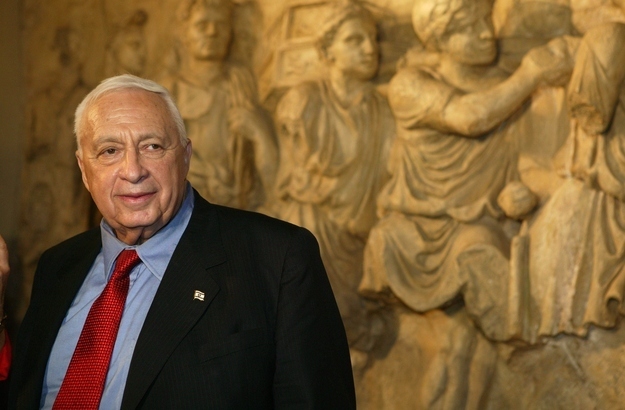 JERUSALEM — Hila Aloni has no idea whether Ariel Sharon had any level of consciousness over the eight years he spent in a vegetative state. She has no clue what his political platform would have been these days, or whether he would have believed in peace or war with Israel's neighbors. Still, the 27-year-old says she would vote for him — not knowing anything at all — just because he's Ariel Sharon.
"He's the last of our great leaders, of what we in Israel think of as our founding fathers," said Aloni, who was still serving in the Israeli military when Sharon went into a coma eight years ago after suffering a severe stroke. Yet she, like many Israelis, held on to the vague hope all these years that he would, despite medical consensus, awake and return to Israeli politics. "He's the last prime minister I believed in."
Sharon died on Saturday at the age of 85, eight years after falling into a coma.
Sharon was called many things over the course of his decades-long career in the army and in government. Bulldog, to his fellow soldiers who followed him into battle; butcher, to his enemies, to whom he proved ruthless in times of war; and bulldozer, to his political rivals – none of whom could stand in his path once he had decided on a political course. But what Sharon really was was a diehard believer in Israel, who at the end of his life became convinced that only his single-handed and often forceful intervention could save the Jewish people.
"He believed that he had the vision and the commitment to make Israel a state for the Jewish people," said Raanan Gissin, one of his closest friends and longtime advisor. "He was single-minded about it."
Across Israel, thousands mourned Sharon's death as the loss of one of Israel's historic, founding-father figures. Despite allegations of corruption that clung to him throughout his later years, they remembered Sharon as a faithful leader who would have done anything to see his vision of a Jewish state succeed. And despite his long career as a ruthless general of war, they wondered whether he was the last Israeli leader that could have realized the dream of a lasting peace deal, with a separate Palestinian and Israeli state.
"He was a staunch and stubborn figure when Israel needed it," said Gissin. "His legacy is complicated. But everyone will remember him as a man who did whatever he could to make sure the state of Israel survived, and in his later years, he believed they needed to survive by making peace, by separating once and for all from Palestinians and from those in the region that wish us harm."
Israel's leadership is currently struggling over how to define the most basic framework for a future peace deal. The idea that Israelis and Palestinians will end up sharing one state is gaining prominence, as many Israelis question whether they want to give up the territory and withdraw from the settlements needed to establish two states, one Israeli and the other Palestinian. Giving land for peace, which Israel argues it has done through much of its history, has become increasingly unpopular. Sharon, having spent much of his life in the ruthless military conquest of territory, at the end promoted one of the largest land-for-peace deals Israel has ever made.
Sharon — who served in the military from 1948 to 1974 — waged countless military campaigns and argued heavily against building walls or barriers. He urged tens of thousands of Israeli settlers to move into Palestinian communities to create new claims to the land there. But as prime minister of Israel in 2001, he threw his support behind the building of a separation barrier between Israel and the West Bank, and took the previously unthinkable step of removing Israeli settlers from the Gaza Strip, and several West Bank settlements. At the time, he said that he had come to believe in a policy of separation, and that only by withdrawing from heavily Palestinian areas could Israel solidify control and live peacefully in the land it wished to control.
"Many in Israel, many in the U.S. and Europe even, knew he was serious about making peace. He was very close, he would have done it," said Gissin.
In December 2005, Sharon was in the midst of campaigning with his new, centrist Kadima Party when he suffered from his first stroke. Polls showed that within two months, he would win re-election with unprecedented numbers, garnering an easy majority in Israel's parliament for a platform he said would include a lasting peace deal.
The second stroke, a major one, hit Sharon on Jan. 4, 2006, leaving him in a vegetative state and likely destroying his cognitive abilities, according to doctors. His party went on to win, with his former deputy Ehud Olmert at its helm. But without Sharon's notoriously strong-armed leadership, the party quickly lost support and faltered.
Eight years later, Kadima is a shadow of its former self. Its platform has melded into that of many centrist parties vying for votes in Israel, with vague support for the peace process but little political will or backing to see it through.
Some thought Sharon would have been disappointed by the events that marked his final days, as he hung between life and death. The ruling party, Likud, was leading a tour of the Jordan Valley, a narrow strip of land on the eastern edge of the West Bank to which both Israel and the palestinians lay claim, and also vowing to strengthen Israel's settlements in the West Bank; U.S. Secretary of State John Kerry was scrambling to get Israeli and Palestinian leaders to sign a bare-bones framework agreement to keep the peace process on life support; and Sharon's legacy remained that of a war general rather than a statesman.
Sharon, who spent his youth in war, left his career as a statesman unfinished. There were few more dramatic exits from political life in Israel, said Yoni Shavit, a longtime friend to the Sharon family who lived near the Sharon family's southern Negev ranch.
"Here's this man, and imagine his life as this entire climb. He fights through wars and then he puts down his gun to make peace. He does the hardest thing for himself politically – he evacuates the very settlers he begged to settle in Gaza in the first place. Then he creates a new political movement out of thin air and just as he is about to realize everything, just about as he is to become prime minister and get a peace treaty signed… well just at that moment he goes into a coma," said Shavit. "Could you have written a more dramatic cliffhanger?"
Sharon, who was a commander in the Israeli army from its inception in 1948, was widely celebrated in Israel as one of the greatest field commanders in a country full of career military strategists. But the picture painted of him by Uzi Benziman, one of the few Israeli writers to have penned a biography of Sharon, documents a general who believed in dealing only punishing blows.
Sharon, wrote Benziman, would not hesitate to inflict heavy casualties during battles — often ignoring distinctions between soldiers and civilians — if it meant he would win the war.
In 1953, when Sharon was tasked with revenging the murder of an Israeli woman and two children in Jordan, he directed a raid on the Jordanian town of Qibya, in which 69 civilians were killed. Nearly 30 years later, when Sharon became Israel's defense minister and orchestrated Israel's invasion of Lebanon, he was given the nickname "Butcher of Beirut" by the Arab world. An official Israeli inquiry found Sharon indirectly responsible for the September 1982 killings of as many as 2,000 Palestinians at the Sabra and Shatila refugee camps outside of Beirut, Lebanon.
"He felt betrayed at that moment," said Gissin, who remained with Sharon throughout his political career. "He made mistakes like any politician, but he had a vision and a way and he implemented it. That's why people trusted him."
It was as the head of the right-wing Likud party that Netanyahu eventually made his political comeback, when he was elected as prime minister in 2001. He surprised many by engaging directly in the peace process, announcing in May 2003 that he endorsed the road map for peace that laid out a path to two separate states — one Palestinian and the other Israeli — side by side. When he announced he would begin to see the creation of the two separate states by unilaterally withdrawing from the Gaza Strip, many were shocked.
"He didn't have a reputation then as a person who believed in giving land for peace," said Gissin. "Nobody expected it of him. So when it happened it made even more waves."
Former Secretary of State Condoleezza Rice, once told the Daily Beast that Sharon was "a tough little tank driver" who would have taken whatever steps necessary to make a lasting peace deal.
"Now, it would have required a Palestinian partner who was prepared to take half a loaf, not a full loaf, because nobody was going to get everything they wanted. But I think the terms were available, and maybe he was strong enough to lead a consensus in Israel and get it done," said Rice. "Sharon was somebody who could deliver…You could trust him to do what he said he was going to do."
So was a lasting peace with Palestinians always Sharon's plan? None among his successors appear to agree on what his final vision might have resembled. Among those closest to him in his final months are those who now say that his reasons for withdrawing from the Gaza Strip were far more complicated than fulfilling the dreams of a two-state solution.
"Those who knew him as a general knew that the only reason he would leave Gaza would be to wage a massive military operation there that could — once and for all — deal a death blow to Hamas' base," said one former aide to Sharon. "He could never have waged that sort of operation with thousands of Israeli settlers in the midst of enemy turf. He saw that in order to win the war, he had to sacrifice a pawn, he had to sacrifice those settlers."
But others think that visions of Sharon returning to Gaza on the back of a tank are the war dreams of those who only knew him as a soldier.
"He wanted to find the right way for Israelis and Palestinians and our other Arab neighbors to live peacefully together. He was on the path towards that as prime minister. If you asked him he would have told you that that would be his future legacy," said Gissin.
For the Israelis who voted for — and against — him throughout his political career, his legacy will continue to be a subject of debate.
Moshe Ramon, a 55-year-old religious father of four sat arguing with his younger son just a week before Sharon passed away. The two had come to the Tel Hashomer hospital to check on a cousin, but were amused by the international press that had set up permanent stations outside the hospital walls.
"All these TV cameras have come here for a man who punished the Jewish people by making us leave Gaza?" said Ramon. "I believe God made him sick and put him in this coma to punish him for giving up Jewish land to the Arabs."
His son, Daniel, a 31-year-old lawyer, didn't seem to agree with his father.
"He wasn't bad, he did good things for the Jews. Remember dad, he was a soldier for us," said Daniel, who fondly recalls using his first visit to the election ballot to vote for Sharon in 2001. "We will probably remember the good things about him, and try to forget the bad. We will, or at least, we will make ourselves feel like he was our founding father."
Sheera Frenkel is a cybersecurity correspondent for BuzzFeed News based in San Francisco. She has reported from Israel, Egypt, Jordan and across the Middle East. Her secure PGP fingerprint is 4A53 A35C 06BE 5339 E9B6 D54E 73A6 0F6A E252 A50F

Contact Sheera Frenkel at sheera.frenkel@buzzfeed.com.

Got a confidential tip? Submit it here.