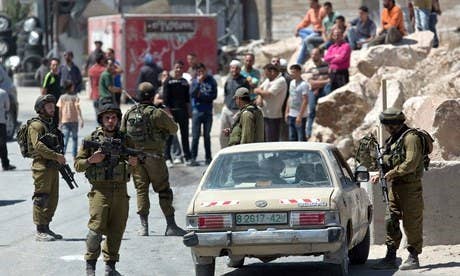 HEBRON, WEST BANK – The kidnapping of three Israeli teenagers was likely carried out by a small group of militants with no direct orders from Hamas, ISIS, or any other regional terror group, said senior Israeli and Palestinian officials Sunday.
"What we do know, is that this was likely an opportunistic move. The men behind this may have ties to a larger terror group, but this does not have the markings of a well-planned, complex operation," one Israeli officer, based in the West Bank, told BuzzFeed. "It makes it more difficult to find them if there isn't a larger trail of intelligence to sniff out."
Israeli Prime Minister Benjamin Netanyahu laid the blame on the kidnapping on Hamas.
"Those who perpetrated the abduction of our youths were members of Hamas," Netanyahu told reporters. "This has severe repercussions."
Israeli officials said Sunday that they were searching for two Hamas members in and around the southern West Bank city of Hebron, near where Israeli teens, Eyal Yifrach, 19; and Gilad Sha'er and Naftali Frankel, both 16, were kidnapped. The three youths were hitchhiking near their settlement of Kfar Etzion, near the southern West Bank city of Hebron, when they disappeared.
For years, Israeli officials have warned that there was a rising threat from individuals carrying out terror attacks without the assistance of an organized group. Those attacks, they added, were harder to defend against as their was often no intelligence warning leading up to the attack.
Secretary of State John Kerry also pointed fingers at Hamas in a statement released Sunday that concluded, "We are still seeking details on the parties responsible for this despicable terrorist act, although many indications point to Hamas' involvement."
Hamas's senior leadership in Gaza, though, said that they were not behind the kidnapping, calling Netanyahu's allegations that Hamas masterminded the kidnappings "stupid."
Palestinian official Yasser Abed Rabbo said Netanyahu only wanted to appear as a "victim for the international community."
"Now he wants to hold us responsible for something we're definitely not responsible for," Mr. Abed Rabbo said on the Voice of Palestine radio station. "No one in the world believes that the P.A. or the reconciliation government is responsible. Everybody knows who is responsible and continues to ignite fire in the region."
Hamas spokesman Sami Abu Zuhri said accusations that Hamas was behind the kidnappings were "stupid" and a "bluff" to acquire information. Speaking to the Palestinian Ma'an news agency, Abu Zuhri said that operations carried out by Israel in the West Bank were "designed to break Hamas."
Over the weekend, Israel had arrested 80 Palestinian nationals in the West Bank, among them members of the Hamas leadership Hassan Yousef, Wasfi Qabaha, Khaled Abu Arafeh, and Mohammed Totah.
On Friday, the Dawlat al-Islam group, an affiliate of ISIS, distributed flyers near Hebron claiming responsibility for the attack. The notices, written in Arabic, read: "Thanks to Allah, our holy warriors were able to kidnap three Zionist aggressors in the city of Hebron in the occupied West Bank."
The flyers, however, appeared amateurish, and in Hebron few had heard of the group.
"They are not a serious movement, they are not serious players," said Ahmed, a member of a local Salafi movement who asked to be identified only by his first name. "They are looking to make a name."
The roads between Hebron and the surrounding Palestinian villages were dotted with Israeli army checkpoints Sunday, as thousands of soldiers deployed to look for the missing teens. Israel's Channel Two television aired footage of soldiers searching the numerous caves that lie in the foothills of Hebron, leading to speculation that whoever took the teens was hiding them in one of the thousands of natural caves in the southern West Bank.
Gershon Baskin, who ran a secret backchannel between Hamas and Israel during the negotiations for the release of kidnapped Israeli soldier Gilad Shalit, said he doubted if anyone in Hamas's senior political or military leadership had any prior knowledge of the attack.
Similarly to Shalit, he said it was more likely that local militants saw an opportunity and acted, and would only later inform more senior leadership.
"On day six after the abduction of Shalit, I arranged for a phone call to take place between Noam Shalit and Ismael Haniyeh," Baskin said. "Later in the day, Haniyeh refused to be in the phone call because he said 'the leadership didn't decide on the operation and he, as the political wing, wanted to distance himself from it.' This could be the same case where the initiative and the operation was done on the local level, with al Qassam or without it, and then created facts that Hamas will have to deal with."
He pointed out that Hamas has earlier this month signed an agreement to form a unity government with Palestinian Authority Chairman Mahmoud Abbas, bridging, for the first time in seven years, the Palestinian leadership in the West Bank and Gaza.
"They will lose their reconciliation agreement with Abbas if they do take responsibility for [the kidnappings]," Baskin added.