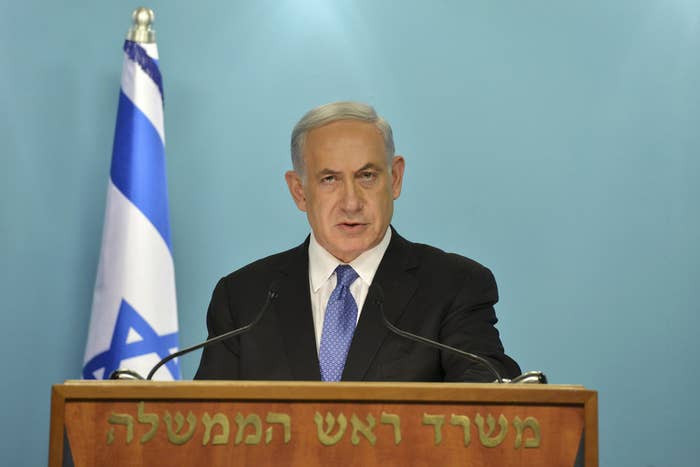 TEL AVIV — "The Lesser Evil" and "Not the Worst Deal" were just two of the headlines splashed across Israel's most prominent newspapers Friday morning, as Israelis woke to news of a framework agreement reached over Iran's nuclear program.
"It doesn't seem as bad as everyone was warning us it would be," said Yehuda Bar-Lev, a schoolteacher in Tel Aviv who sat with two of his children at a café Friday morning reading the morning's paper. "From what I can read here, it seems like a good start. I'm just happy we are not going to war."
The six world powers and Iran agreed on a set of "parameters" Thursday night that are meant to pave the way toward a final nuclear deal. Israeli Prime Minister Benjamin Netanyahu immediately warned that it was a "bad deal," and on Friday convened an emergency meeting of his cabinet after which he announced that his ministers were united against the framework agreement.
Yerucham Mazor, a 31-year-old rabbinical student, said he was "in a panic" about the deal, especially after he heard Netanyahu's remarks.
"Our prime minister has made it his life's work to stop Iran from getting a bomb. If he says it's a bad deal, then it must be a bad deal," said Mazor. "Once Iran has nukes, it could be too late for all of us."
But in Israel, the only major newspaper to carry a front-page story against the agreement was the Sheldon Adelson-owned Israel Hayom, a paper strongly aligned with Netanyahu. Israel Hayom's headline for that story — "Agreement With Iran—Historic Mistake" — stood in stark contrast to the tone of others on the newsstand.
"The time has come to stop fantasizing and to connect with reality: Israel does not have a military option to destroy the Iranian nuclear program," wrote Nahum Barnea, one of Israel's most popular columnists in the widely read Hebrew-language Yediot Ahronot. "Under these circumstances, the details of the agreement that were reported yesterday are surprisingly good."
In the English-language Jerusalem Post, columnist Yossi Melman took a similar position, arguing, "The deal currently being consolidated in Switzerland ... even if not ideal, certainly does not belong in the category of 'sword at the throat.'" Meanwhile in Haaretz, a left-leaning publication, diplomatic correspondent Barak Ravid wrote that "Israel will have a hard time fighting this agreement, or portraying it as bad; if Iran upholds the terms, its nuclear threat will be severely mitigated."
The agreement, which was announced after Israel's evening news had already been broadcast, was parsed over in the Friday morning papers, many of which featured longer news sections due to the Passover holiday. The most recent poll done in Israel on the Iran talks was taken nearly two months ago, before Netanyahu spoke to Congress and Israel held national elections. That poll, conducted by the Israel Democracy Institute, found that 61% of Israelis believed there was a "high chance" that President Barack Obama would sign a deal over Iran's nuclear program, even if such a deal endangered Israel's security.
For many Israelis, who had gone to sleep with only vague stories of an agreement, Friday was the first chance to review the details of what could become a lasting deal over Iran's nuclear program.
"I was kind of tired when I read about the deal last night, but when I woke up this morning and went over the details, I don't know... it sounds like it could be an OK thing that could avoid us going to war," said Shulamit Avner, 31, a tax attorney from the northern city of Haifa. "None of us want more war. We are exhausted from war and the idea of a war with Iran is this scary huge thing that's been looming over us for years."
Avner, who shopped with several friends for last-minute ingredients for her Passover Seder Friday, said she was happy the deal was coming just as Israel entered the holiday.
"I remember a couple years ago, also during Passover, I was so scared that we were about to go to Iran that I rushed out to get a gas mask before the holiday started. I was afraid the war would start while everyone was closed for the holiday — can you believe that?" said Avner. "But we've been living like that for a long time, people telling us Israeli airstrikes might hit Iran, and then Iran would retaliate, and a long gruesome war would start."
Sarah Mizrachi, who works with Avner, said that while "no one wants to see Iran get a nuclear bomb, it's better to solve things with talking than with bombs."
"I'm worried when Netanyahu says that this deal is bad and that Iran can sneak around and get a bomb, of course I'm worried. But I trust the Mossad and our intelligence to catch the Iranians before they do anything. And I really hope they stick to this deal and just forget the idea of getting a nuclear bomb," said Mizrachi. "Really no one should have those things anymore, even us."