While Everyone Is Watching Russia Move On Ukraine, Here's Its Multibillion-Dollar Plan To Expand Into The Middle East
"Russia and Egypt are natural allies," said one Russian diplomat in Cairo.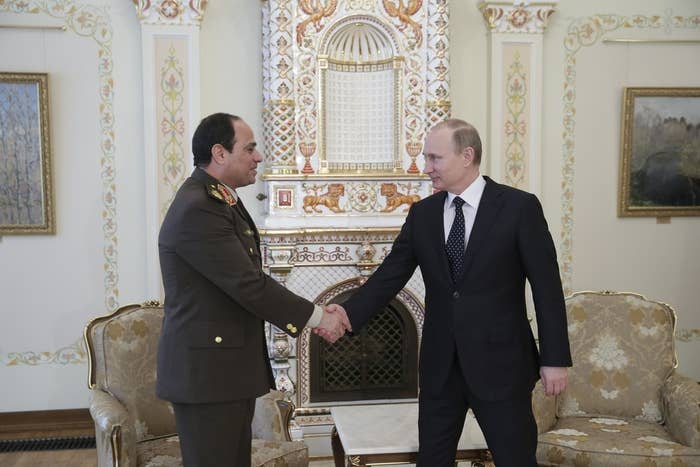 If the U.S. thought Russia's eye toward expansion was limited to Ukraine, it will be surprised at the advances being made by the Kremlin in the Middle East, according to officials in Egypt.
"Russia and Egypt are natural allies," a diplomat at Russia's embassy in Cairo told BuzzFeed by phone, speaking on condition of anonymity. "The U.S. has never been less popular here, and Russia has a lot to offer the new Egyptian government."
He said that details of a more than $2 billion weapons deal were still being negotiated, but that Egypt was looking to purchase the advanced S-300 anti-aircraft system, MiG fighter jets, and Kornet anti-tank weapons, all of which would upgrade Egypt's fighting abilities far beyond the weapons systems currently supplied by the U.S.
"We have not finalized all the details, but there is a great interest in Moscow of working with Egypt and forging this new partnership," said the diplomat. "We see this as a great opportunity."
Russia's new military dealings with Egypt are part of a new push to boost arms sales in the Middle East, and backed by a larger, 10-year, $775 billion spending program by the Kremlin to strengthen Russia's defense industry. Russia has also secured a $4.3 billion arms deal with Iraq, and is in discussions with Iran on expanding military cooperation. Russia has been a longtime supplier of weapons to Syria, and in recent years has played a key role in helping prop up the Assad regime.
"We believe that there are many opportunities for partnerships in the Middle East region," said the diplomat. "And in particular with Egypt."
Major Gen.Hussein Kamal, head of the office for former Egyptian Gen. and Intelligence Head Omar Mahmoud Suleiman, told BuzzFeed that a weapons deal was indeed the works, which would be valued at $2.7 billion and potentially have a ripple effect on the entire region.
"Egypt is important country in the region, and certainly when we develop relations with Russia it will have big effect here on the region," said Kamal.
Whether the deal went forward, in its entirety, depends on "what the American will do," he said.
"We know what the American intentions are, but we are waiting to see their actions," he said, referring to rumors in Egypt that the U.S. might not just restore, but also expand its military aid to Egypt.
Egypt's pivot toward Russia happened after some U.S. aid was revoked following the military ouster of the Muslim Brotherhood government on July 3 last year. Congress has moved to unfreeze aid to Egypt in 2014, but the State Department has said that the U.S. will wait and see what sort of progress is made by Egypt to adhere to a "democratic roadmap" in the months ahead. In a recent briefing, the State Department's deputy spokeswoman Marie Harf said that the U.S. was not concerned by Egypt's moves to purchase weapons from Russia.
"Egypt is free to pursue relationships with other countries. It doesn't impact our shared interests," said Harf.
Gen. Kamal said Egypt was pressed to find other allies due to U.S. wrangling over aid, and saw a clear opportunity with a new weapons deals with Russia.
Gen. Abdel Monen Saed, a former head of operations for the Egyptian army told BuzzFeed that the Egyptian army was looking to expand its "sources" for its military arsenal, so that in the future it would not be dependent solely on the U.S.
"The bond between the Egyptian and the American army is strong enough," he said "America is the one here that is worried about the news that we have a deal with Russia, and its strange. There is no reason to be worried!"