What Makes Someone Become A Lone-Wolf Killer?
Four people were killed on Tuesday in Jerusalem, in the deadliest attack the city has seen in years. Police say it was yet another in a recent spate of lone-wolf attacks — and they have no idea how to stop them. Sheera Frenkel talked to the family and friends of one lone-wolf killer to find out why he did it.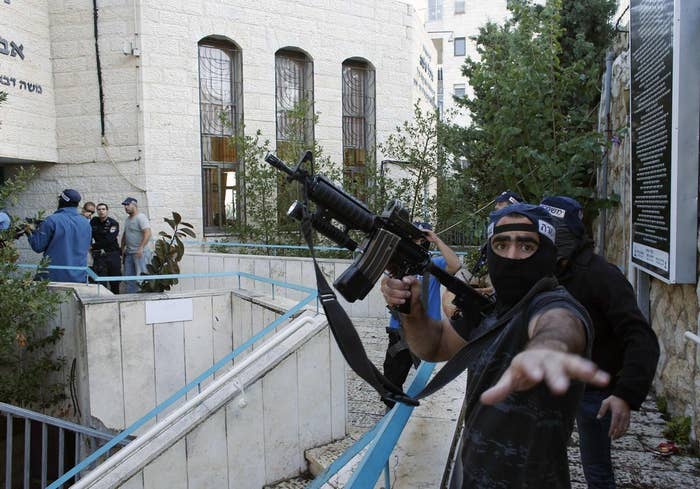 JERUSALEM — On a street in Jerusalem's Old City Tuesday, teenagers waved hastily printed posters of the Abu Jamal cousins, who earlier in the day had killed four people praying in a Jerusalem synagogue.
"Who will be the next shaheed [martyr]?" asked one, pointing to a small pile of discarded posters in the corner of his uncle's grocery store. "We are coming."
Near the bottom of the pile was the poster for Mu'taz Hijazi, 32, who, on the night of Oct. 29, pulled out a gun and shot Israeli activist Yehuda Glick in one of the first of what Israeli police have described as a spate of "lone-wolf" attacks. In nearly all of the cases, the attackers have been killed at the scene, leaving no note or explanation for why they carried out the grisly murders. What they have in common is a familiarity for a site they attacked, and a sudden trigger that appeared to have set them off.
On Oct. 22, Abd al-Rahman Shaloudi was driving along a road he took nearly every day on his commute to work when he rammed his car onto a crowded train platform killing two people.
Nur a-Din Hashiya on Nov. 10 had just left a Tel Aviv construction site, where he had been working illegally for months when he stabbed and killed Israeli soldier Almog Shiloni, 20.
Hijazi had been working in the restaurant of the Menachem Begin Center in Jerusalem for months, helping to cater to the crowds that visited the museum.
On Tuesday morning, the deadliest attack to date was carried out by two Palestinian cousins from East Jerusalem, Ghassan and Oday Abu Jamal. Just after 7 a.m., as the Bnei Torah Kehilat Yaakov synaogue filled for morning prayers, they entered, using knives, a meat cleaver, and a pistol to kill four people and injure 13.
The killings have left many baffled. "We do not know what motivates these lone-wolf killers," said Micky Rosenfeld, a spokesman for the Israeli police. "We do not know why they act when they do, or what sets them off. They are very hard to prevent."
In East Jerusalem's Jabal Mukabar neighborhood, where the two cousins lived, opinions ranged for why they had carried out the attack.
"This was revenge. Blood for blood," said Ahmed Tahal, 20, a student in East Jerusalem. He, like many others, believed that a Palestinian bus driver found dead on Monday morning had been killed by Israeli settlers. An autopsy by Israeli officials found no foul play, and ruled the death a suicide.
But Muhaissin Farreek, 31, a local storekeeper, thought the cousins had simply been "inspired."
"We see these young men, carrying out attack after attack. Then they become martyrs, they are honored," said Farreerk. "They are not inspired by the Palestinian leadership; they are inspired by each other."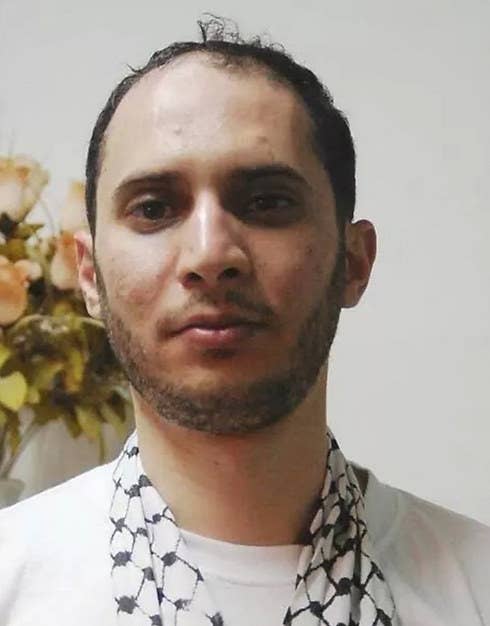 But what drove Hijazi to want to kill? Family and friends describe him as a happy, but shy young man, who only recently celebrated his 32nd birthday.
In recent years, however, it had been hard for Hijazi to find work. At 18, he had been arrested and sentenced to six years in prison for sabotaging the electrical boxes of four homes owned by Jewish nationals in Jerusalem. His family said that while in prison he complained of mistreatment by the guards and his cellmates. Several years into his sentence, he used a sharpened can lid to attack one of his guards, earning him an extra five years in prison, much of which he spent in solitary confinement.
"When he was released we were worried he would be… unwell," Umm Suhaib, Hijazi's aunt, told BuzzFeed News. "But he was happy to be out of prison and did not want to talk about it, he wanted to move on."
She said that in the months following his release, he was offered little assistance or psychological counseling. "I don't know if it would have made a difference, but I think after 11 years he would have needed counseling," she said.
His neighbor and former classmate Ahmed Hussein said Hijazi was a "changed man" after his release. "He had always been quiet, but after prison he was almost afraid of people, of talking to people," said Hussein. "I tried to be friendly with him but he really just kept to himself."
Hussein recalled an evening several weeks ago, when he bumped into Hijazi one morning on his way to work.
"I asked him what he thought about the problems in Jerusalem and he shrugged, he said, 'Of course we must defend Al Aqsa,'" but he said it shy, like a young boy would.
Jerusalem and, specifically, its Al Aqsa Mosque Complex — as it is called by Muslims; to Jews it is known as the Temple Mount — was one of the few things Hijazi cared deeply about, said his aunt.
"He would pray, regularly. He was often unable to pray in [Al Aqsa] because the Israelis closed it and he would be upset," said his aunt. During periods of unrest, Israeli security forces often block the Al Aqsa Mosque compound to all males under the age of 50, citing security concerns. During the first and second Intifada, the mosque and its surrounding areas were at the heart of the Palestinian uprisings.
"One time, before his arrest and going to prison, Mu'taz [Hijazi] went to pray with other boys and could not enter Al Aqsa so he prayed nearby, in the neighborhood of Musrara," said Umm Suhaib, mentioning a neighborhood just outside Jerusalem's old city. "Soldiers were there and while he was praying one put his foot on his head. For a long time he would talk about that, it made him feel angry. It made him feel shame"
Hussein separately recalled the same story, saying that Hijazi was enraged that he could not pray at Al Aqsa, and that control of the area was often limited to Muslim men.
"It was something he was obsessed with," said Hussein.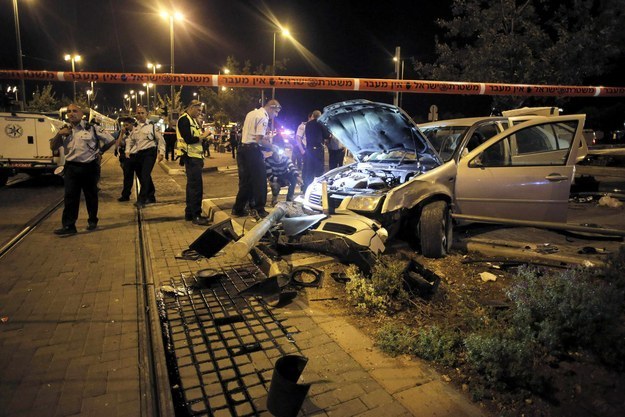 On the night of the shooting, the Menachem Begin Center had held an event titled "Israel returns to the Temple Mount." It was a contentious topic. The holy site has been the location of frequent clashes. Glick's organization, the Temple Mount Institute, was one of the most vocal campaigners for the Jewish right to pray at the site, and Glick was its most recognizable activist. With his flowing red beard and American-accented English, Glick could often be found leading groups of Jewish visitors to the site, where they would try to mutter a silent prayer or genuflect while out of site of the guards.
"We believe this is our right, should not every Jew have this right?" Glick told BuzzFeed News during an interview last year in Jerusalem's Old City. He smiled when telling his "trick" of pretending to tie his shoes when he walked on the old stone floors of where the Al Aqsa courtyard currently stands. "I bend like I am tying my shoes, but I am really bowing. It is sad to me that I cannot bow openly in the most holy site to Jews, but that is our struggle."
The sneaky bows and silent prayers have led to increasingly violent protests in past years. Glick's life has been repeatedly threatened.
Umm Suhaib said she had never heard Hijazi talk about Glick, neither had his friend Hussein or several other friends and family members interviewed by BuzzFeed News. But on the night that Hijazi shot and injured Glick, he appeared to know exactly whom he was targeting.
Witnesses at the scene describe Hijazi walking up to Glick, and confirming the identity of the activist.
"He said, 'Are you Yehuda Glick?' And when Yehuda answered that he was, Mu'taz Hijazi said, 'You've angered me,' and shot him," said Moshe Feiglin, a right-wing member of the Israeli parliament who was present at the scene. "It was a targeted killing."
Glick, who recently gave his first interview to the Haaretz newspaper from the hospital where he is recuperating said, "He approached me and stood opposite me … He aimed his pistol at me and said, 'I'm very sorry, but you're an enemy of Al-Aqsa, I have to.' Boom boom."
HIjazi fled the scene and returned home. His aunt said that he knew his family would be away that night. They had gone to spend a few days at a small home they owned in Bethany, a small village outside Jerusalem where they raised goats and chickens.
"He knew he would not survive. He knew police would kill him," said Umm Suhaib.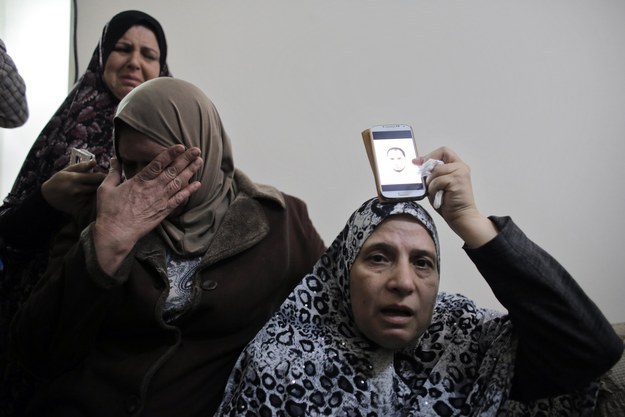 The smell of tear gas still clings to the carpet and furnishings in the apartments of the Hijazi family. The rooms shared by Mu'taz and his parents have been almost entirely emptied of their belongings, ahead of an expected housing demolition ordered by Israeli authorities.
His two youngest cousins, 11-year-old twins Raghab and Suhaib were perhaps the closest the Hijazi. Over the last few weeks, they have sought out channels on YouTube memorializing their cousin and calling him a shaheed, or martyr. Their mother worries about the effect Mu'taz's actions will have on them. "They idolized him. I don't want them becoming like that," said Umm Suhaib. "I want them to fight Israel, yes, but by becoming doctors, becoming lawyers. I want them to go to school and study and have lives."
Suhaib seems more affected than his sister, she said. He was home when Israeli soldiers came and surrounded the house in the pre-dawn hours Thursday, less than 10 hours after Hijazi had shot Glick.
"I had waken up to make my tea and looked out the window and saw that there were hundreds of Israeli soldiers," she said. "We had no idea what was happening. We didn't know about the shooting, didn't know anything."
Hijazi didn't know the soldiers had surrounded his home, but he appeared to have expected them. That morning, his older brother, Aday, returned home to fetch some equipment he needed for his job as an electrical engineer.
Aday told BuzzFeed News that his brother was startled to see him, and told him to leave.
"He looked confused to see me there. He didn't say much, he told me I should go to work," Aday told BuzzFeed News.
Hijazi, meanwhile, had run onto the family's roof. He was shot once, through the leg, while making his way up the stairwell. On the roof, Israeli security forces opened fire. An autopsy report later found Hijazi had been shot over 20 times.
Israeli police said Hijazi was seen to be holding a weapon. Later, it was discovered he had been holding a rusted electrical drill.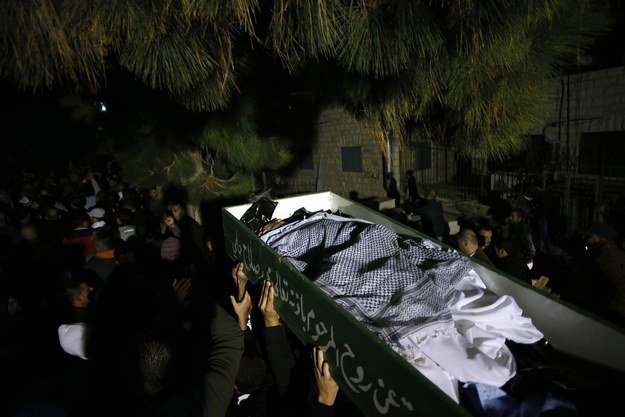 On the night of Oct. 22, Hijazi watched the news coverage of an attack by a Palestinian motorist, who killed two people, including a 7-month-old infant, when he plowed his car onto a train platform.
"Mu'taz [Hijazi] said the man who did it was a shaheed [martyr]," said Hussein. "He said he was defending Jerusalem ... and that others should follow."
A week later, Hijazi carried out his own attack. Ibrahim al-Akary, a 48-year-old Palestinian from East Jerusalem posted praise of Hijazi on his Facebook page that night.
"Praise Allah, an unknown person has targeted settler leader Yehudah Glick — who storms Al-Aqsa daily — and shot him, hitting him directly," Akary wrote on Facebook.
Five days later Akary used his car to ram into a crowd of people in Jerusalem, killing one.
"How much are these attackers inspired by one another? We don't know," said Rosenfeld, the Israeli police chief, in an interview with Army Radio on Tuesday.
There have been four separate incidents which Israeli police characterize as lone-wolf attacks in Jerusalem in recent weeks. Hamas, Islamic Jihad, and the PFLP militant groups have all praised the attacks, and said they welcome more. While some of those carrying out attacks had allegiance to those groups, police said they have no evidence that the men were ordered to carry out attacks or were given outside support.
"Where does this end? With all of us dead?" asked Rachel Miriam Avniel, a resident of Har Nof and mother of six. She said her husband prayed daily at the synagogue attacked on Tuesday, but had stayed home that morning due to a cold. "Why can't they just seal off East Jerusalem? Why can't they protect us?"
Across Jerusalem Tuesday, streets were noticeably emptied and schools reported that many parents — both Israeli and Palestinian — had chosen to keep their kids home from school.
In Silwan, the family Hijazi left behind huddled in a neighbors' living room and awaited the demolition crews they knew could turn up any hour to tear down their former home.
"All anybody talks about now is revenge," said Umm Suhaib, casting a worried look at her son, 11, who watched and rewatched YouTube videos dedicated to his cousin. "What do people expect will happen next?"
Sheera Frenkel is a cybersecurity correspondent for BuzzFeed News based in San Francisco. She has reported from Israel, Egypt, Jordan and across the Middle East. Her secure PGP fingerprint is 4A53 A35C 06BE 5339 E9B6 D54E 73A6 0F6A E252 A50F

Contact Sheera Frenkel at sheera.frenkel@buzzfeed.com.

Got a confidential tip? Submit it here.