What Happens When An Israeli Peace Activist Gets Hit In The Head With A Palestinian Rock
"This is going to happen as long as we are occupiers," says Seidemann.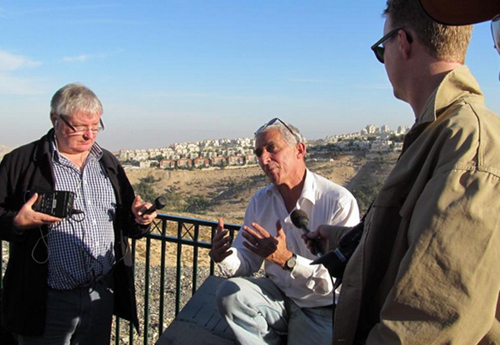 For Daniel Seidemann, the drive along the circuitous roads that connect Palestinian and Jewish neighborhoods of Jerusalem is a regular occurrence. The Israeli-American attorney, a leading foe of Israeli development in East Jerusalem, regularly crosses between the two worlds, even at a time when belief in coexistence and a peace process is at an all time low.
On Saturday, drove to visit a friend in the Palestinian neighborhood of Sur Bahir, about a kilometer from his home. He wrote:
When we took leave of one another, I headed home in my car. I had the misfortune of ending up in a traffic jam in the center of the village, just as school was getting out. I didn't see it coming, but should have: I was a sitting duck. The rock was probably thrown at point blank range; it smashed the side window with enough force to leave a deep gash in the back of my head. I was fortunate: I did not lose consciousness, nor my sense of orientation. Thankfully, the traffic jam loosened up a bit. Within a minute or so I was out of danger and on my way to get treatment.
His reaction, posted on the liberal Israeli site +972 Magazine, inspired backers of Palestinian rights, and infuriated some Israelis and their American allies:
The rock that hit me yesterday was not directed at me, personally. Most likely, it was hurled because I am an Israeli – the occupier. It's also possible that it's because I am a Jew, irrespective of the occupation. We will never know. But the wonderful people who visited me today are living under occupation. My occupation. I deserve no special dispensation for my "good behavior." They owe me no apologies. As long as the occupation exists, events like this will happen and no one is exempt from them. I don't romanticize the prick that cracked my head open. But I don't find it particularly important if he is or is not apprehended. (OK – I do fear that he might have just been practicing on me, and that more deadly violence can be expected of him in the future). But this ends not when Palestinians behave better, or when our Shin Bet becomes more efficient. It ends when occupation ends. Until then, I remain a symbol of that occupation, and not without reason. And no good deeds, as it were, will redeem me or protect me.
Critics suggested he had it coming:

A blogger at the Times of Israel website even wrote that Seidemann "enjoyed being hit by Arab rocks."
Seidemann's response was no, he didn't like being hit by rocks – Arab or otherwise – but he wasn't going to let it move him towards hate.
"I have no sympathy for the guy that cracked my head open," Seidemann told Buzzfeed. "But this is going to happen as long as we in Israel are occupiers."
Seidemann said he was disappointed by the response by Israeli Prime Minister Benjamin Netanyahu – who vowed to catch the perpetrators – and by Jerusalem mayor Nir Barkat – who said that harsher prison sentences were needed for Palestinian stone throwers.
Successive Israeli prime ministers have insisted that Jerusalem will always remain a whole, undivided capital of a Jewish State, and have refused to discuss giving Palestinians control over the eastern neighborhoods. More than 200,000 Palestinian live in East Jerusalem, which they see as the capital of their future state. Most don't vote in local elections, which they say ignore Palestinian concerns, and the neighborhoods they inhabit are often neglected, with poor street conditions, faulty electricity, and few municipal services.
Seidemann said that both Israelis and Palestinians deserve to live in a world where they could freely drive to visit one another. On the day that he was hit, Seidemann was driving less than a mile, and he said his wasn't the only car with bright yellow Israeli license plates.
"Maybe they didn't like the way I looked," said Seidemann. "Maybe they identified that I wasn't from there."
A correction was issued to this story on 12/4/2013 to remove a tweet by Samantha Mandeles, which was mischaracterized.
Sheera Frenkel is a cybersecurity correspondent for BuzzFeed News based in San Francisco. She has reported from Israel, Egypt, Jordan and across the Middle East. Her secure PGP fingerprint is 4A53 A35C 06BE 5339 E9B6 D54E 73A6 0F6A E252 A50F

Contact Sheera Frenkel at sheera.frenkel@buzzfeed.com.

Got a confidential tip? Submit it here.