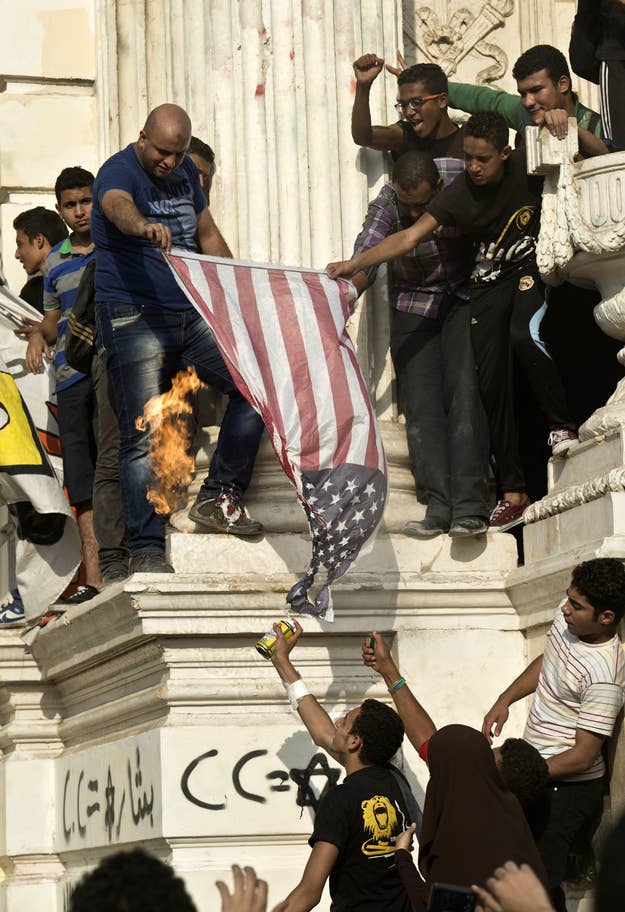 A U.S. diplomat has said that Egypt is moving "in a direction that would not seem democratic" and that the U.S. had "no policy" on how to deal with it, following Cairo's decision to declare the Muslim Brotherhood a terrorist organization.
"Officially our policy is to encourage the Egyptian government to stick to a democratic road map," said the diplomat, who is based in the region and requested anonymity as he is not authorized to speak to the press. "And yes, I know how insane that sounds considering what happened this month."
The diplomat's remarks came one day after Egypt's military-backed government declared the Muslim Brotherhood a terrorist group, allowing for the arrest of tens of thousands of the group's supporters. Earlier this month, Egypt passed a law providing for up to three years' jail for unlawful protest.
"Things are changing quickly on the ground, and we are seeing Egypt move in a direction which would not seem democratic," the diplomat said. "But at the moment, we have no change in policy, no word from the White House on how to handle this going forward. Unfortunately this has become all too common. Going forward we really have no policy."
Last week, Egypt's ambassador to the U.S. Mohamed Tawfik told Al-Monitor that Egypt and the U.S. were currently in a phase where "both sides are revising their concepts about the relationship."
"We are reviewing it in more ways than one," Tawfik said.
Over the last year, half a dozen U.S. diplomats in the region interviewed by BuzzFeed have expressed disappointment at what they see as a lack of a forward-thinking policy around the region, and resentment that their recommendations aren't being heard in the White House.
"What we are doing in the region no longer has any teeth to it," another longtime diplomat, previously based in the region and now living in Washington, D.C, told BuzzFeed by phone on Thursday. "The policy on the ground now is to be as non-interventionist as possible. But of course, that's not a policy that is going to drive democratic change in a place like Egypt."
The Obama administration has refrained from categorizing the military's toppling of the democratically elected Muslim Brotherhood in July as a coup, instead urging Egypt to keep to a "road map" that would see a referendum on a new constitution, as well as parliamentary and presidential elections.
"The road map is being carried out to the best of our perception," Secretary of State John Kerry said when he visited the region in November. "There are questions we have here and there about one thing or another, I think it's important for all of us, until proven otherwise, to accept that this is the track Egypt is on and to work to help it to be able to achieve that."
The biggest step taken by the U.S. in response to events in Egypt came in October, when the White House announced it was suspending part of its $1.5 billion annual aid package, including the delivery of major weapons systems like the Apache helicopters, F-16s fighter jets, and anti-ship missiles.
Analysts in the region called the move a "drop in the bucket" that would not send a serious message to the Egyptian leadership.
"I think aid could be used as serious lever if the U.S. took it seriously. But the U.S. isn't currently willing to use the aid suspension seriously," said Shadi Hamid, director of research of the Brookings Center in Doha. "The U.S. has been put in a difficult position. Egypt is now one of the most repressive regimes in the world that the U.S. is supporting with large amounts of assistance."
Since taking power in July, the military-backed government has overseen the deaths of at least 900 Muslim Brotherhood supporters in Cairo's Rabaa al-Adawiya Square, the arrest of thousands of Brotherhood members and the levying of criminal charges against the group's leadership. Egyptian officials have blamed the Brotherhood for spiraling violence, including a deadly bombing in the Nile Delta city of Mansoura, although a Sinai-based al Qaeda-affiliated group took responsibility.
"Technically the Muslim Brotherhood have been treated as a terror group for a while. Their assets were seized, and their members were arrested months ago," said Amro Ali, a Middle East analyst and Ph.D. scholar at the University of Sydney. "The decision to label them now, has a psychological impact on the population. Now when you have an attack by terrorist you can point the finger to them."
This month saw repressive tactics extended to secular protesters as well. Ahmed Maher and Mohamed Adel, co-founders of the April 6 movement that helped topple Hosni Mubarak in 2011 were arrested and sentenced to three years imprisonment for taking part in a protest.