U.S. Diplomats Kept In The Dark Over Arrest Of U.S. Embassy Employee
"Interfering with U.S. diplomatic missions should be a red line."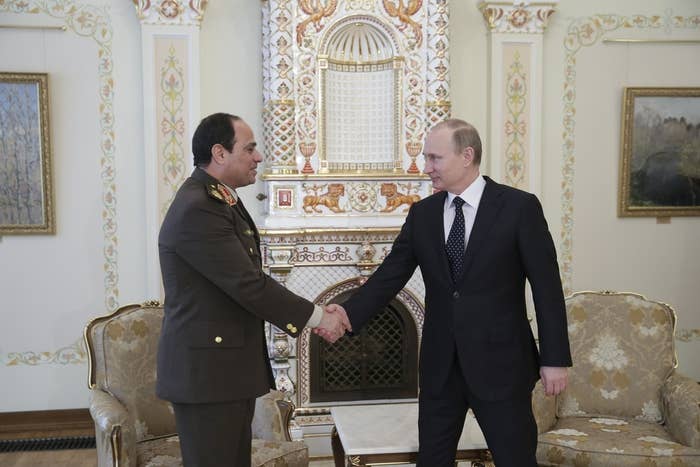 Despite several requests from the U.S. embassy and the White House, Egyptian officials have refused to release a detained U.S. embassy employee or even reveal details of his arrest.
Ahmed Alaiba, an Egyptian citizen, was arrested on Jan. 25. He has been held in Egyptian detention in the weeks since, but no charges have been brought against him.
"We have not received a clear answer on why he was arrested or why he is still being kept," said one U.S. diplomat based in Cairo. The diplomat added that Alaiba was visiting family near the site of protests in Cairo and was arrested by police along with dozens of other protesters.
The arrest of an Egyptian employee of the U.S. embassy in Cairo marks a low point in Egypt-U.S. relations, said diplomats in the region, who added that the relationship was "at the most uncertain nexus we've seen in years." They said there was growing concern over what sort of protections the U.S. government could offer their local staff in Egypt, and what sort of diplomatic immunity they could expect for their American staff.
"I think it's safe to say we are getting clear signals here about their priorities and where our influence with Egypt currently stands," said the Cairo-based diplomat.
Two different accounts of Alaiba's arrest have emerged. While some embassy officials have said it was likely Alaiba was randomly arrested due to his proximity to the Jan. 25 protests, local Egyptian media and government officials have said that Alaiba has been under surveillance for some time due to his participation in setting up meetings between U.S. officials and members of the Muslim Brotherhood. On Monday, State Department spokeswoman Marie Harf confirmed that U.S. diplomats continue to meet with the Brotherhood, despite the recent decision by the Egyptian government to designate the Muslim Brotherhood as a terrorist organization.
"At this point, we don't know all the details and the circumstances around his arrest, but considering either scenario we have a situation where an employee of the U.S. embassy in Cairo is being held in police custody, and we, as the American government, are not able to get him out," said another American diplomat based in the region. "I think that speaks to itself as to where U.S. – Egyptian relations currently stand."
He added that there has been growing concern among embassy staff based in Cairo over headlines in the Egyptian press that appear to incite against the White House and U.S. citizens.
"There has been concern among various missions in Cairo that the Egyptian government is signaling that they no longer want them to meet with representatives of the Brotherhood," he said. "A worst case scenario would be to evacuate diplomatic staff that are under threat of arrest."
The diplomat confirmed to BuzzFeed that U.S. embassy staff were evacuated last July when an Egyptian newspaper leaked emails that had been exchanged between U.S. embassy officials and top Brotherhood leader Khairat el-Shater. Those emails included several messages from Alaiba, in which he tries to arrange a meeting between Shater and a visiting congressional delegation.
"Interfering with U.S. diplomatic missions should be a red line. It seems to represent an escalation from prior interferences, including the leaking of emails of foreign service nationals and top brotherhood leaders," said Eric Trager, a fellow at the Washington Institute for Near East Policy. "The flaw of this administrations approach to Egypt has been not making it clear what our red lines are... Now the Egyptian government is interfering with our diplomatic missions."
In August, the Obama administration announced it was withholding one-third of the annual $1.3 billion in military assistance it provides Egypt, including the delivery of F-16 fighter jets, tank kits and Harpoon missiles. U.S. officials have since said that they would resume aid to Egypt once it was confirmed that the country was on a "democratic roadmap" and working towards an inclusive government.
Egypt's national referendum on a new constitution passed overwhelmingly, though there were complaints that the atmosphere under which it was held was hardly inclusive. With both presidential and parliamentary votes on the horizon, it is unclear when the U.S. will resume aid or where their benchmarks for a democratic lie.
Egyptian Field Marshal Abdel Fattah al-Sisi meanwhile returned from Russia Thursday, where Egyptian media reported he was negotiating a $2 billion arms deal that would undercut the military assistance provided by the United States.
While Sisi has yet to announce his candidacy, Russian President Vladimir Putin said that he backed Sisi in his "bid for the presidency".
"I know that you, Mr Defense Minister, have decided to run for president of Egypt," said Putin. "I wish you luck both from myself personally and from the Russian people."
No details have been released about the military discussions, although Russian media pointed to Egyptian interest in acquiring air defense missiles, MiG-29 jets and helicopters, among other weapons.
"Our visit offers a new start to the development of military and technological co-operation between Egypt and Russia. We hope to speed up this co-operation," said Sisi.
Sisi also met with Russian Foreign Minister Sergei Lavrvov and Defense Minister Sergei Shoigu. On their official Facebook page, the Egyptian army released smiling photos of the Russian and Egyptian leaders.
Egyptian Foreign Minister Nabil Fahmy had previously told AFP that Egypt would expand cooperation with Russia.
"Independence is having choices. So the objective of this foreign policy is to provide Egypt with choices, more choices. So I'm not going to substitute. I'm going to add," Fahmy said.
The Soviet Union was the main supplier of arms to Egypt in the 1960s and early 1970s. Military cooperation between the two countries faded, however, when Israel and Egypt signed the Camp David accords, and Egypt began receiving massive U.S. arms shipments.
Sheera Frenkel is a cybersecurity correspondent for BuzzFeed News based in San Francisco. She has reported from Israel, Egypt, Jordan and across the Middle East. Her secure PGP fingerprint is 4A53 A35C 06BE 5339 E9B6 D54E 73A6 0F6A E252 A50F

Contact Sheera Frenkel at sheera.frenkel@buzzfeed.com.

Got a confidential tip? Submit it here.