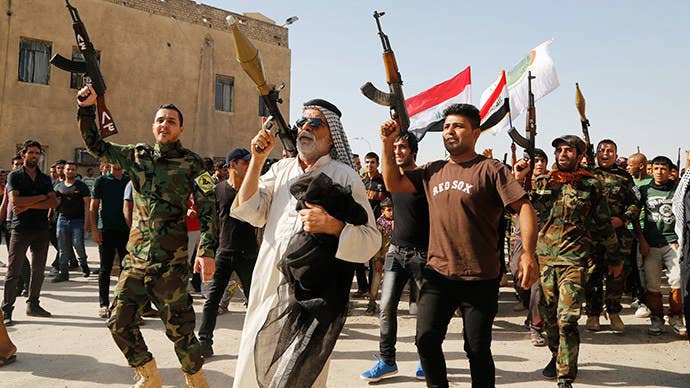 JERUSALEM — United States and Iranian officials will begin meeting to discuss their coordinated response to the threat posed by Islamist militants in Iraq as soon as Monday, according to Israeli officials consulted over the process.
A meeting in Vienna planned weeks ago as a way for the U.S. to finalize a deal over Iran's nuclear program will also now be used to discuss the recent developments in Iraq, according to one Israeli diplomat close to the negotiations. The diplomat said the change to the agenda underscored fears in Israel's government that the U.S. would have a weakened negotiating position over nuclear weapons if it sided with Iran on the Islamist threat in Iraq.
A U.S. official told Reuters Monday that the negotiations in Vienna would still focus on Tehran's nuclear program, while discussion of Iraq may happen "on the margins."
In Iraq, the sudden blitzkrieg by the militant ISIS group, which has captured city after city as it moves northwest to the Iraqi capital of Baghdad, has forced allies and foes in the region to suddenly reevaluate their allegiances. As the Wall Street Journal reported, U.S. officials have decided to open channels with Iran to discuss their shared interest in propping up the government of Iraqi Prime Minister Nouri al-Maliki. Iraq's security concerns are shared by both Iran and the U.S. as the militant ISIS movement advances northwest through Iraq capturing cities and threatening the capital, Baghdad.
While the U.S. and Iran have been sworn enemies for decades, their shared concerns over threat of ISIS and other militant groups have pushed them closer to talks and cooperation.
Iranian President Hassan Rouhani said on Saturday that Tehran may consider cooperating with Washington in Iraq, but that the "Americans had not taken a decision yet."
Israeli officials now say that the U.S. has reached out to them over the talks, which are set to begin as early as today , when U.S. Deputy Secretary of State William Burns arrives in Vienna to meet Iranian negotiators.
The meeting between Burns and Iranian negotiators was originally set to finalize an agreement over Iran's nuclear weapons. The new focus on Iraq, however, has spurred Israel's fears that pressure on Iran over their program will be alleviated.
"This is, diplomatically, a trap. There is no way out of this that we can see ending well," said one Israeli diplomat in Jerusalem, who spoke on condition of anonymity as he wasn't authorized to discuss the developments. "How will the Americans take a tough line with Iran when they need to work with them in Iraq?"
Both Israel and Saudi Arabia are threatened by the U.S.–Iranian cooperation, but are caught between fears of Iran's nuclear program and nuclear ambitions, and the growing threat of the rise of ISIS in Iraq and Syria.
"It is a tightrope act, to try and navigate this region today," said the Israeli diplomat. "Even if you walk the tightrope, people will move everything around on you and you can wind up losing anyway."
Meir Javedanfar, an Iran analyst who writes the blog Iran-Israel Observer, said the talks between the U.S. and Iran were "going to create a lot of concern in Israel."
"In Israel they might be afraid that Iran will use its new leverage in Iraq to extract concessions from the U.S. in the nuclear talks," said Javedanfar. "But those in Israel who see this as full-blown cooperation between the U.S. and Iran are getting ahead of themselves. The U.S. cares too much what the Saudis think, and they don't want to alienate the Saudis by cooperating too much with Iran."
Riyadh "has regarded Maliki as little more than an Iranian stooge," wrote Simon Henderson, an expert on the Gulf at the Washington Institute for Near East Policy.
Newspapers in Saudi Arabia on Sunday blamed the Iraqi prime minister for unrest in the country, saying the "sectarian" polices are taking Iraq to a "devastating civil war." Maliki, meanwhile, has accused the Saudi government of supporting ISIS, and other militant groups fighting in Iraq and Syria.
Saudi Arabia also fears the spread of ISIS within their own borders, amid reports that the group has started a recruitment campaign in major Saudi cities. Leaflets were found strewn around cars in Riyadh, while videos posted on YouTube call for Saudi men to join the group.