Undercover Israeli Soldiers Filmed Throwing Rocks Then Arresting Palestinian Rock Throwers
The video comes amid growing violence that has spurred fears of a new Palestinian uprising.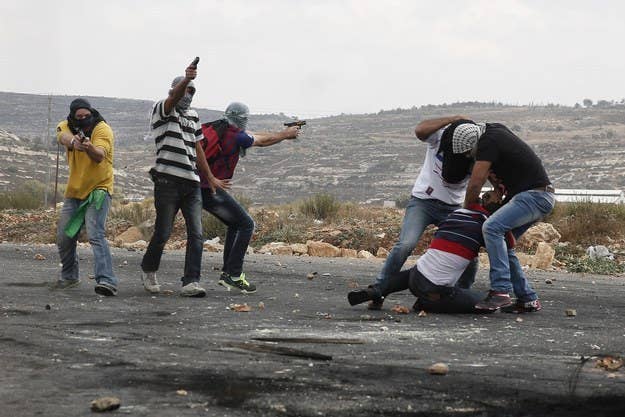 Amid orders by Israeli Prime Minister Benjamin Netanyahu for security officials to step up efforts to arrest Palestinian rock throwers, an incident has been filmed in which undercover members of Israel's special forces appear in the midst of a group of Palestinians throwing rocks, only to turn on the group minutes later and detain several of the young men.
Testimony given by Israeli security officials in the past confirms that undercover officers are often used by Israel's armed forces when trying to infiltrate Palestinian protests. The new footage, however, is the first time that an incident has been so clearly captured.
The video, filmed by AFP reporter on Wednesday just outside the West Bank city of Ramallah opens with a group of Palestinians throwing rocks at a group of Israeli soldiers.
At 00:18, the video suddenly cuts to at least half a dozen men scuffling on the ground. At least four of the men draw guns, while two others wrestle with a young man on the ground who seconds earlier had been throwing rocks. Israeli soldiers in full uniform advance to support the men, and shots can be heard fired in the direction of where several Palestinian protesters fled. Several soldiers can be seen punching and kicking the detained man while one soldier says in Hebrew, "bring that trash here."
IDF spokesman Peter Lerner posted another version of the video on his Facebook page. He thanked the soldiers, and identified them as being part of the army's "Duvdevan" special forces.
The IDF said that two of its soldiers were hurt as rocks, firecrackers and firebombs were hurled at their army checkpoint near the settlement of Beit El, just outside Ramallah. The IDF said it detained one of the protesters and that two people were injured and taken to hospitals in Jerusalem. It is unclear if among the injured are those shown in the video.
The last week has seen a steady increase of clashes between Israelis and Palestinians, with violence spreading from Jerusalem into central Israeli cities. Five Palestinians and four Israelis have been killed in the past week. The deaths have ranged from an Israeli couple gunned down in their car as they rode with their children in the northern West Bank, to a 13-year-old Palestinian schoolboy killed by a bullet fired by Israeli troops to repel a violent protest.
On Wednesday night, Israeli police reported three stabbings of Israelis within hours, in cities ranging from central to southern Israel.
Sheera Frenkel is a cybersecurity correspondent for BuzzFeed News based in San Francisco. She has reported from Israel, Egypt, Jordan and across the Middle East. Her secure PGP fingerprint is 4A53 A35C 06BE 5339 E9B6 D54E 73A6 0F6A E252 A50F

Contact Sheera Frenkel at sheera.frenkel@buzzfeed.com.

Got a confidential tip? Submit it here.