Three Al Jazeera Journalists Have Been Sentenced To Seven Years In Prison
An Egyptian court has found the three men guilty of spreading false news and supporting terrorism — despite little evidence to support the verdict.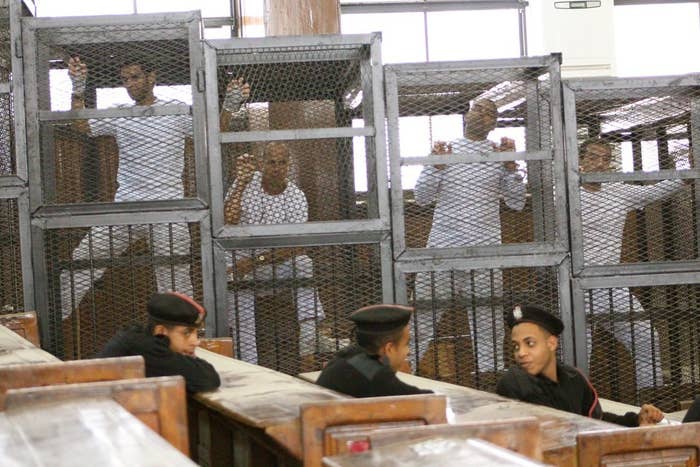 Al Jazeera journalists Peter Greste, Mohammed Fahmy, and Baher Mohamed were sentenced to seven years in a maximum security Egyptian prison Monday, in a trial that has been widely decried as a "kangaroo court" by politicians, diplomats, and human rights groups.
Mohamed was given an additional three years for possession of a single bullet. Cries could be heard coming from the family and friends of the three men as the sentence was read. Greste, who had been in Egypt for less than two weeks when he was arrested, slammed his hand against the cage in which the defendants were kept. Fahmy, who has often addressed the judge in defense of the three men, was dragged from the court screaming while his fiancée held her head and cried.
Some of the evidence against them included family photos of ski vacations, and an award-winning BBC documentary Greste once filmed in Somalia.
Prosecutors accused the three of spreading false news and supporting the Muslim Brotherhood. They had asked the judge to issue prison sentences between 15 and 25 years. But few legal experts in Egypt believed that the evidence presented against the three warranted a guilty verdict against them.
Lawyers for the three journalists have argued that there were procedural flaws in the case, including airing videos from Sky, BBC, and other news outlets and saying they were the work of Al Jazeera. The prosecutor's witnesses also admitted that they did not know the difference between Al Jazeera's local affiliates, which are widely seen as pro-Muslim Brotherhood, and Al Jazeera English, where the three men work. Several of the prosecutor's key witnesses eventually withdrew allegations which were central to the case against Greste, Fahmy, and Mohamed.
"What the Egyptian authorities are doing is vindictive persecution of journalists for merely doing their jobs," Amnesty International said in a statement. The group called on Egypt to immediately free the three, saying they had been punished enough.
Nearly seven months have passed since the three Al Jazeera journalists were arrested. Fahmy, who had an injured shoulder when he was arrested, has since been told that the lack of medical attention initially given to his injury will leave that arm permanently impaired.
"Before you rule against us, look at my arm. It's a life sentence to me," Fahmy said during the final court session last month.
The trial against the three includes a total of 20 defendants, but only nine are in custody: the three journalists, five students, and a charity worker. The journalists have said they do not know the other defendants and do not understand why they were being tried together. The remaining 12, which includes other foreign journalists, are being tried in absentia.
Earlier this month, Al Jazeera quietly fired all of its remaining employees in Egypt. The move was seen as a possible concession toward the Egyptian government on behalf of Al Jazeera.
Hopes that the three journalists would be released were also raised when, on Sunday, Secretary of State John Kerry visited Egypt and spoke to newly elected President Abdel Fattah al-Sisi about the Al Jazeera case. Kerry did not elaborate about the outcome, but said the conversation had focused on "a vibrant civil society, a free press, and rule of law, and due process in a democracy."
During the trip, Kerry announced that the United States was still monitoring Egypt's progress toward democracy, and that it had recently released $575 million in assistance for Egypt's military. The U.S. froze much of its $1.3 billion in annual military aid to Egypt last year, including the sale of Apache helicopters, after the army overthrew President Mohammad Morsi, a leader of the now-banned Muslim Brotherhood movement.
"I am confident that we will be able to ultimately get the full amount of aid," Mr. Kerry said. "I am confident … that the Apaches will come and that they will come very, very soon."
Update: ABC Australia just released this video of Peter Greste's parents reacting to the news that their son had been sentenced to seven years in prison.
Sheera Frenkel is a cybersecurity correspondent for BuzzFeed News based in San Francisco. She has reported from Israel, Egypt, Jordan and across the Middle East. Her secure PGP fingerprint is 4A53 A35C 06BE 5339 E9B6 D54E 73A6 0F6A E252 A50F

Contact Sheera Frenkel at sheera.frenkel@buzzfeed.com.

Got a confidential tip? Submit it here.