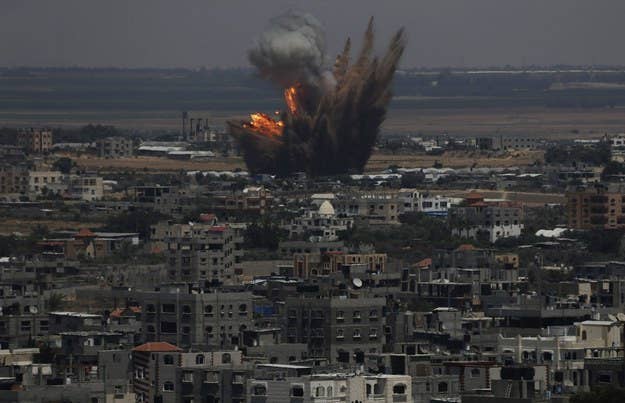 EREZ CROSSING, Israel — Israel has already begun calling up thousands of reservists as it prepares for a long-ranging military operation in the Gaza Strip, according to military officials who briefed BuzzFeed.
Earlier Tuesday, Israel's security cabinet approved the use of 40,000 reservists, telling Israeli Prime Minister Benjamin Netanyahu that thousands more would be sent if Israel expanded its offensive into Gaza in the weeks to come.
"At the moment we have begun the calling up of reservists, and the deployment of active soldiers to the Gaza border area. We are preparing for every eventuality," said the officer, who spoke to reporters in a background briefing. He said that "wide-ranging and intense" air strikes would hit Gaza Tuesday night, in response to upward of 60 rockets that were fired from Gaza into southern and central Israel.
"We will do more than mow the lawn in Gaza. We will scorch it," he said.
The dispatching of reservists was a sign that the newest round of Israeli-Palestinian violence was far from over. Tempers have flared since last month, when three Israeli teens were kidnapped near the West Bank city of Hebron. Their bodies were discovered on June 30 and less than 48 hours later a Palestinian teen was murdered by a group of Jewish extremists, spurring riots across the country. In the week since, tensions have steadily escalated, nowhere more so than between the Gaza Strip and Israel. Rocket attacks on Israel's southern communities increased in frequency, as did Israeli air strikes on Gaza.
On Tuesday, Israel announced that it had named the military offensive in Gaza "Operation Protective Edge" — and signaled that its soldiers were being deployed for the long haul.
"We are preparing for a battle against Hamas which will not end within a few days," Israeli Defense Minister Moshe Yaalon said in a press conference Tuesday. "We will not tolerate missiles being fired at Israeli towns and we are prepared to extend the operations with all means at our disposal in order to keep hitting Hamas."
On Tuesday, 17 people were killed in airstrikes in Gaza and 92 were injured. Among those killed were at least two children, who died when an airstrike hit their family home in the southern Gaza City of Khan Younis.
"When Israel talks about mowing the lawn, do they not realize we are people here? We are women and children!" said Marwa Hizmeh, a 42-year-old mother of four and resident of Khan Younis. "Not everyone in Gaza is a terrorist."
Of the 15 killed in Gaza Tuesday were six members of one family. Israeli officials said that they phoned the home of the Kaware family and warned that it would be bombed. Surviving family members said they had received a phone call from someone named "David," but that the air strike happened less than a minute later.
During Israel's 2012 Operation Pillar of Defense in Gaza, 75,000 soldiers were called up and remained on standby for days while Israeli and Palestinians officials argued the details of a ceasefire agreement.
Israeli military officers, however, have said that the new Gaza offensive will be, "long-ranging and thorough."
"This is not a shock-and-awe campaign. This is not like previous offensives in that way. This is a long deployment and we have made our soldiers and local municipal authorities aware of it," said the officer.
Near the border with Gaza, Israeli soldiers began the long wait.
"I've been here before. I've been here twice before," said Ariel Masika, a 30-year-old reserve soldier who sat at a small café near the Gaza border Tuesday morning. "This isn't my first time on this merry-go-round."
Sitting next to Masika was David, a soldier on active duty, who only identified himself by his first name due to military restrictions that prohibit military personnel from speaking to reporters without prior approval from the IDF spokesperson's unit.
"I've never gone to war in Gaza before," said David. "But I ran away from rockets as a kid and I hate that rockets are still falling on kids today."
The rockets, answered Masika, would always fall. He didn't think this Gaza offensive, or any other, would stop the cycles of violence Israeli and Palestinian children have been traumatized by for years.
"They'll still fall on your kids, kids," said Masika. "Don't kid yourselves that this war is going to be the last one."
Ahmed Abu Hamda contributed to this report from Gaza City, Gaza.